Following in Shell's illustrious footsteps BP announced today that:
Its venturing business has invested $5 million in FreeWire Technologies Inc. (FreeWire), a US-based manufacturer of mobile electric vehicle (EV) rapid charging systems, and plans to roll out FreeWire's Mobi Charger units for use at selected BP retail sites in the UK and Europe during 2018.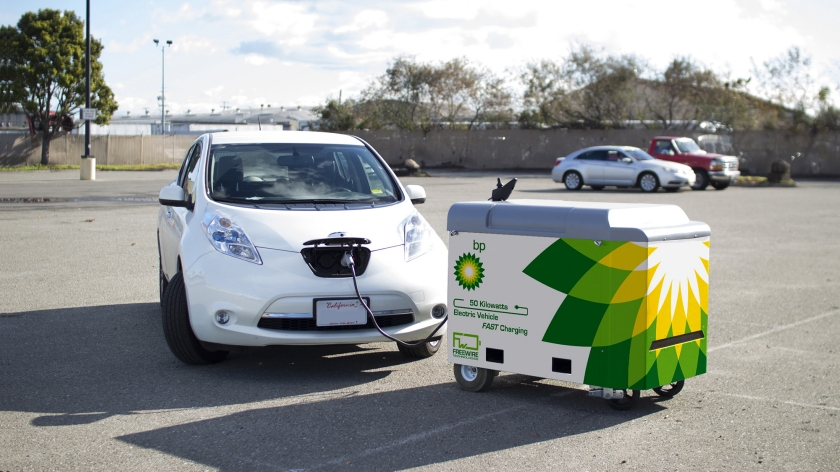 However BP/FreeWire's rapid charging system is rather different to Shell's, since as you can see it's mobile. According to FreeWire's Mobi Charger web page that means:
The Mobi Charger DCF offers Level 3, DC fast charging, without any construction. Charge up to 10 vehicles in a day. Mobi Chargers simply recharges from a wall outlet.

Supports CHAdeMO or Tesla standards
Delivering 50kW
Adds 200 miles in 1 hour
Tops off 4-10 EVs in one charge
Energy Buffer Chemistry: Lithium Manganese Oxide (LiMn2O4) Prismatic Cells
Energy Buffer Capacity: 48kWh (nominal)
According to BP Downstream's chief executive, Tufan Erginbilgic:
Mobility is changing and BP is committed to remaining the fuel retailer of choice into the future. EV charging will undoubtedly become an important part of our business, but customer demand and the technologies available are still evolving.

Using FreeWire's mobile system we can respond very quickly and provide charging facilities at forecourts where we see the greatest demand without needing to make significant investments in today's fixed technologies and infrastructure. The opportunity also to explore options for providing charging services away from our existing retail sites makes FreeWire an ideal partner for BP.
Note that BP also point out that:
BP is committed to supporting the transition to a lower carbon economy through focusing on reducing its own operational emissions, improving its products to enable customers to lower their emissions and creating low carbon businesses. BP Ventures supports each of these areas by identifying emerging trends and businesses, making strategic investments and testing technologies and solutions for their scalability. The investment in FreeWire is an example of how BP Ventures is working alongside BP's Downstream business.