Since it mentions "1000 V2G installations" and comes with a nice picture of a 2018 LEAF plugged in to a V2G charging station Nissan's announcement of its "e4Future" project's successful entry in the recent Innovate UK V2G funding competition deserves an article of its very own: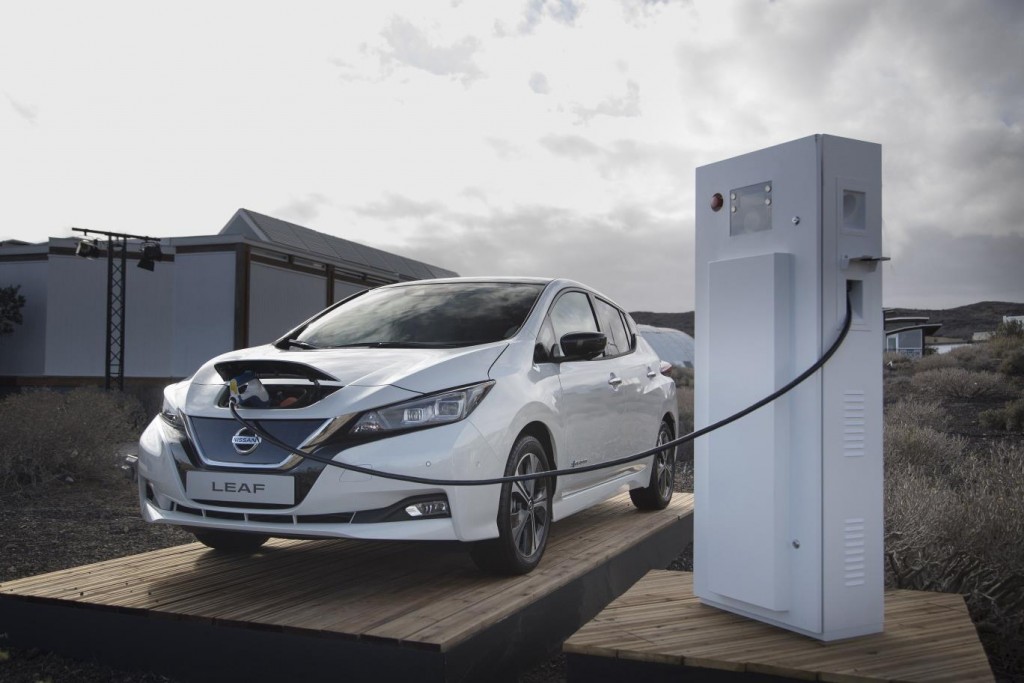 Whilst it is certainly connected to the vehicle the charging station doesn't seem to be connected to the grid! Regarding their successful bid Nissan say that:
Nissan and its partners welcome the announcement by Department for Business, Energy and Industrial Strategy minister Richard Harrington to award £9.8m for a Vehicle-to-Grid demonstrator project.

The project foundation is for a large-scale demonstrator targeting 1000 Vehicle-to-Grid (V2G) installations that will evaluate a commercial offer to electric vehicle fleet customers. The chargers will be controlled by an aggregator and data will be collected to understand the technical characteristics of vehicle to grid charging for both the vehicles and the electricity networks.

A consortium, led by Nissan, will bring expertise from across the whole Vehicle-to-Grid value chain: V2G infrastructure/aggregator provider Nuvve, the energy community represented by National Grid, two Distribution Network Operators (DNOs); UK Power Networks and Northern Powergrid, with varied grid infrastructure. The research and analysis activities will be supported by Newcastle University and Imperial College London.

Vehicle-to-Grid technology and this project will leverage Nissan's brand commitment to Nissan Intelligent Mobility to transform the way people drive and live, creating a more exciting and sustainable future.
Once again V2G charging station manufacturers are conspicuous by their absence from the list of Nissan's collaborators, and there is no label on the white charging station displayed above. Nissan also provide the following bullet points summarising the e4Future project:
In January 2018, OLEV and BEIS announced that 21 projects (8 feasibility studies, 5 collaborative research and development projects, and 8 real-world V2G trial projects) were to receive funding of £30m to develop the business proposition and core technology around V2G, and demonstrate those with large scale trials. The projects involve more than 50 industrial partners and research organisations from both the Energy and Automotive sector, marking the largest and most diverse activities on V2G in the world, and trialling more than 2700 vehicles across UK.
The V2G projects represent a significant step towards the transition to a low carbon transportation and a smart energy system. Allowing EVs to return energy to the Power Grid when parked and plugged for charging, will increase Grid resilience, allow for better exploitation of renewable sources and lower the cost of ownership for EV owners, leading to new business opportunities and clear advantages for EV users and energy consumers.
Amongst other things Nissan's Managing Director of Nissan Energy at Nissan Europe, Francisco Carranza, said that:
Our EVs can be plugged into the grid and support the transmission and distribution companies in making the UK grid more sustainable and more stable. The increase of electric vehicles penetration, the introduction of more and more distributed generation and storage and the overall increase in renewable energy penetration should be done smartly.

To ensure Nissan plays a wider role in the advancement and protection of our cities, our electric V2G-ready vehicles will be used as clean mobile energy units.

Nissan has also reiterated its bold mission to offer customers free power for their EVs. V2G introduction will change the rules of the game and make energy cheaper for everyone.
The press release also contains a long list of quotes from Nissan's collaborators on the project. Let's take a look at this one from Myriam Neaimeh of Newcastle University:
The Government's announcement will be a real game changer as we move towards decarbonising the grid.

This will be the first, large scale demonstration of vehicle to grid technology anywhere in the world and crucially, this project brings together all the key players for the first time – a giant of the automotive industry with energy providers, infrastructure experts and academics – so we can work together to really make this happen. It's a really exciting time and fantastic that Newcastle University has been involved right from the beginning.
I still cannot help but wonder who will be manufacturing the all important V2G capable charging stations that will be installed as part of the e4Future project, and what de facto or international standards they will comply with?