Our regular reader(s) will be aware that quite some time ago I suggested that:
There's a few more urgent things to be ticked off on the to do list. How about OCPP 2.0 or even fully fledged British and international standards for "smart charging", V2B and ultimately pukka V2G protocols for starters?
I am happy to now be able to report that my wish has come true! An international standard is now being developed for electric vehicle supply equipment (EVSE for short) communications with the "back office", including vehicle to grid (V2G for short) functionality. For my sins I now sit on IEC technical committee 69 joint working group 11 (TC69/JWG11 for short). According to the Wikipedia article on the subject, which I wrote:
IEC 63110 is an international standard defining a protocol for the management of electric vehicles charging and discharging infrastructures, which is currently under development. IEC 63110 is one of the International Electrotechnical Commission's group of standards for electric road vehicles and electric industrial trucks.
You will no doubt be delighted to discover that proceedings are still at a fairly early stage. Here's the current IEC 63110 roadmap: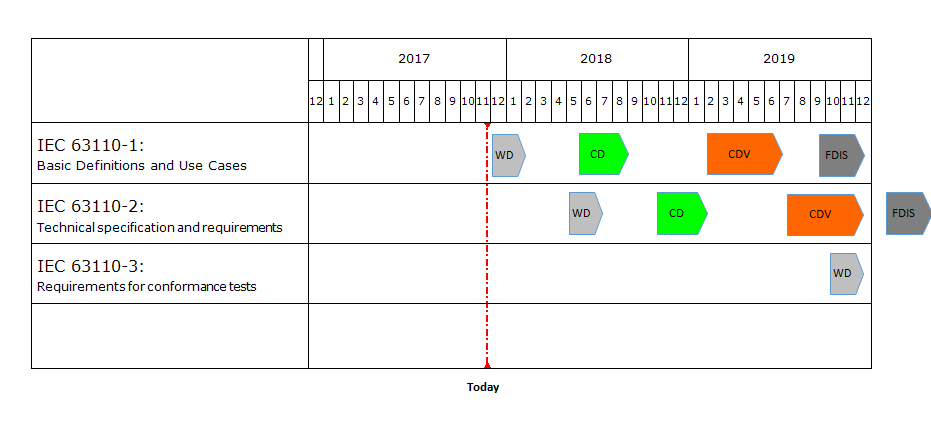 The top line indicates to the initiated that I am still able to point out that IEC TC69/JWG11 is currently seeking submissions for potential use cases to add to our initial list. The current deadline is December 6th. It is probably safe for you to assume that all the obvious stuff from the Open Charge Alliance's Open Charge Point Protocol and ISO/IEC's 15118 protocol is already included on our list.
However if you have a use case that isn't in amongst the obvious stuff then please do not hesitate to get in touch!