In a news release today Nissan UK point out that:
The all-electric Nissan e-NV200 van has graduated with flying colours to become one of the most popular new vehicle choices for university fleets in the UK.

The multi award-winning van, which costs from just two pence per mile to run and offers zero emissions mobility whilst driving, is now in service on the fleets at more than 20 of the nation's leading academic institutions.

University of Birmingham was the first fleet operator in the country to take delivery of the model when it added two to its fleet in 2014.

Since then, the University has added four more and the e-NV200 has moved to the top of the of the list for universities and colleges the length and breadth of the UK.

e-NV200s are now in service at universities including Bath, Brighton, Coventry, Dundee, Edinburgh, Exeter, Leicester, Leeds, Manchester, Manchester Metropolitan, Newcastle, Oxford, Sheffield, St Andrews, Swansea, the University of Central Lancashire and the University of Wales.

In addition, a number of other universities across the UK are currently trialling the e-NV200 as they explore the environmental and financial benefits it could have for their fleets.
Many moons ago I lived in Mayals and I've studied at Swansea University: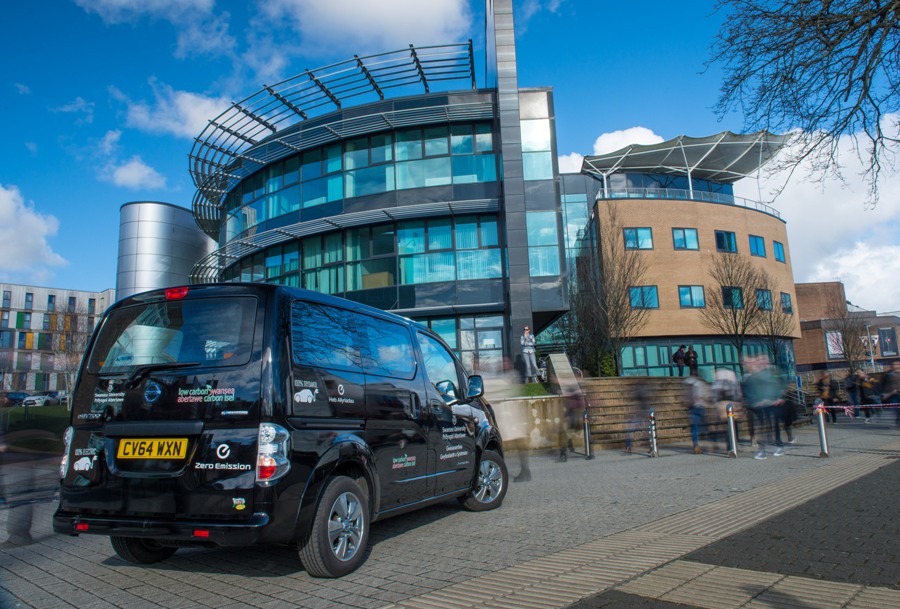 Nissan point out that in Swansea:
The e-NV200 Combi has been introduced as part of a broader commitment to sustainability and is operated as a pool vehicle, available on a booking system, by the information services and systems team.

As part of a seven-strong EV fleet, which also includes four Nissan LEAFs, the e-NV200 has proved a popular choice thanks to its size, flexibility and car-like driving dynamics.

Nigel Morris from the information services and systems team at Swansea University said:
 "Our EV fleet has already been a big success, cutting our carbon emissions by 4.5 metric tons and saving around several thousand pounds in fuel so far.

"The e-NV200 has made a terrific contribution to those figures as it's proved so popular with staff. It's a big vehicle that's got lots of space for cargo or people but it's very easy to drive."
This news is all very encouraging of course, but I cannot help but wonder about something Nissan didn't reveal to us this morning. Which of their long list of UK universities might actively be researching the application of vehicle-to-building or even fully fledged vehicle-to grid technology?
Perhaps the answer is "none of them", but I am able to reveal that a UK University not mentioned by Nissan is in fact already so doing. Here's an exterior view of the European Bioenergy Research Institute (EBRI for short) at Aston University: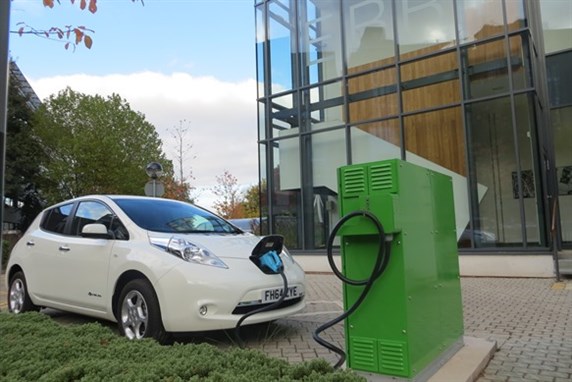 and here's what EBRI's press release from a month or more ago has to say about the bright green box attached to the 24 kWh battery equipped 2014 model year Nissan LEAF pictured above:
Aston University has successfully commissioned the UK's first permanent electric vehicle to grid (V2G) charging system.

This next generation of electric vehicle charging infrastructure allows power to flow both in the traditional way (grid to vehicle) and in reverse (vehicle to grid). The technology, developed in Japan to improve electricity supply reliability in the wake of the Fukushima disaster, is being investigated in collaboration with our leading industry partners, as a new method for energy storage and grid balancing services in Europe.
Please do read the press release in it's entirety, and when you've done that also take a good look at the user interface of EBRI's "load matching system":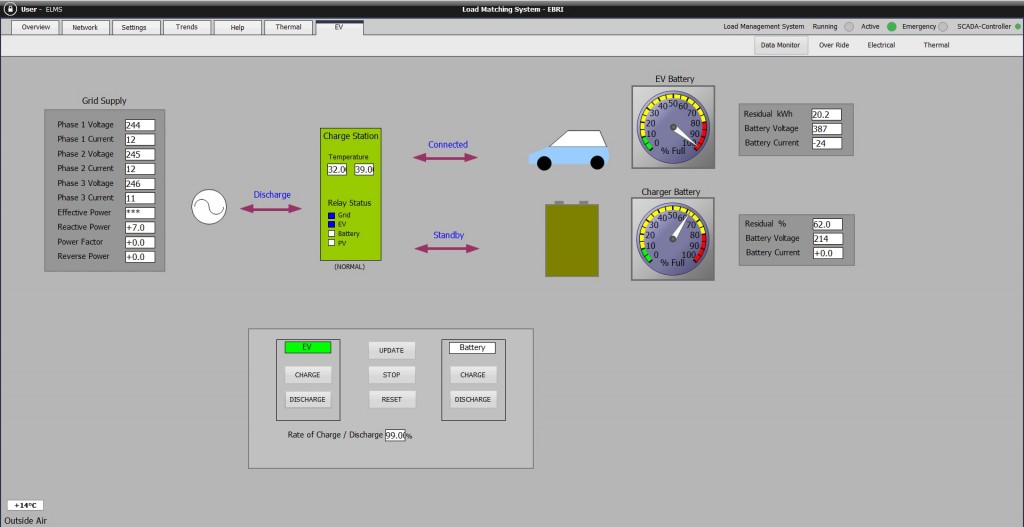 Exciting times for V2G enthusiasts here in the United Kingdom! Now that this pilot project is up and running there's a few more urgent things to be ticked off on the to do list. How about OCPP 2.0 or even fully fledged British and international standards for "smart charging", V2B and ultimately pukka V2G protocols for starters?
Here's how the Open Charge Alliance explain the need for "Open Standards":
The specification for version 2.0 of the Open Charge Point Protocol still seems to be absent from their web site however!