The British Standards Institution has just published a new "specification", and unlike most BSI "standards" this one is free to download, as long as you don't mind parting with an email address. As the download page puts it:
BSI is working with the UK Government to encourage the uptake of safe, secure and interoperable Energy Smart Appliances (ESAs). These are needed for the active management of demand on the electricity network, known as Demand Side Response (DSR). PAS 1878 is a critical component in this because it details the requirements and criteria necessary to make an energy smart appliance compatible with DSR activities.
At this point you may have a couple of question, such as "What on Earth is a PAS?". The BSI have a ready answer for that question:

A PAS (Publicly Available Specification) is a fast-track standardization document – the result of an expert consulting service from BSI. It defines good practice for a product, service or process. It's a powerful way to establish the integrity of an innovation or approach.
The next obvious question is "What has this got to do with electric vehicles and/or vehicle-to-grid technology?". The answer to which is that a "smart" EV charging station is a special case of an interoperable Energy Smart Appliance. As the foreword to PAS 1878 states:
This PAS was sponsored by the Department for Business, Energy and Industrial Strategy (BEIS) and the Office for Zero Emission Vehicles (OZEV). Its development was facilitated by BSI Standards Limited and it was published under licence from The British Standards Institution. It [comes] into effect on 31 May 2021.
The introduction outlines the purpose of the new standard:
The purpose of this PAS is to enable standardized control, subject to an explicit consumer consent, of energy smart appliances (ESAs) on an electricity network in order to:
match the short-term availability of intermittent renewable energy generation sources such as wind and solar;
decrease the peak load on the electrical transmission and distribution networks to alleviate the need for network upgrades to handle new domestic appliance types, such as electric vehicle (EV) chargepoints and electric heating, ventilation and air conditioning (HVAC) systems;
allow control of electricity network characteristics such as line frequency, system inertia and network voltage, and help prevent network and generation outages; and
to allow the offset of short-term market imbalances by controlling flexible load on the network.
These aims are achieved by shifting (in time) and/or modulating (increasing or decreasing) the collective electricity consumption or production of domestic appliances, in line with consumer preferences and agreement, in response to signals from grid-side actors.
There is plenty more where that came from, but let's skip a few paragraphs and then read:
It is also expected that other energy‑related services might be offered in addition to the minimum specification set out in this PAS and PAS 1879:2021, such as optimization of rooftop solar self ‑consumption with appliances or battery storage, that can provide additional benefits for consumers. The IEC 60364 series of standards provide guidance on the information exchange within prosuming electrical installations, e.g. IEC TS 60364-8-3:2020, Table 1.
PAS 1879 is a companion standard to PAS 1878, and is also available free of charge. According to the download page:

The PAS is intended for use by all actors operating within the domestic energy supply chain, including:
Transmission system operators (TSOs)
Distribution network/system operators (DNOs)
Electricity suppliers and aggregators
It might also be of interest to:
Manufacturers of ESAs and customer energy managers (CEMs)
Maintainers of ESAs
Manufacturers and maintainers of interfacing products
Software developers and other service providers
That is probably more than enough for you to consume in a single sitting, but to give you an additional flavour of what's just around the corner at the "domestic" end of the UK smart grid, here is one of the numerous diagrams contained in PAS 1878: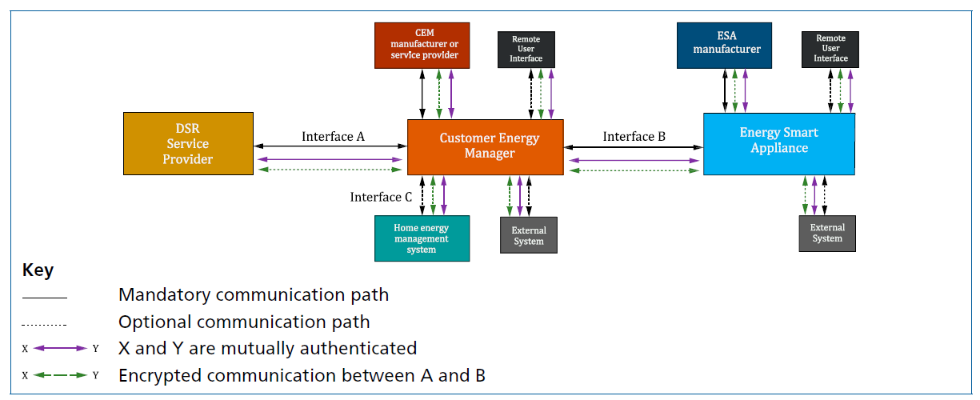 Are there any questions?