As we reported back in the summer:
The United Kingdom Government… pledged to pump £20 million into vehicle-to-grid technology.
After an apparently interminable wait it was announced on Twitter yesterday that:
BEIS/OLEV funded @innovateuk vehicle-to-grid competition winners just announced by Richard Harrington MP. £30m funding, 21 projects spanning 2700 vehicles making UK clear world leader #electricvehicles #v2g pic.twitter.com/3DjlrWmTb3

— Mark Thompson (@markrmthompson) January 23, 2018
Today a plethora of press releases have added some flesh to those bare bones. According to UK Power Networks:
UK Power Networks is part of a consortium that has won £11m government funding for four electric vehicle demonstration projects as part of a series of Vehicle to Grid (V2G) innovation bids.

Vehicle to Grid technology enables energy stored in an electric vehicle's battery to be fed back into the electricity network at times of peak demand. By recharging when demand is low and putting energy into the electricity network when it is high, V2G helps manage the peaks and troughs, balance the network and make it more efficient.

The government is to ban the sale of all new diesel and petrol cars and vans by 2040, and it sees a smarter and more flexible electricity system as a major benefit to consumers and a key enabler to transport's future growth.

UK Power Networks currently has more than 30,000 electric vehicles connected to our networks and by 2030 we anticipate that figure will rise to between 1.2-1.9m. Many of these electric vehicles will be V2G capable and could be used to support delivering electricity reliably and at the lowest possible cost.

The competition is funded by the Department for Business, Energy and Industrial Strategy (BEIS) and the Office for Low Emission Vehicles (OLEV) and is delivered by Innovate UK.

The four V2G projects that UK Power Networks will be taking part in are:

Bus2Grid: Supporting a project to turn a 30-bus garage into the first of its kind in the UK Vehicle-to-grid (V2G) bus garage.
e4Future: A trial on 1,000 V2G fleet vehicles
Beating Home: Domestic customer V2G trial involving customers in specific areas.
V2Street: Public charging networks with a local authority and a charge point provider. Targeted at the 60-70% of Londoners without off-street charging capability.
Note that the £20 million on offer last August has been increased to £30 million today! Perhaps that's at least a partial explanation for the delay in the appearance of the announcement? UKPN don't provide much detail on the four out of twenty one projects revealed so far, so let's look a bit further afield shall we? Heading back to Twitter there's an announcement of a new product offering and a new EV web site from Octopus Energy unsurprisingly entitled Octopus Electric Vehicles:
Introducing Octopus PowerLoop! Sell spare energy from your EV back to the grid. pic.twitter.com/5Sp40op6XB

— Octopus Energy (@octopus_energy) January 24, 2018
which was swiftly followed by another Tweet explaining that:
We're launching Octopus PowerLoop as part of a consortium revolutionising EV vehicle-to-grid charging tech. Power your house using your car as a giant battery pack. Sell spare energy back to the grid. Read more here: https://t.co/qDLwVamEFj#v2g #ElectricVehicle #green

— Octopus Energy (@octopus_energy) January 24, 2018
which put us on the trail of this press release from ChargePoint Services:
Octopus Energy today launched a new consortium to develop the first large-scale domestic trial of vehicle-to-grid (V2G) charging in the UK, following a £3 million funding injection by BEIS and OLEV delivered by InnovateUK.

Comprising Octopus Energy, Octopus Electric Vehicles, UK Power Networks, ChargePoint Services, Open Energi, Energy Saving Trust and Navigant, the consortium will roll out vehicle-to-grid charging technology to UK electric vehicle (EV) drivers this year.

The £7million project will install 135 V2G chargers in a 'cluster' delivery model that will facilitate research into the impact of widespread EV rollout on the UK's electricity grid. The project will demonstrate the benefits of using domestic electric vehicle batteries to provide grid flexibility, cheaper transport and energy to homeowners, and faster decarbonisation of the UK's power and transport sectors.

Customers will be able to discover electric vehicles, take them for a test drive and access a special V2G bundle, Octopus PowerLoop, when leasing a V2G compatible car. A two-way charger will enable the driver to charge their vehicle intelligently, using their vehicle battery to power their home during peak times or selling spare power back to the grid – creating value for the driver.

The technology could revolutionise the energy system by enabling electric vehicles to act as battery packs for the grid, helping to solve the challenge of how to harness the full potential of renewable energy whilst making sure that it is always available on demand. Evidence also shows that V2G use has the potential to increase battery life.
The ChargePoint announcement goes on to quote Octopus Electric Vehicles CEO Fiona Howarth:
Octopus Energy was founded to drive down the cost of energy to customers and the planet, and Octopus Electric Vehicles is the next phase in that mission.

There has been a lot of talk from the sidelines about how vehicle-to-grid technology will change the face of energy, but with this consortium we will be the first in the UK to actually deliver it to hundreds of households. We're delighted to be working with this consortium of visionary companies, and proud to be backed by Innovate UK.
It sounds as though the Octopus Group are intent on competing head on with OVO Energy who previously "embraced" V2G technology:
We're hurtling towards a place where 'two-way' electric car chargers can enable homeowners with electric cars to sell their energy back to the national network. It's a smart idea when you consider that over 90% of cars are parked at any one time – which is a lot of energy just sitting there doing nothing. This technology will give you the opportunity to manage your energy your way, and potentially become energy self-sufficient, reducing everyone's reliance on energy companies. Get solar panels fitted, then adopt vehicle to grid technology and your home could become a private mini-power station!
There are a number of other quotes too. Mark Thompson, Senior Innovation Lead at Innovate UK added:
Vehicle-to-Grid is one of the most iconic parts of the electric vehicle domain, and one that represents a great opportunity for engaging society with the energy system for win-win benefit. The Octopus V2G project is part of a creative, diverse and ambitious group of V2G projects announced today that are way ahead of anything being done currently world-wide, and give the UK a genuine competitive edge in the electrification of transport.
Alex Bamberg, Managing Director, ChargePoint Services, said:
ChargePoint Services' GeniePoint Network continues to be at the cutting edge of delivering the smartest and most reliable electric vehicle charging network in the UK. With this consortium, we join with existing partners to enable us to provide real benefits to the end user both in terms of efficiency and reduced cost. Our investment in the GeniePoint Network and its class leading reliability is further enhanced, whilst at the same time ensuring protection and flexibility of the UK's energy Grid.
Ian Cameron, Head of Innovation at UK Power Networks said:
Electric vehicles are effectively energy sources on wheels, so there are tremendous opportunities to explore how electricity networks can use any spare capacity in those batteries to benefit our customers.

In the future you could use your car battery to power your house or earn money by selling its spare energy back into the network at peak times, and all of this whilst ensuring you have enough energy for your next day's commute. We're innovating to keep our customers moving at the lowest possible cost.
Dagoberto Cedillos, Strategy and Innovation Lead at Open Energi said:
Smart charging solutions that align the needs of drivers and the electricity grid are fundamental to the future of sustainable energy and transport. In partnership with our fellow consortium members, we're applying cutting-edge tech to help realise the enormous opportunity that is domestic V2G charging in the UK, and internationally.
That is of course all very good news, but it raises one big question, in my mind at least. For some strange reason the Beating Home/PowerLoop (depending on which press release you prefer) consortium doesn't seem to include a bi-directional electric vehicle charging point manufacturer and none of the assorted news releases and quotations mentions that rather essential piece of hardware, or indeed shows a picture of such equipment in action. To right that particular wrong, here's one I prepared earlier: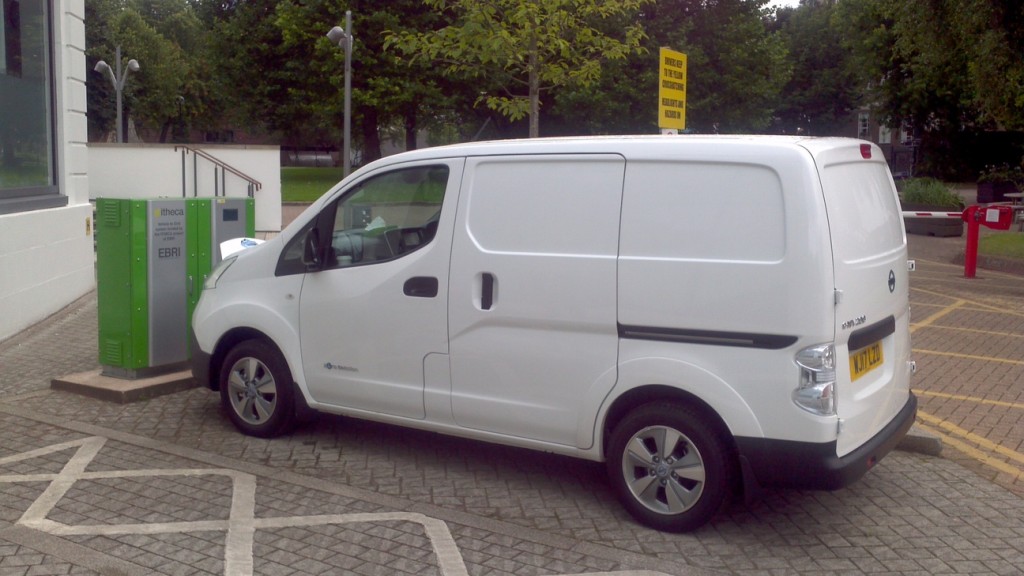 There's also no mention of the activity that I'm currently engaged in. Developing international standards for the protocols that ChargePoint Services's charging station management system (CSMS for short) might one day use to communicate with the unnamed electric vehicle supply equipment (EVSE for short) OEM's V2G capable hardware installed in 135 Great British homes:
Wish you were here @markrmthompson? pic.twitter.com/EIfor1dKKw

— V2G Limited (@V2gUK) January 23, 2018