We reported last September on the announcement of partnership between Fiat Chrysler and Italian utility Terna to develop "an experimental demonstration fleet of electric cars connected to the grid via a V2G infrastructure". Now comes news via an FCA press release that:
FCA has selected ENGIE Eps as the technology partner for the project, to build that infrastructure.


In full compliance with the safety standards to contain the epidemic, work has therefore begun at the FCA plant in Mirafiori, Turin on the first phase of the Vehicle-to-Grid (V2G) pilot project. Once fully completed, it will be the largest plant of its kind in the world.

The initiative is aimed at two-way interaction between FCA full electric vehicles and the power grid. In addition to recharging the cars, the project will use their batteries to provide grid stabilization services.

The vehicle batteries are capable of storing energy and, using the V2G infrastructure, can return it to the grid when needs be. This represents an opportunity to optimize the operating costs of the cars – for the benefit of motorists – and a concrete possibility of contributing to a more sustainable electricity system.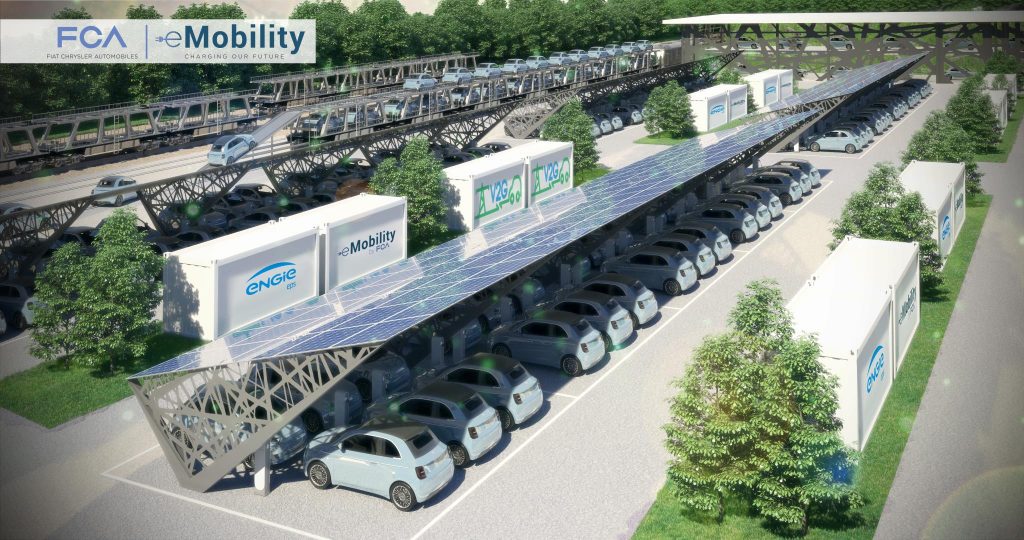 The construction site for phase 1 of the project is now open at the Drosso logistics center, within the Mirafiori complex. The works cover an area of approximately 3,000 m2 with 450 m of trenches already excavated, ready to host over 10 km of the cables required to interconnect the electricity grid with 64 two-way fast charging points, with an output of up to 50 kW. The centralized infrastructure and advanced control system – providing Vehicle-to-Grid network services in addition to fast charging of electric vehicles – was designed, patented and constructed by ENGIE Eps.

Phase 1 of the project will see the installation of 32 V2G columns capable of connecting 64 electric vehicles and is scheduled for completion in July. By the end of 2021, the infrastructure will be extended to interconnect up to 700 electric vehicles, capable of providing ultrafast grid services to the transmission network operator, as well as recharging the vehicles themselves.

In its final configuration, the project will be capable of supplying up to 25 MW of regulatory capacity, making it the largest V2G facility ever built in the world. In addition, by aggregating with other FCA "assets" at Mirafiori – including 5 MW of solar panel capacity – this V2G infrastructure will become a true Virtual Power Plant, indeed the most innovative one in Italy. It will have the capability to provide a high level of resource optimization to the equivalent of 8,500 homes and a wide range of services to the network operator, including ultrafast frequency regulation.
This is all very interesting of course, not least because of ENGIE's promised "ultrafast frequency regulation". I'd love to know how that will be achieved, and also the type of V2G technology capable of delivering such an "ultrafast" response. AC or DC? CCS or CHAdeMO?

Time will tell, so watch this space! In the mean time here's an artist's impression of the 2021 model year Fiat 500 EV: