In a press release earlier this week Nissan announced that it had:
Revealed to the world the all-new Nissan Ariya electric coupé crossover, marking a new chapter for Nissan electric vehicles. The EV premiered globally through a virtual event hosted at the soon-to-open Nissan Pavilion in Yokohama.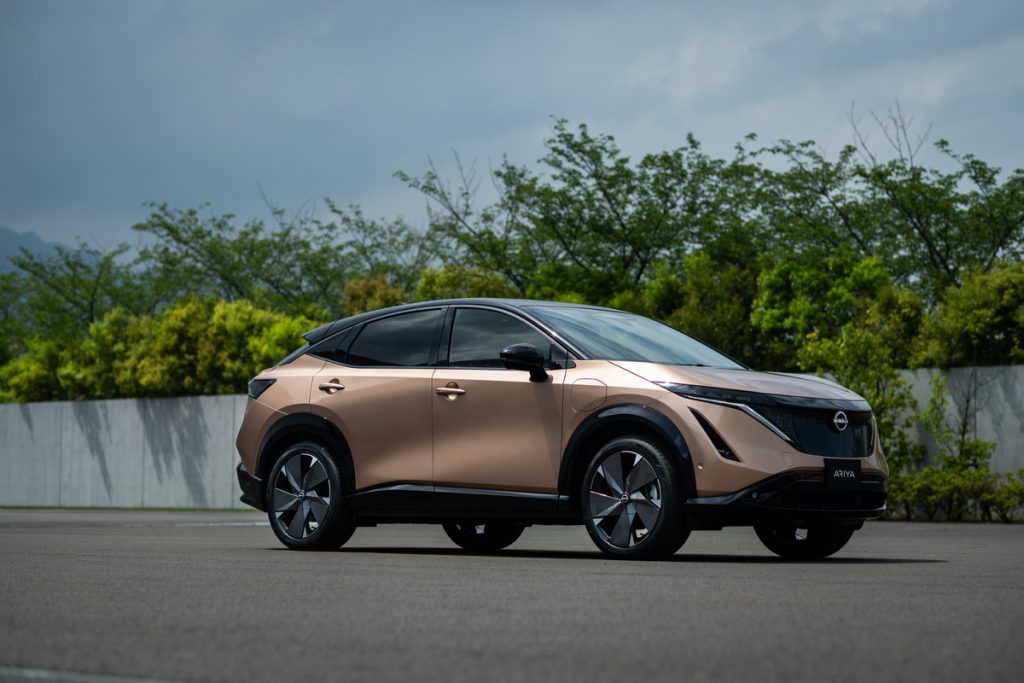 The Ariya – Nissan's first all-electric coupé crossover– offers powerful acceleration and smooth, quiet operation, as well as an interior with a welcoming, luxurious lounge-like atmosphere. Its stress-free autonomous driving features, voice personal assistance and seamless connectivity heighten on-road confidence and provides a welcoming environment for the driver and passengers. And with an estimated range of up to 500 kilometers (based on WLTP combined cycle, subject to homologation), Ariya is the perfect partner for daily commutes and road trips alike.

The Nissan Ariya is heavily based on the similarly-named concept vehicle displayed at the 2019 Tokyo Motor Show and first hinted at with the IMx at the 2017 Tokyo Motor Show. It's the first production model to represent Nissan's new electrified brand identity, forging a path toward a new automotive era where electrification, optimized platform packaging and seamless vehicle AI technology will become standard.
A bit of a change from the venerable LEAF then, with a dual motor 4 wheel drive option accompanying the "new electrified brand identity", which does reduce the range somewhat: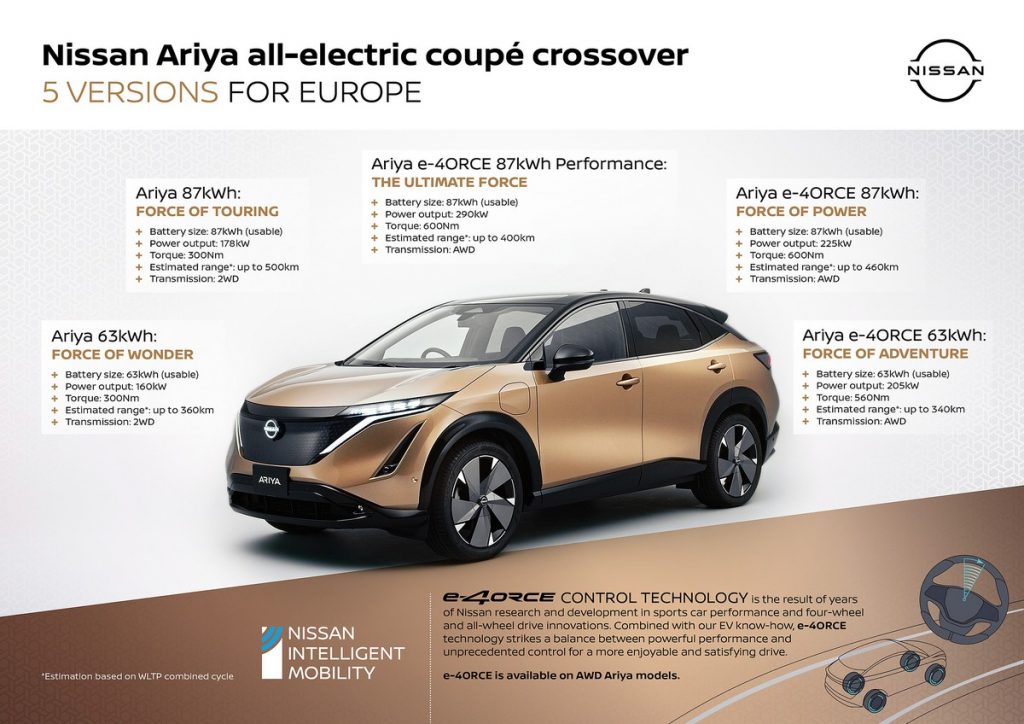 As you can see from Nissan's Ariya infographic, the LEAF's dual AC/DC charging connector has moved from front and centre to the nearside front wing. Nissan haven't provided an image of what's hiding under the cover, but the press release does mention in passing that:

While every Ariya version will feature impressive driving range in its segment, it also boasts remarkable range recovery and quick-charge performance using Combined Charging System (CCS) in Europe. This is thanks in part to its battery thermal control feature, which constantly optimizes the operating temperature of the liquid-cooled battery.

The Nissan Ariya 63kWh versions carry a 7.4 kW charger for domestic use, while the 87kWh include a 22kW 3 phase charger for home charging. The Ariya can also support quick charging up to 130kW for peace of mind during long journeys.

In Europe the Ariya is following in the footsteps of the Kia Soul by dropping Nissan's traditional CHAdeMO DC quick charging system in favour of CCS. Perhaps the "plug wars" are over, in Europe at least? However the Ariya press release makes no mention of discharging those hefty battery packs back to the home or distribution grid. Which prompts us to rephrase our perennial question once again:
The $64,000 question at this juncture is therefore "Will Nissan be demonstrating V2G over CCS some time soon?"
P.S. Here is the inimitable Robert Llewellyn's initial review of the new Nissan Ariya for his Fully Charged Show:


It includes this informative infographic: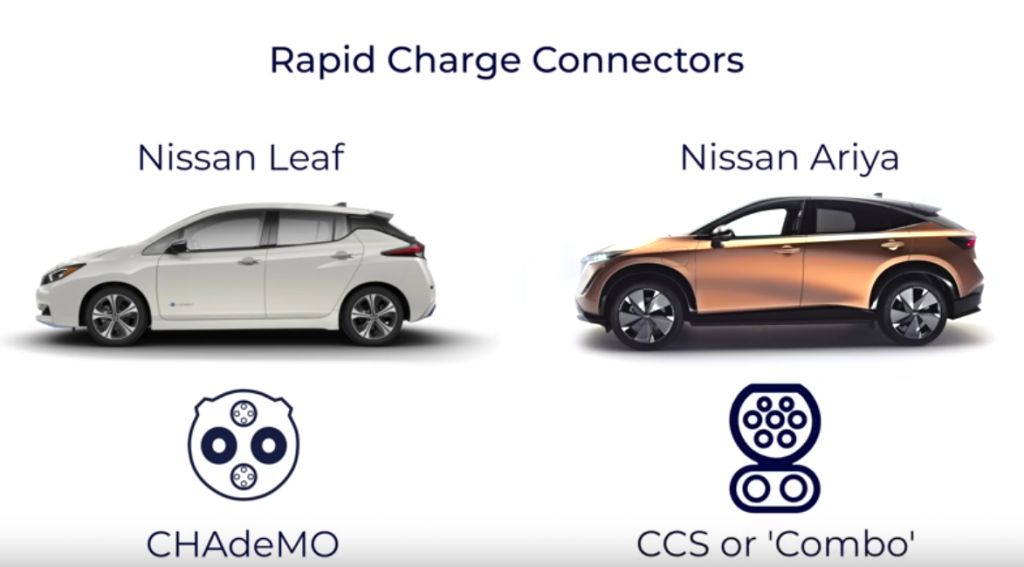 Bobby mentions that "the other good thing it does is over the air updates" at that juncture, but sadly doesn't address our vehicle-to-grid $64,000 question.
Watch this space!