In a press release yesterday Masdar announced that:
Masdar, one of the world's leading sustainability investors and renewable energy developers, has today joined UK government leaders in London for a specialised industry event to discuss its recent investment in the Charging Infrastructure Investment Fund (CIIF).

Hosted by the Infrastructure and Projects Authority (IPA) at the Foreign and Commonwealth Office in Whitehall, participants included Simon Clarke, Exchequer Secretary to HM Treasury, Khaled Al Qubaisi, CEO of Aerospace, Renewables & ICT for Mubadala, HE Mansoor Abulhool, UAE Ambassador to the UK, Mohamed Jameel Al Ramahi, CEO of Masdar, Matthew Vickerstaff, Deputy CEO of IPA, and Samer Salty, Managing Partner of Zouk Capital.

Masdar, a subsidiary of Mubadala Investment Company, last month became the first commercial investor in the UK government's £400 million CIIF, which aims to more than double the country's electric vehicle charging infrastructure with 3,000 new rapid charge points by 2024 as part of its ambition to end the sale of petrol and diesel vehicles by 2040.

To be managed by Zouk Capital, Masdar has invested £35 million in the fund, which has been matched by the UK government.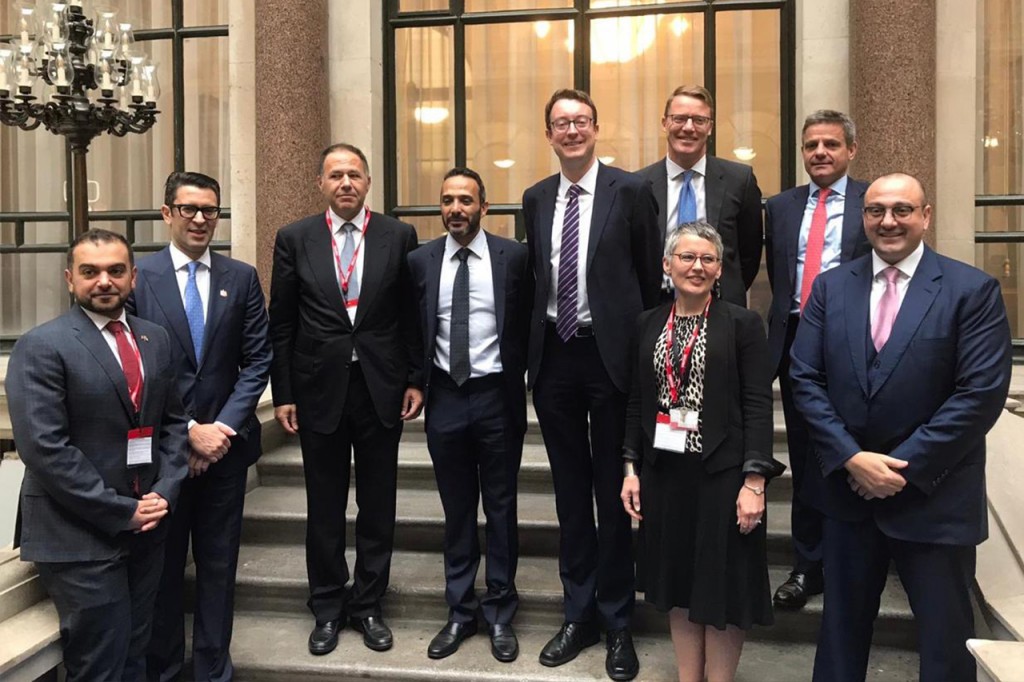 HM Government also published a transcript of the speech made by Simon Clarke, the Exchequer Secretary to the Treasury, at the Foreign and Commonwealth Office yesterday:
In November of last year, I was one of 50 Tory MPs who wrote to the Prime Minister and urged her to set a target of net-zero emissions by 2050.

We felt then as we do now – that that we could decarbonise through science, not economic sacrifice…

…That our method would not be hair-shirted self-denial, but innovation and investment driven by the right incentives.

Our past should give us confidence.

This country's ingenuity has kept the UK at the forefront of science and engineering for hundreds of years.

And, provided we keep our ambitions high, we will lead the world for hundreds more.

And the goal of net zero emissions will inspire us all to great heights of achievement.

Entrepreneurs will see opportunities in new industries, and create jobs all around the UK.

And the new technologies they create will clean the air we breathe, and cut the bills in our homes.

In June this year, the government became the first major economy in the world to adopt the Net Zero 2050 target, which is fantastic news.

I was made a minister a month later and – while this is possibly slightly less momentous – I can assure you all I will do everything I can to make sure the government keeps its promise.
By way of Her Majesty's Government keeping its Net Zero promises, Mr. Clarke went on to say that:
The Charging Infrastructure Investment Fund is in many ways emblematic of our approach to Net Zero.

Our philosophy isn't that government can solve everything.

Of course, we have an important role to play – but we have to do it in partnership with the energy and expertise of the private sector.

Our approach is therefore to set up the right incentives and conditions, and then allow a powerful green market to flourish.

In this case, we wanted to encourage more people to buy and use electric vehicles, or EVs, which are far less polluting than traditional cars.

We set up grants for cars, taxis, vans and motorcycles.

But we realised that people looking at buying EVs were wary of getting marooned, without any battery in their car left and miles away from home or the nearest charging point.

And handouts wouldn't cut it – we needed to unleash the power of the market.

So, with Zouk Capital, we set up the Charging Infrastructure Investment Fund as a catalyst, with government money matching any private capital that comes in to maximise impact.

And we were delighted that Masdar chose to invest £35 million in the fund – which the government topped up to £70 million – for the installation of 3,000 rapid chargers across the country.

This more than doubles the UK's number of rapid chargers, producing a dense network of stopping points where family cars can be charged in 20 minutes flat – the time it takes for a sandwich and a coffee on the way to the seaside.

And, further, it shows Masdar's continued participation in the UK's clean energy commitments.

Masdar has invested more than £3 billion in the UK in the past ten years, predominantly in offshore wind.

It's a pleasure to welcome Mohamed Al Ramahi here today for the signing ceremony and to talk more about how we can work together.
Here's hoping that Zouk Capital, HM Government and/or Masdar also decide to invest in vehicle-to-grid capable "destination" charging points in the not too distant future. If the UK is aiming for "Net Zero" carbon emissions in the foreseeable future one way or another UK plc needs to back up offshore wind and other renewable energy generation with some form of storage of that energy for those times when the wind doesn't blow and the sun doesn't shine. Electric vehicle battery packs can provide a very cost effective way of achieving that end, assuming that the appropriate infrastructure is already in place.
A problem we are already working hard on solving down here in the Wild and Windy West Country!