According to a Honda press release yesterday:
Honda is installing five bi-directional electric vehicle charging points at Islington Town Hall in London, in partnership with smart charging specialists, Moixa. The initiative will help Islington Council electrify its entire vehicle fleet; part of its efforts to achieve net-zero emissions by 2030.

This is the first project resulting from the collaboration between Honda and Moixa, which was announced at Geneva Motor Show in 2019. The strategic partnership forms a significant part of Honda's Electric Vision strategy to deliver industry-leading innovation through a portfolio of energy management products and services in Europe.

The bi-directional vehicle-to-grid (V2G) chargers incorporate Moixa's GridShare smart software, which optimises EV battery charging when grid power is cheapest and cleanest. The software can also aggregate groups of plugged-in EVs to provide battery power to the grid when it is most expensive and carbon intensive. When EVs are plugged in to all the chargers, the smart technology can provide enough energy to power the base load of Islington Town Hall.
The press release was accompanied by an image showing a CCS connector plugged into the front of an anonymous vehicle with a Honda badge: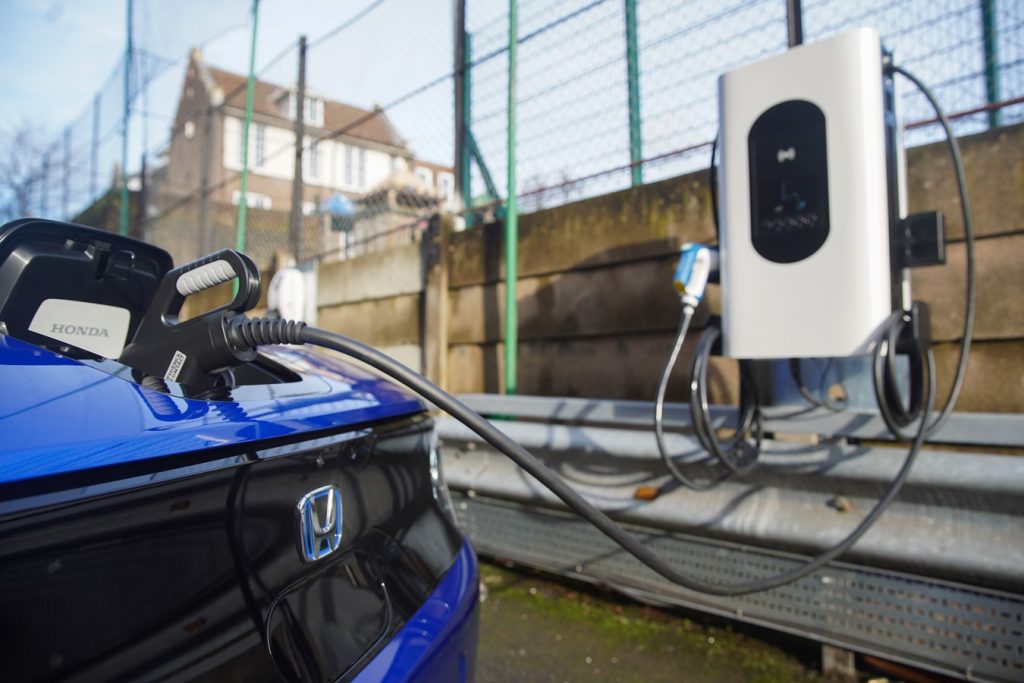 However a Moixa press release about the Islington project had a somewhat different emphasis:
At Moixa, we've hit the ground running in 2020, unveiling a new smart EV charging project to optimise Islington Council's fleet at the town hall. This is an exciting first step in our partnership with Honda, to deploy smart EV charging and management solutions across Europe.

We're working with Honda to support Islington Council achieve its ultra-low emissions zone (ULEZ) standard across its fleet of 500+ vehicles. The council's goal is to electrify its entire fleet, cutting 1,400 tonnes of dangerous carbon dioxide (CO2) emissions every year. This project will reduce harmful air pollution, save money for essential services and help Islington achieve its 2030 net-zero carbon emissions target.
and a rather different image: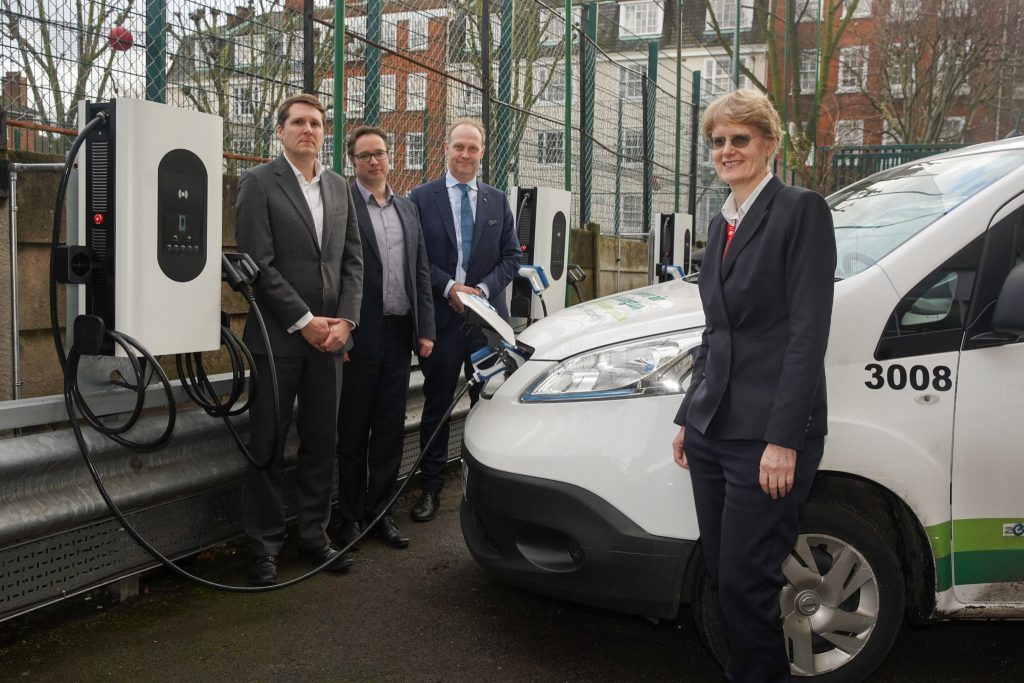 That looks suspiciously like a CHAdeMO connector plugged into the front of a Nissan e-NV200 van, with Simon Daniel and Chris Wright from Moixa looking on in the background!
According to Chris, who is Moixa's Chief Technology Officer:
The EV revolution will put millions of 'batteries on wheels' on our roads in the next decade. By using AI-driven charging technology, we can intelligently manage these fleets of batteries, securing lowest-cost charging and highest-impact carbon savings. Our project with Honda and Islington shows what is possible and provides a blueprint for all large organisations to follow.
Whilst according to Honda Motor Europe's Project Leader of Energy Management,
Jørgen Pluym:
As the shift towards electrification accelerates, we must continue to innovate with projects like these – helping to drive awareness and uptake of charging solutions and advanced vehicle-to-grid technologies. Honda is committed to promoting sustainable future energy management in Europe, and this project in Islington represents an important part of our vision for future energy solutions.
It looks to me as if Islington Council already possesses one or more Nissan e-NV200's, but I suspect they will have to wait quite a while for a V2G enabled Honda, especially if it's vans that they're after!