Less than a week after ex Hurricane Ophelia battered Ireland another named storm is due to arrive overnight. This one is more conventional than Ophelia, since Brian never was a Hurricane. However despite that he still packs a considerable punch. This time around Met Éireann have issued an orange wind warning for coastal areas in the south of Ireland:
Wind Warning for Coasts of Mayo, Galway, Clare, Kerry, Cork, Waterford and Wexford

Southeast winds of mean speeds 55 to 65km/h with gusts of 90 to 110km/h, will veer west or northwest and strengthen further during the night, reaching orange level with mean speeds of 65-80 km/h with gusts 110-130 km/h. Winds will ease to yellow warning level during Saturday evening.

Issued: Friday 20 October 2017 12:16
Valid: Friday 20 October 2017 22:00 to Saturday 21 October 2017 22:00
Meanwhile the UK's Met Office has issued a yellow wind warning across much of southern England: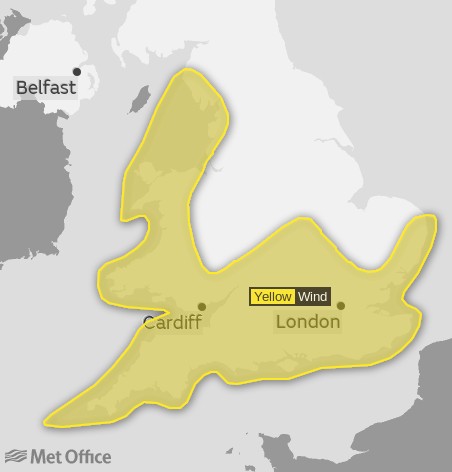 A swathe of strong south or southwesterly winds reaching parts of Wales and southwest England will steadily transfer east and north during the morning. Later in the afternoon winds will gradually turn westerly and wind inland will start to slowly ease. Meanwhile, in western and southern coastal areas winds will start to slowly ease later in the evening. Gusts of 45 to 55 mph are expected widely within the warning area with gusts of 60 to 70 mph along exposed southern and western coastal areas. These are expected to coincide with high tides, leading to locally dangerous conditions around coastal areas in western and southern parts of England and Wales.
The local surf forecast for North Cornwall from Magic Seaweed reveals even bigger waves than Ophelia produced: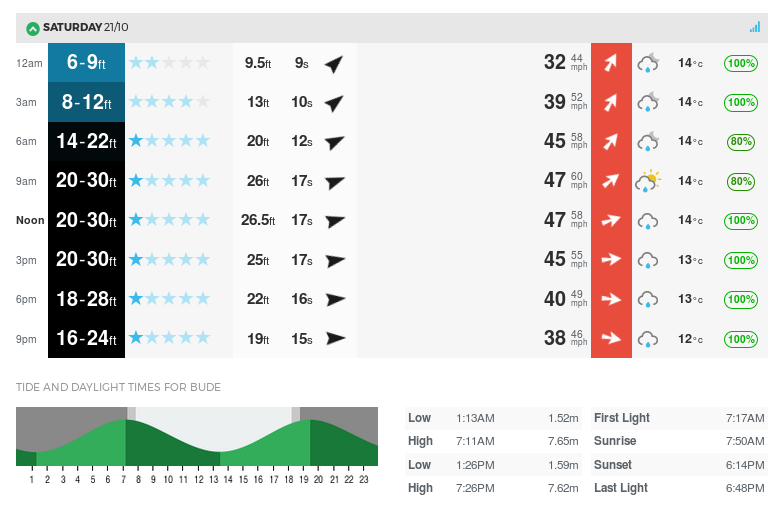 Meanwhile according to ESB Networks:
ESB Networks have now continued to restore power this morning, with power now restored to 343,000 families, farms and businesses. Approximately 42,000 customers remain without supply.

​The worst impacted areas are in the environs of Enniscorthy, Wexford town, New Ross, Bandon, Dunmanway and Fermoy.

Assisted by contractors, crews from Northern Ireland and overseas utilities, as well as the army and air corps, ESB Networks will continue restorations to every last family, farm and business until their lives are back to normal.

A Met Éireann Status Orange wind warning has been issued for seven coastal counties, including Cork and Wexford, will hamper restoration efforts. Should the weather conditions worsen further, our crews will be stood down until it is safe to resume repairs again. Winds speeds up to 130 km/h will cause outages to customers in Mayo, Galway, Clare, Kerry, Cork, Waterford and Wexford on Saturday.
This morning ESB Networks have released a power cut heat map revealing how far their restoration efforts after Storm Ophelia managed to get before Storm Brian arrived:
ESB Networks have now restored ​363,000 homes, farms and businesses who lost power supply due to the damage inflicted by ex-hurricane Ophelia. Our crews are continuing to work to restore the 22,000 homes, farms and business that are still without supply.

The locations of these homes, farms and businesses are highlighted on the heat map below.

Our crews will work to restore everyone as long as it is safe to do so. We are acutely aware of how difficult the situation is for all of customers who remain without power.
Power cut numbers are now rising again. By our reckoning there are currently just under 30,000 "homes, farms and businesses" without power across southern Ireland.
A couple of pictures from Porthleven by Cornwall Live's Sally Adams: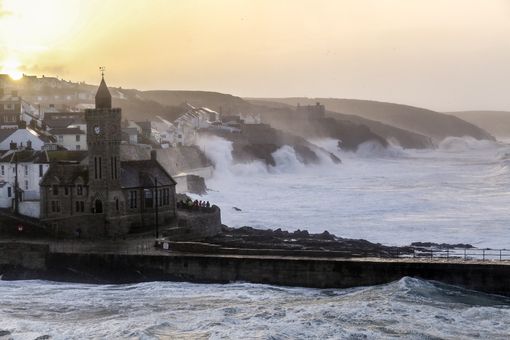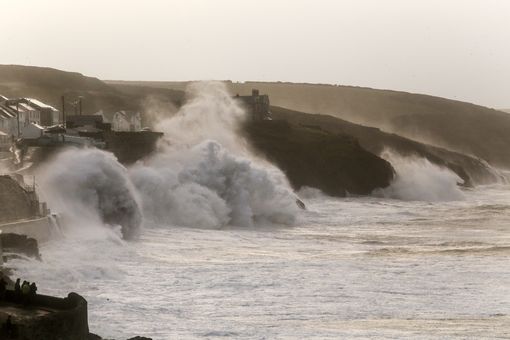 In this morning's update ESB Networks report that:
While Storm Brian hampered power restoration following Storm Ophelia and caused additional outages on the system, work continued as and when safe to do so.

10,000 homes, farms and business remain without power this morning, down from 385,000 at the peak on Monday. Whilst Storm Brian caused additional problems good progress was made and the total number without power this morning is now 10,000.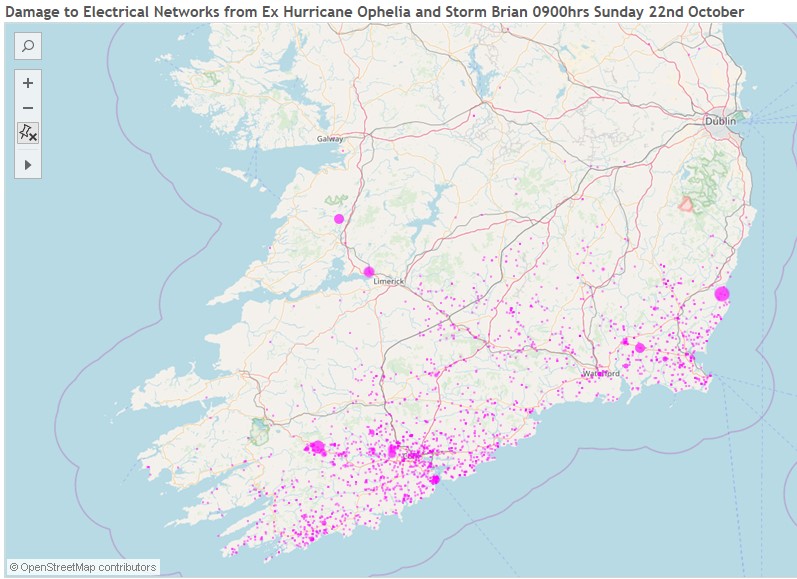 This evening ESB Networks report that:
ESB Networks continue to restore electricity supply in the worst impacted areas of Counties Cork and Wexford. Approximately 6,000 customers are currently without power, a number of which are due to Storm Brian.

Here is an illustration of the remaining homes, farms and businesses that we are working to restore.