Only last week we were following power cuts caused by both a heat wave in California and hurricane force winds in Ireland thanks to the extratropical cyclone dubbed Storm Ellen by Met Éireann. This week we already have two hurricanes heading for the United States coast in the Gulf of Mexico, where a significant storm surge and numerous power outages are now expected.

The sustained wind speeds of Hurricane Marco have just dropped below the Saffir-Simpson scale category 1 threshold of 74 miles per hour. However storm surge and hurricane warnings are still in place for the Gulf coast of Lousiana: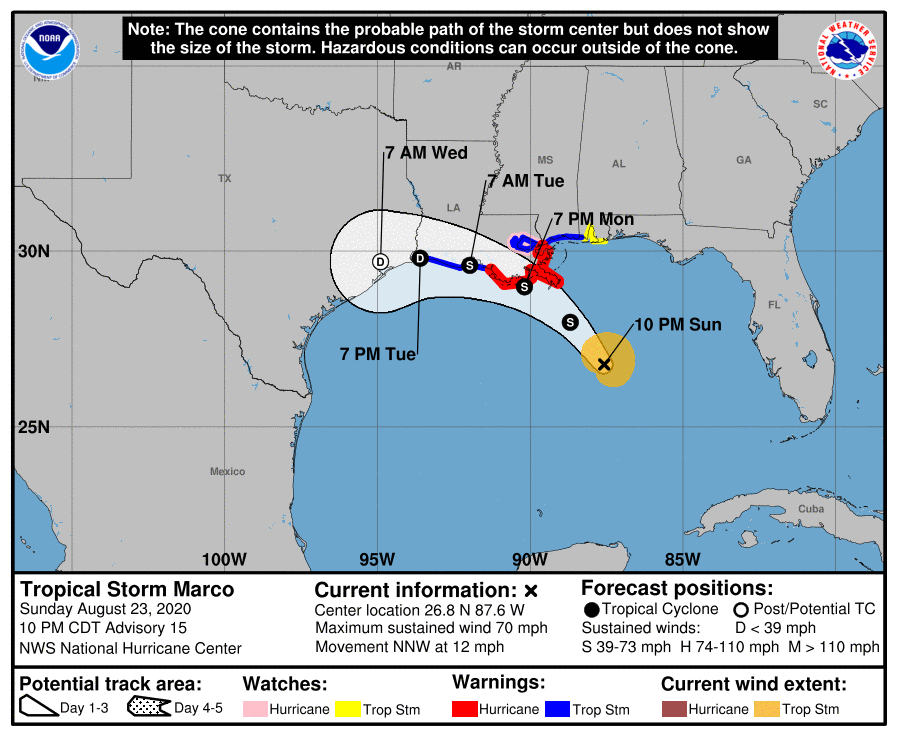 A STORM SURGE WARNING IS IN EFFECT FOR.... 
* MORGAN CITY LOUISIANA TO OCEAN SPRINGS MISSISSIPPI 
* LAKE BORGNE 
A HURRICANE WARNING IS IN EFFECT FOR... 
* MORGAN CITY LOUISIANA TO THE MOUTH OF THE PEARL RIVER
Marco is due to make landfall later this evening. Meanwhile Tropical Storm Laura, currently crossing Cuba, is forecast to strengthen as she crosses the Gulf before making landfall at hurricane strength on Wednesday night, in Louisiana once again: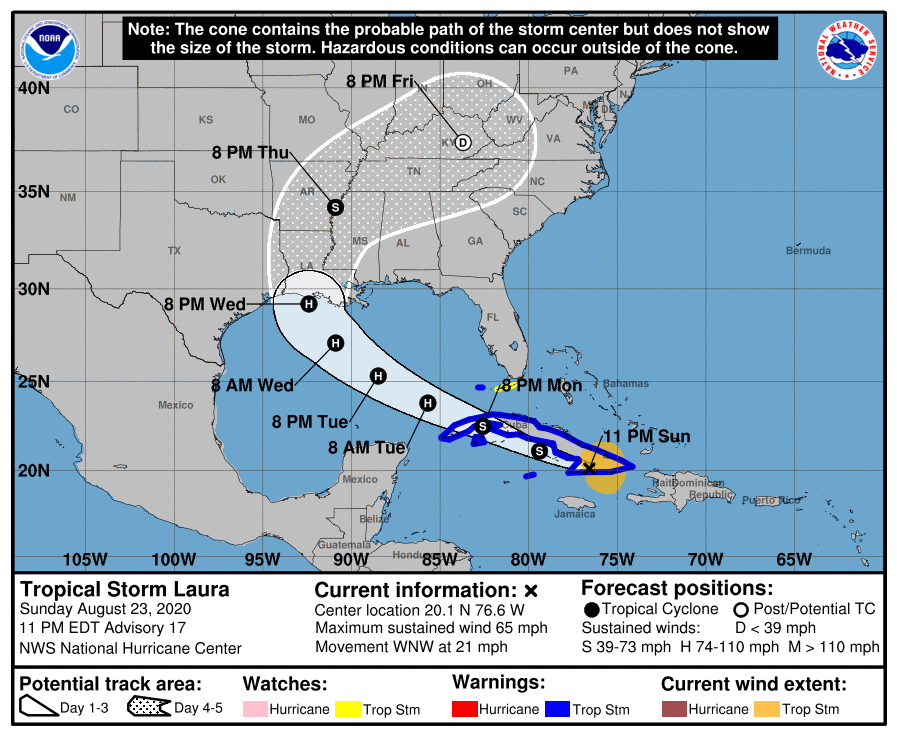 FORECAST VALID 27/0000Z 29.2N  92.4W
MAX WIND  90 KT...GUSTS 110 KT.
50 KT... 50NE  40SE  30SW  40NW.
34 KT...100NE 100SE  50SW  80NW.
Significant damage to the electricity distribution infrastructure in the southern USA is expected. Yet again we are compelled to wonder if many of the anticipated power outages could have been prevented if areas of the United States vulnerable to hurricane damage already possed significant numbers of vehicle-to-grid capable electric vehicles and bidirectional charging stations?
Here's an image of Hurricane Laura over the Gulf of Mexico, recorded a few minutes ago by the GOES-16 satellite: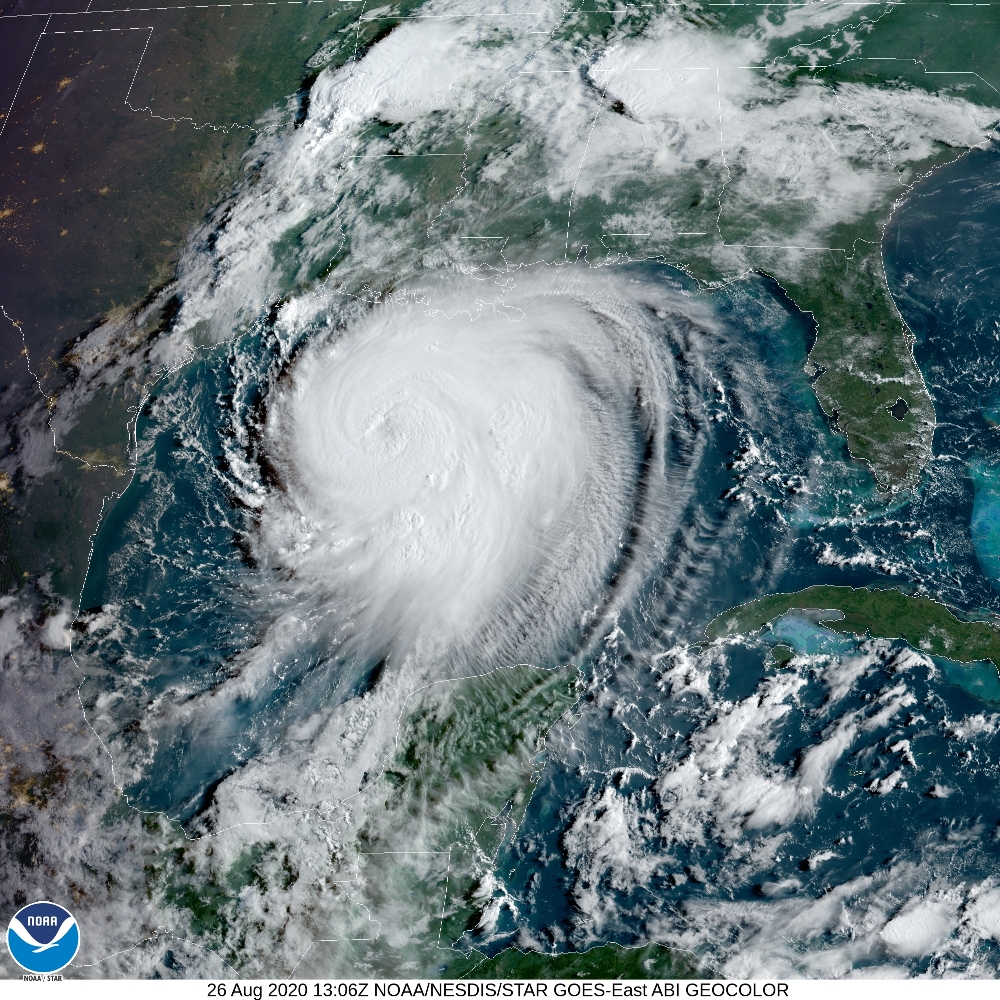 Laura has made landfall as a major category 4 hurricane. According to the most recent National Hurricane Center public advisory notice:
100 AM CDT Thu Aug 27 2020
...EXTREMELY DANGEROUS CATEGORY 4 HURRICANE LAURA MAKES LANDFALL NEAR CAMERON LOUISIANA... 
...CATASTROPHIC STORM SURGE, EXTREME WINDS, AND FLASH FLOODING OCCURRING IN PORTIONS OF LOUISIANA... 
SUMMARY OF 100 AM CDT...0600 UTC...INFORMATION 
---------------------------------------------- 
LOCATION...29.8N 93.3W 
ABOUT 30 MI...45 KM SSW OF LAKE CHARLES LOUISIANA 
ABOUT 40 MI...70 KM E OF PORT ARTHUR TEXAS 
MAXIMUM SUSTAINED WINDS...150 MPH...240 KM/H 
PRESENT MOVEMENT...N OR 350 DEGREES AT 15 MPH...24 KM/H 
MINIMUM CENTRAL PRESSURE...938 MB...27.70 INCHES
Here's how Laura looked from the GOES-East satellite: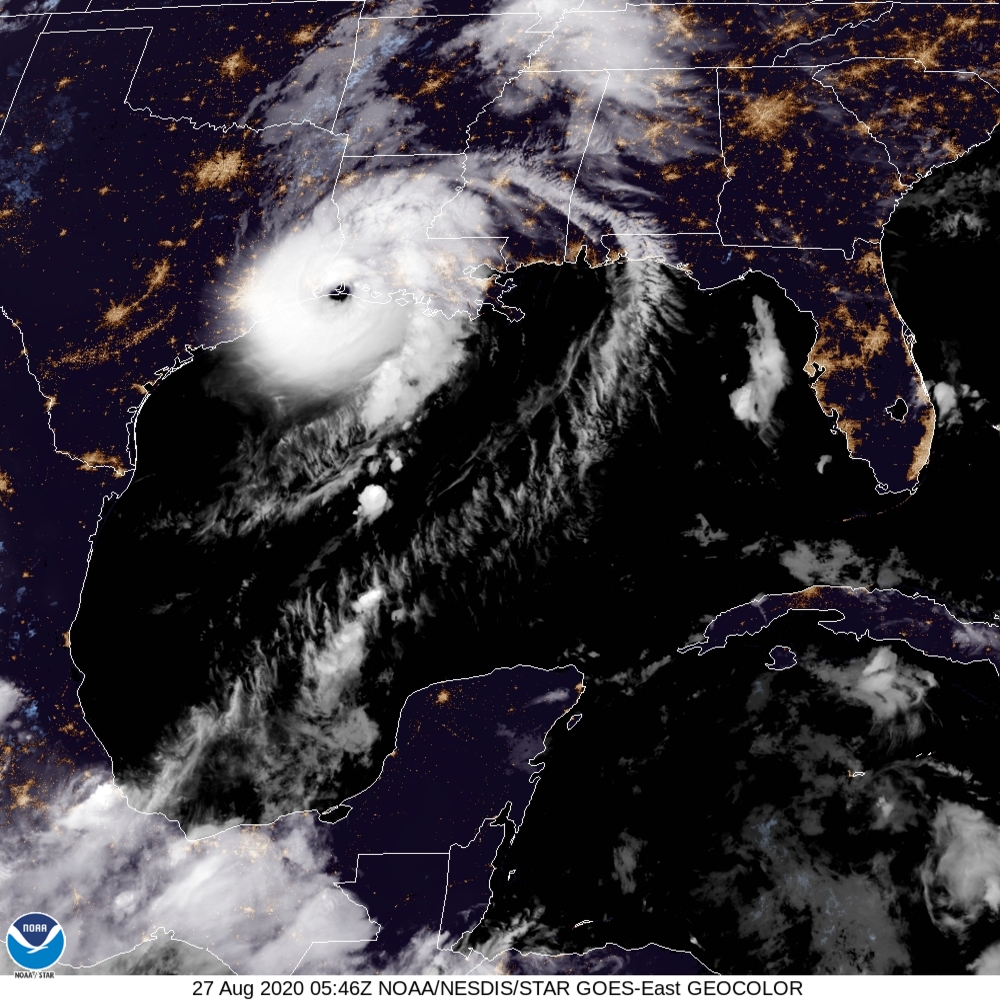 and here are the side effects of her passage on the local electricity distribution grids in Louisiana and Texas: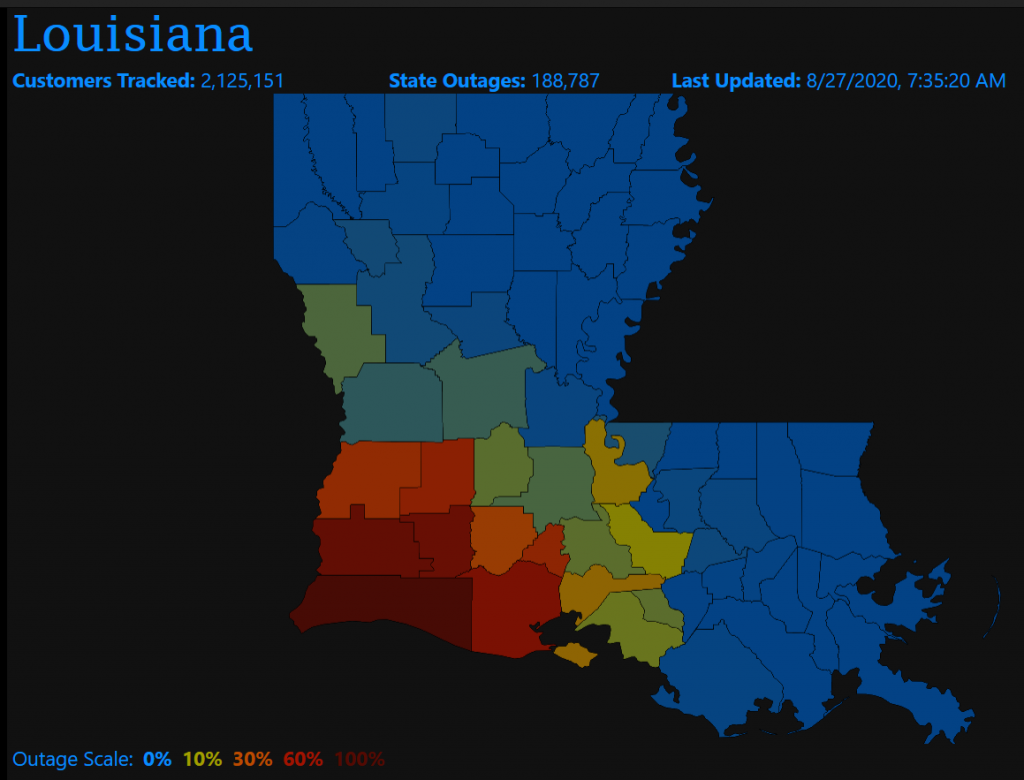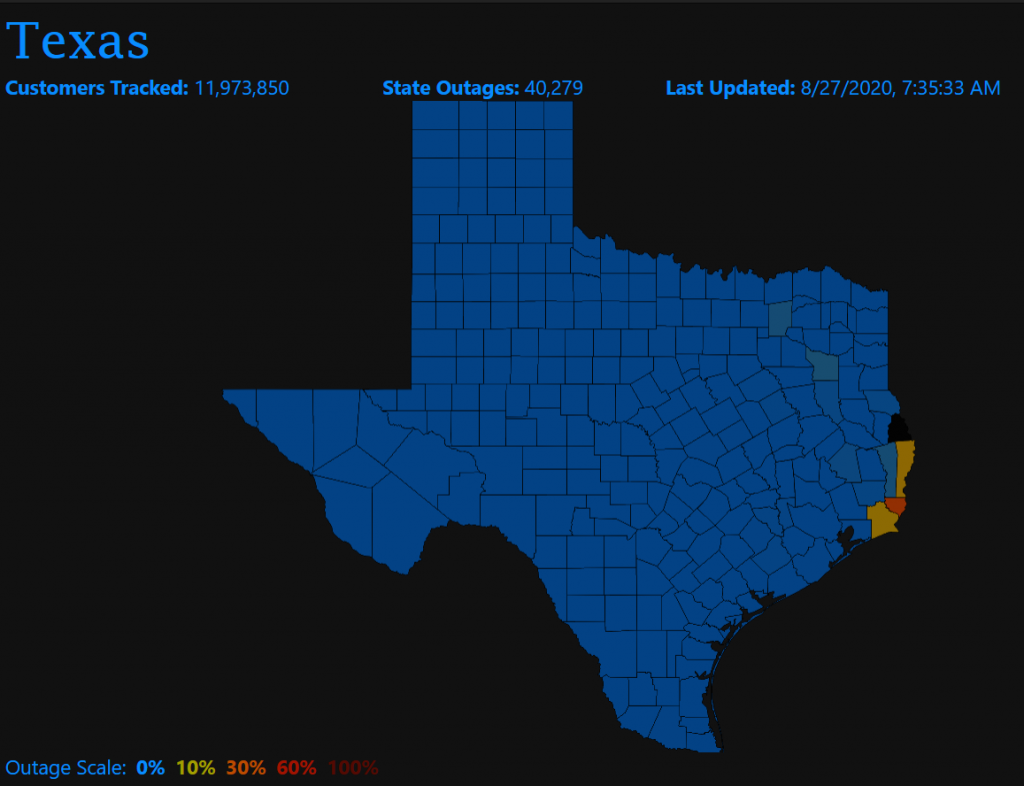 There are now well over half a million premises across Louisina and Texas suffering from a power cut due to Hurricane Laura. Here are the outage maps from poweroutage.us: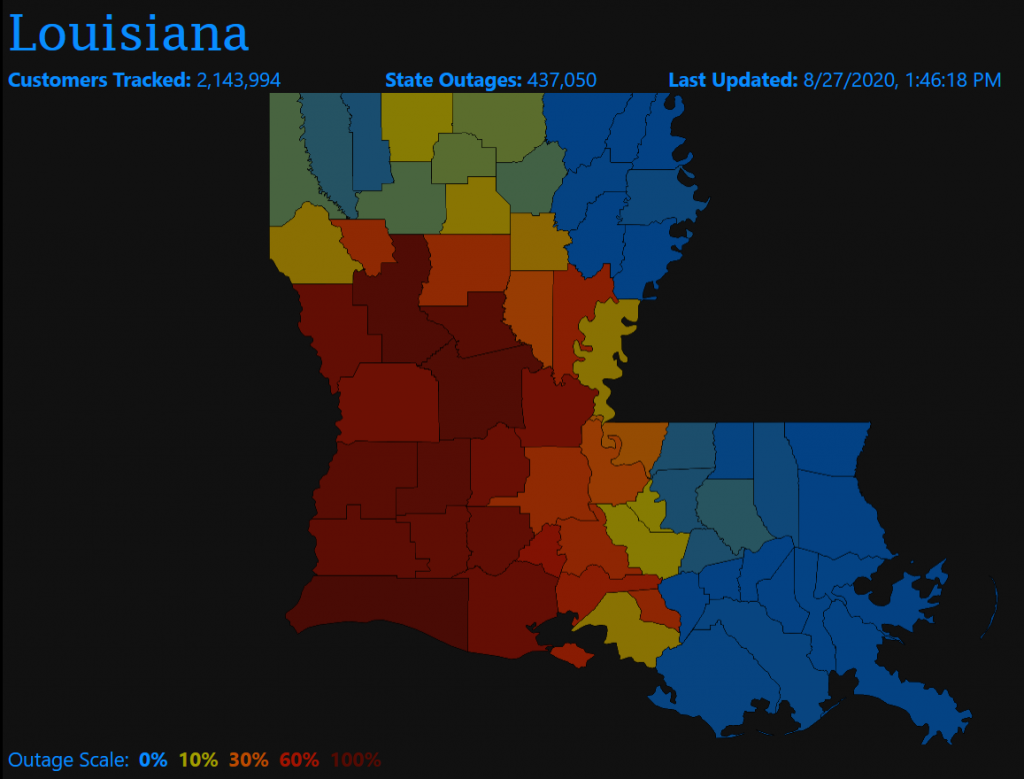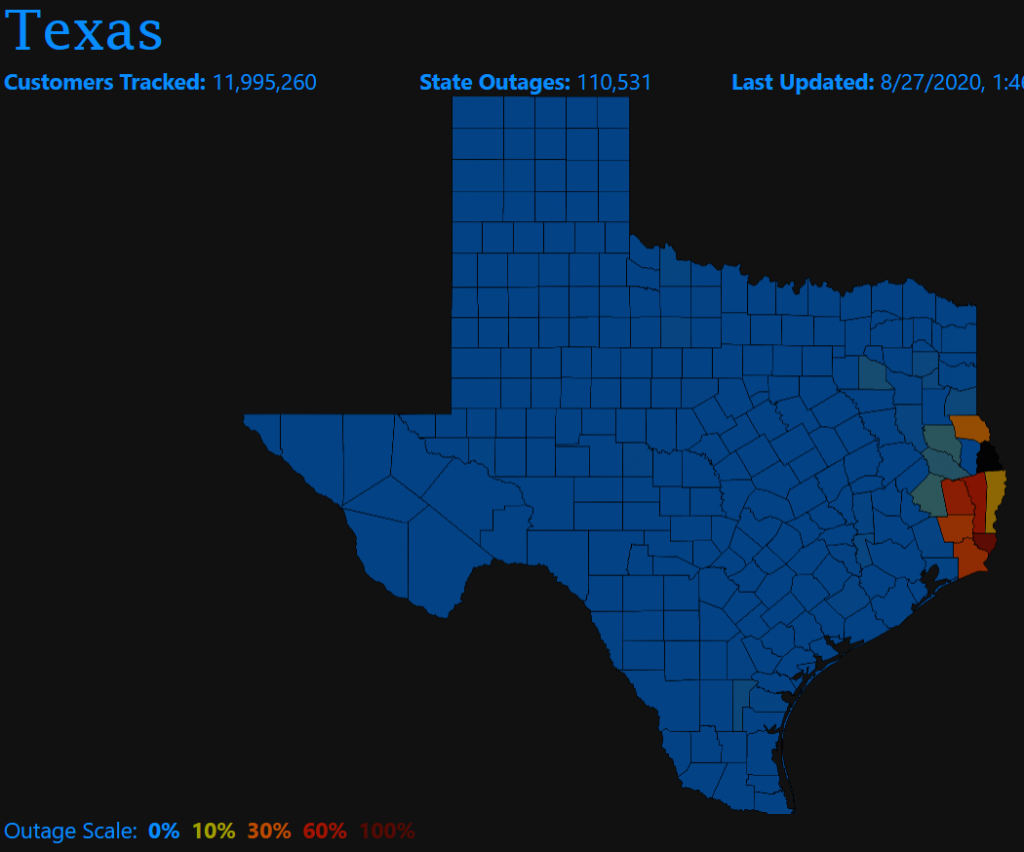 Plus Entergy's map of the current state of their distribution grid in southern Louisiana: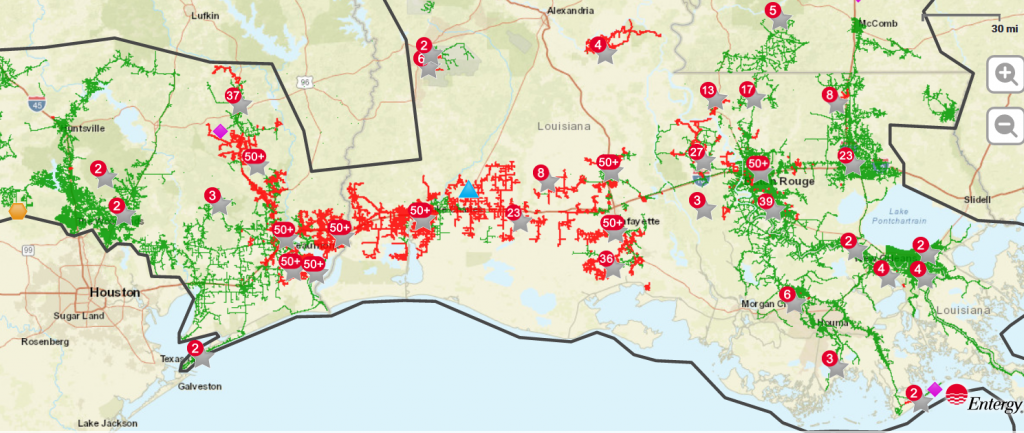 Repeating a message I imparted on Twitter earlier this morning:
As #HurricaneLaura reduces in intensity heading north over land, there are currently almost 800,000 properties across #Louisiana, #Texas and #Arkansas enduring a #PowerOutage.

Widespread adoption of #V2G capable #ElectricVehicles could help reduce that problem in future. pic.twitter.com/nJ0IstCGTt

— V2G Limited (@V2gUK) August 28, 2020
According to PowerOutage.us there are still over half a million properties suffering from a power cut this morning in the aftermath of Hurricane Laura: