Louisiana still hasn't recovered from the damage caused by the passage of Hurricane Laura last month. Here's how the state's power outage map looks this morning (UTC):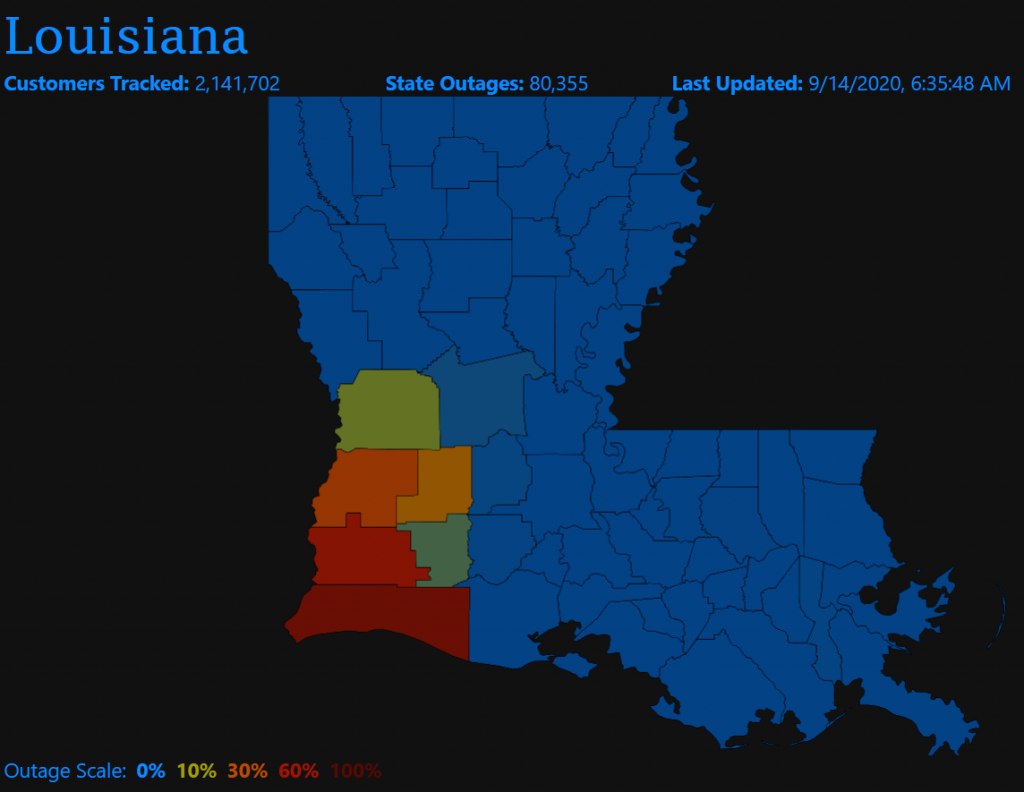 Now yet another storm is heading for the coast of the Gulf of Mexico. Tropical Storm Sally is forecast to increase in strength to hurricane force before crossing the coast further to the east than Laura: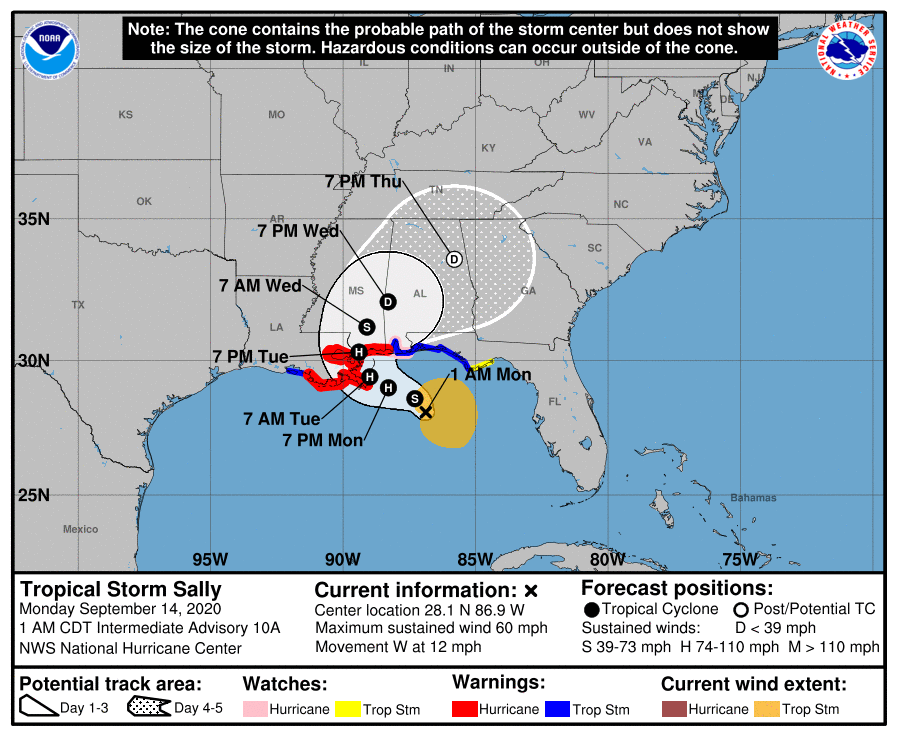 According to the National Hurricane Center:
CENTER LOCATED NEAR 28.2N  86.2W AT 14/0300Z
ESTIMATED MINIMUM CENTRAL PRESSURE  996 MB
MAX SUSTAINED WINDS  50 KT WITH GUSTS TO  60 KT.

FORECAST VALID 14/1200Z 28.6N  87.3W
MAX WIND  60 KT...GUSTS  75 KT.

FORECAST VALID 15/0000Z 29.0N  88.3W
MAX WIND  70 KT...GUSTS  85 KT.

FORECAST VALID 15/1200Z 29.4N  89.0W
MAX WIND  80 KT...GUSTS 100 KT.

FORECAST VALID 16/0000Z 30.3N  89.4W...INLAND
MAX WIND  70 KT...GUSTS  85 KT.

Hurricane Sally is currently making landfall further east than originally forecast: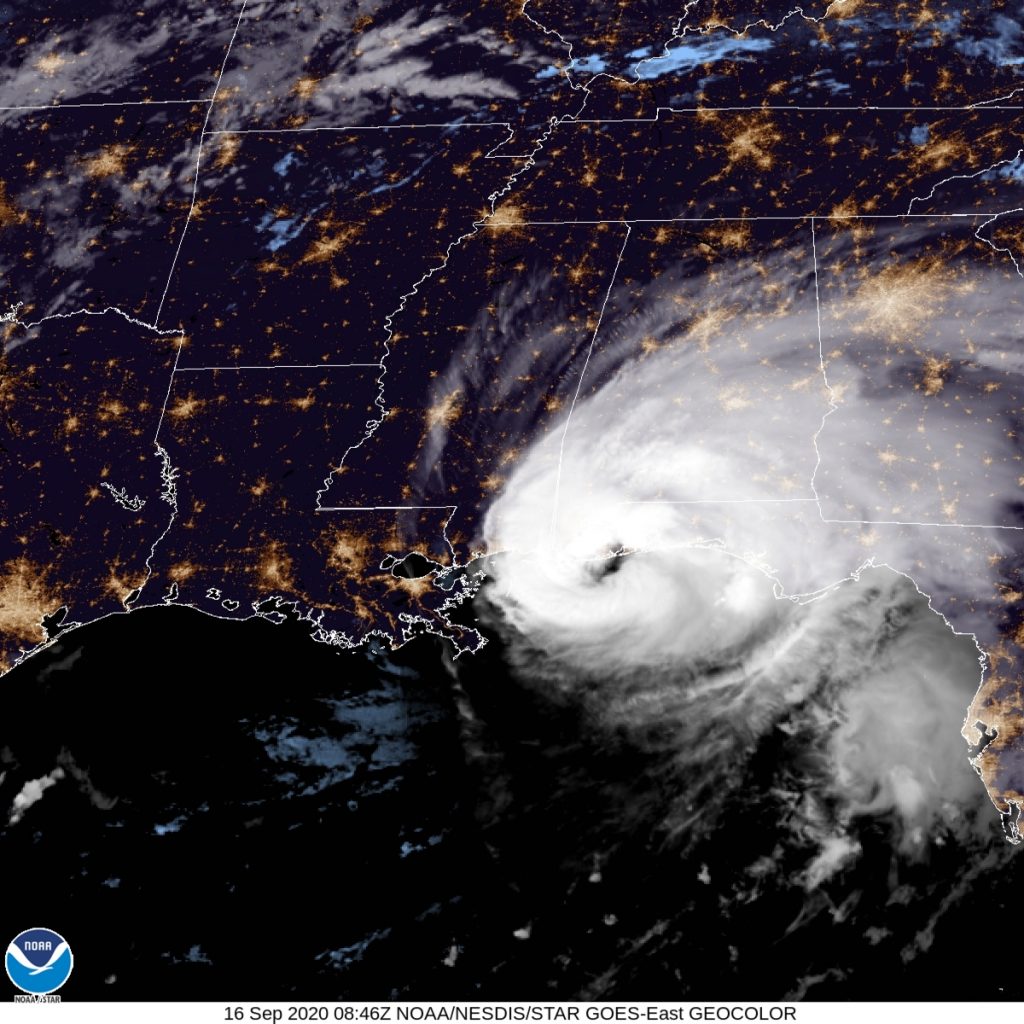 Here's the NHC's current forecast track for Sally: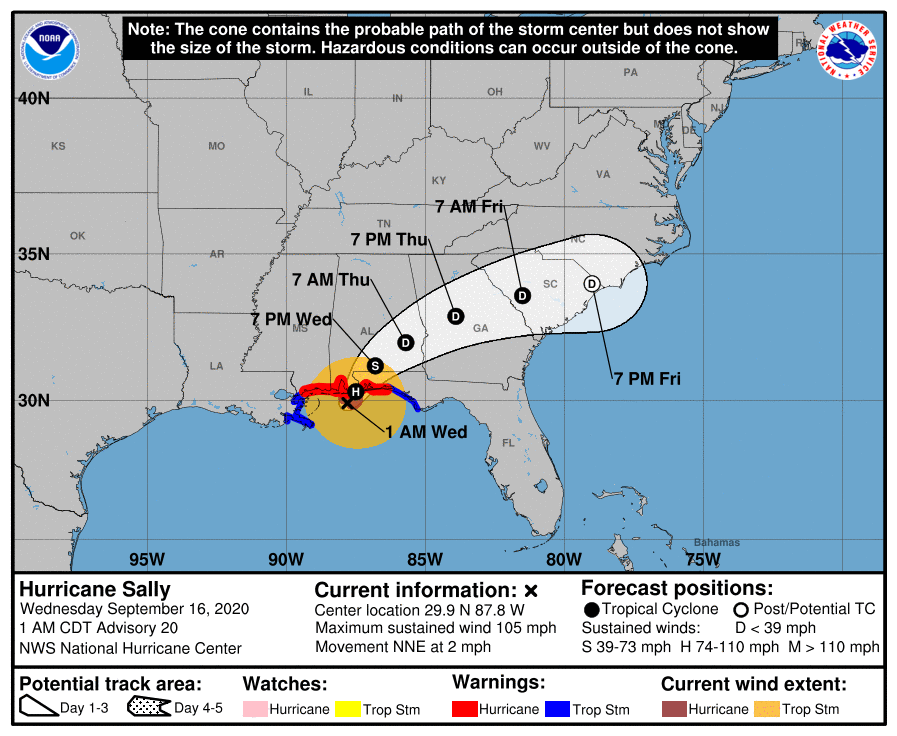 and their latest estimate of Sally's strength:
NOAA buoy 42012, located about 50 miles southeast of Mobile, 
Alabama, recently reported a sustained wind of 71 mph (115 km/h) and 
a pressure of 970.9 mb inside the eastern portion of Sally's eye.

SUMMARY OF 300 AM CDT...0800 UTC...INFORMATION
----------------------------------------------
LOCATION...30.0N 87.8W
ABOUT 50 MI...75 KM SW OF PENSACOLA FLORIDA
ABOUT 55 MI...85 KM SE OF MOBILE ALABAMA
MAXIMUM SUSTAINED WINDS...105 MPH...165 KM/H
PRESENT MOVEMENT...NNE OR 020 DEGREES AT 3 MPH...5 KM/H
MINIMUM CENTRAL PRESSURE...965 MB...28.50 INCHES
So far Alabama has suffered the most, with almost 200,000 power cuts currently.