Today we are finally able to bring you exciting news of a large vehicle-to-grid installation in the Netherlands, with some unusual twists apart from the sheer number of charging stations.
In a thankfully English language article in PlaceTech it was reported earlier this week that:
Edge has delivered an office building for Triodos Bank in the Netherlands engineered to be sustainable inside and out with the latest circular construction principles designed throughout. The 135,000 sq ft office in Driebergen-Zeist, Netherlands was built with the intention to harmonise with the surrounding fauna and flora, on a construction level and beyond.

Please bear in mind that the article is referring to EDGE Technologies which is part of Dutch developer OVG Real Estate, and not the U2 guitarist!
After further description of the office building itself the article eventually gets to the part of the project of most interest to us. The solar PV covered car park:
The extensive use of renewable energy, reflected in over 3,000 m² of solar panels, as well as heat and cold storage, contributes to the energy neutrality of the building. The project encompasses 'smart charging' electric cars from solar energy and 'Vehicle2grid' technology. Vehicle2grid means that the cars cannot only be charged with solar energy but also discharged, which is called bi-directional charging. The cars become an active part of a 'smart net', which includes such benefits as being able to store solar energy.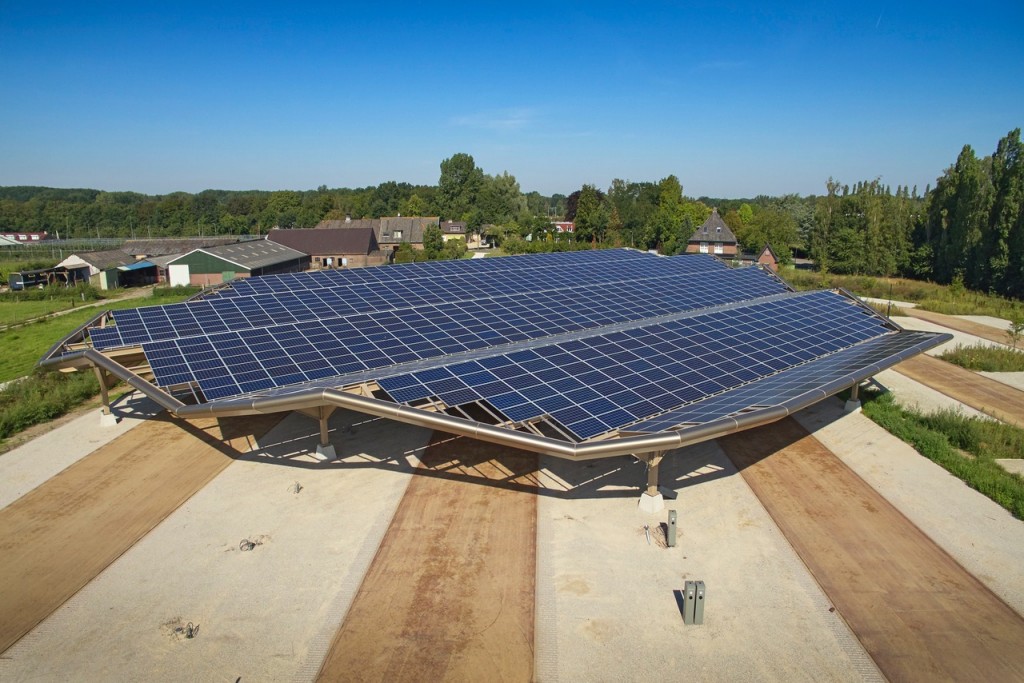 The PlaceTech article doesn't go into any more detail than that but we certainly intend to, not least because the aerial view of the solar PV canopy reveals a number of electric vehicle charging stations that look identical to the one we have installed in our "wall to wall" V2G "living lab":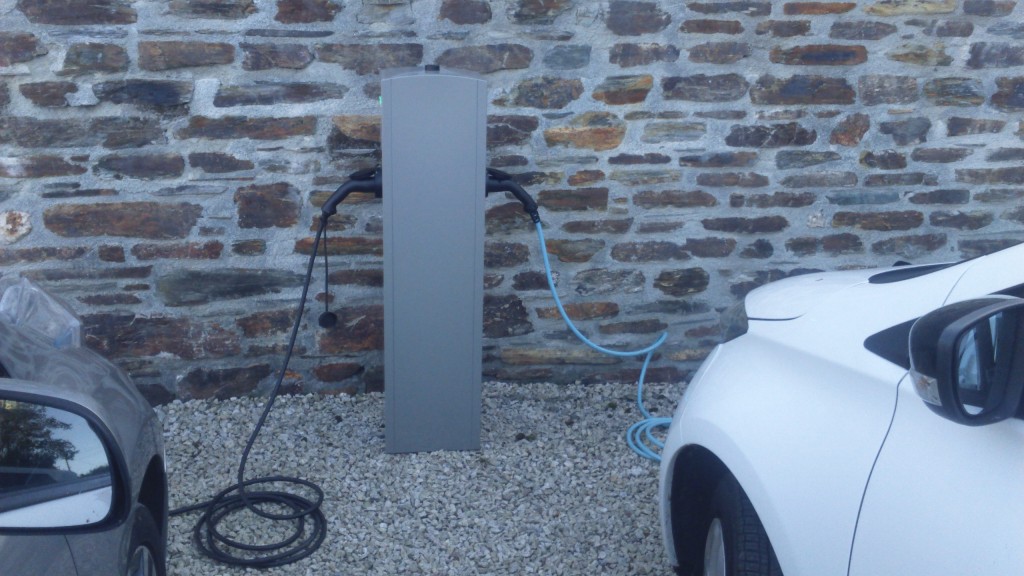 Taking a look at the new Triodos car park from ground level it becomes apparent that a large array of AC V2G capable charging stations are currently being installed, both under and around the solar PV canopy: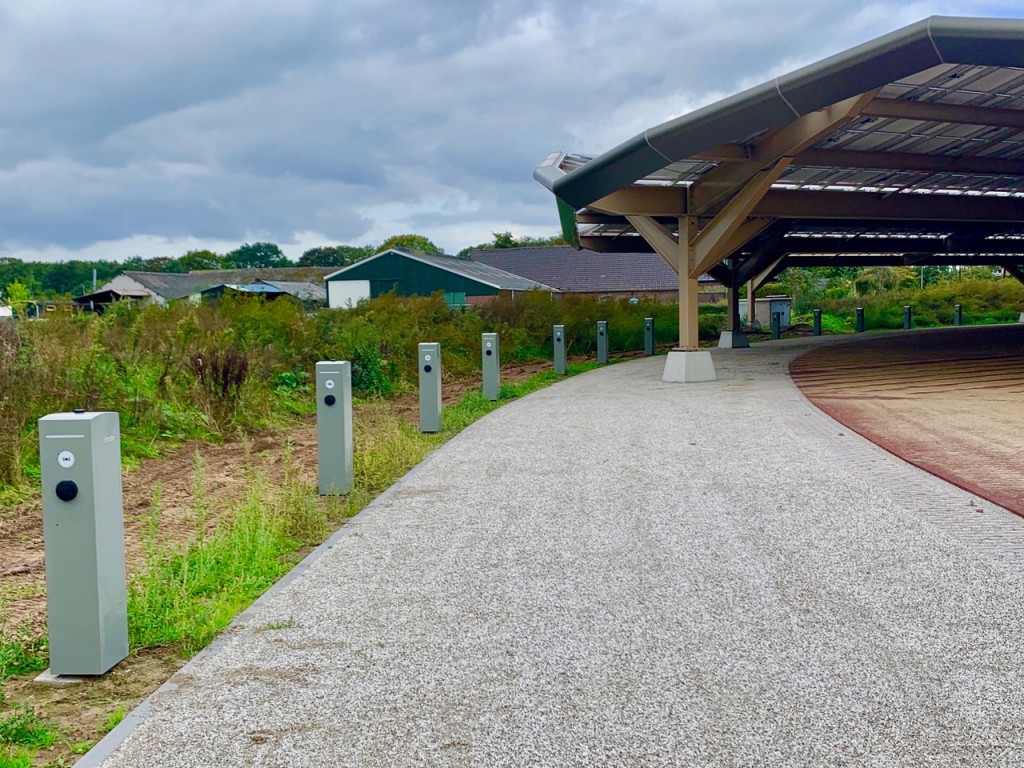 To find out more about what's going on we've had to resort to Google Translate. According to a Dutch language article on the Triodos Bank web site from earlier this year:
The largest bidirectional charging plaza in the world is under construction at the new office building of Triodos Bank next to Driebergen-Zeist station. From this Autumn, 120 smart chargers will be able to store solar energy in the batteries of shared electric cars.

Triodos Bank have realised the project in close collaboration with developer EDGE Technologies and We Drive Solar. The bidirectional chargers are directly connected to 3,253 m² of solar panels and have a triple function. Electric cars can charge here. Cars whose battery is full enough can also supply power, so that the energy can be used in the office building or be fed back into the electricity grid.

Part of the plan is that Triodos Bank will replace its pool cars with 100% electric cars, so that they become part of the bidirectional charging ecosystem. Triodos Bank will investigate how, in addition to Triodos Bank employees, the residents of Zeist and the surrounding area can also use its shared electric cars. According to Triodos Bank director Matthijs Bierman "The plan fits in with our new ambitions in the field of sustainable mobility. We want to make car sharing as sustainable and attractive as possible. Not only for our employees, but also for the local community."
Now 120 AC V2G charging stations sounds amazing, but where are 120 or more AC V2G capable electric cars going to come from? I can help answer that question, since I attended the launch of the We Drive Solar bi-directional ecosystem in Utrecht earlier this year. According to Renault:
A fleet of fifteen Zoe vehicles with vehicle-to-grid charging will be introduced in Europe over the course of 2019 to develop our future offerings in reversible charging and lay the groundwork for the future standards —with our partners' help. These pilot schemes will begin today in Utrecht (the Netherlands) in an ecosystem developed by We Drive Solar and on Porto Santo Island (in the archipelago of Madeira, Portugal) with Empresa de Electricidade da Madeira, an energy supplier. Following these, more pilot schemes will be introduced in France, Germany, Switzerland, Sweden and Denmark.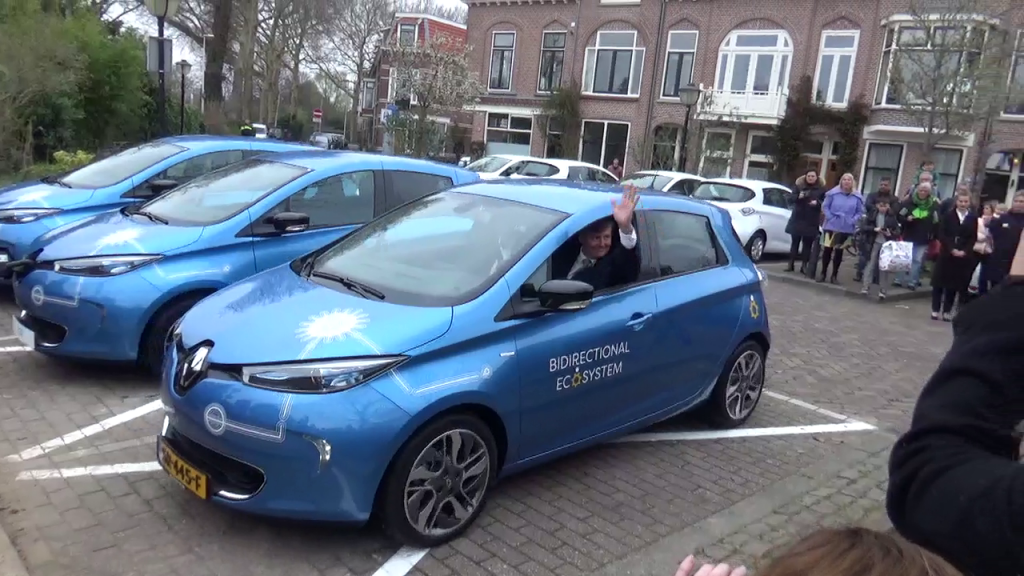 So that explains 15 prototype AC V2G capable Renault ZOE's across Europe in 2019, but that's a lot less than 120 in the Triodos car park! As far as I am aware Renault have not announced when V2G enabled ZOEs will go into production, but when ultimately they do Triodos Bank will be ready! In the meantime I'm sure that plenty of "smart charging" will be going on in Driebergen-Zeist and across the Netherlands
All in all the project sounds a lot like a combination of our "Camelford Electric Car Club" and "Static and Mobile Distributed Energy Storage" projects, albeit on a much grander scale! That probably explains this remark by Robin Berg of We Drive Solar to Bobby Llewellyn at the recent Fully Charged LIVE event at Silverstone in the summer?
If you want to discover more about the We Drive Solar bi-directional ecosystem then please feel free to attend this webinar on September 23rd at 13:00 British Summer Time: