In a press release earlier today Renault announced:
Groupe Renault, the European leader in electric vehicles, is beginning the first large-scale pilot schemes in reversible electric charging. Our alternating-current technology has the particularity of placing the reversible charger inside vehicles, so it just requires a simple, inexpensive adaptation of the existing charging terminals.

A fleet of fifteen Zoe vehicles with vehicle-to-grid charging will be introduced in Europe over the course of 2019 to develop our future offerings in reversible charging and lay the groundwork for the future standards —with our partners' help. These pilot schemes will begin today in Utrecht (the Netherlands) in an ecosystem developed by We Drive Solar and on Porto Santo Island (in the archipelago of Madeira, Portugal) with Empresa de Electricidade da Madeira, an energy supplier. Following these, more pilot schemes will be introduced in France, Germany, Switzerland, Sweden and Denmark.
It looks like we'll have to (metaphorically of course) twist someone's arm at Renault to let us try one or more of their modified Zoes with AC V2G capability! I was at the launch in Utrecht today and spoke to a variety of representatives from Renault Netherlands and Renault France, who by and large seemed amenable to the idea of a suitably funded UK pilot project. Renault's press release was of course accompanied by a variety of images. However I took lots of pictures of my own, and a fair few videos too. Here's the three Zoes that were lined up in Utrecht today: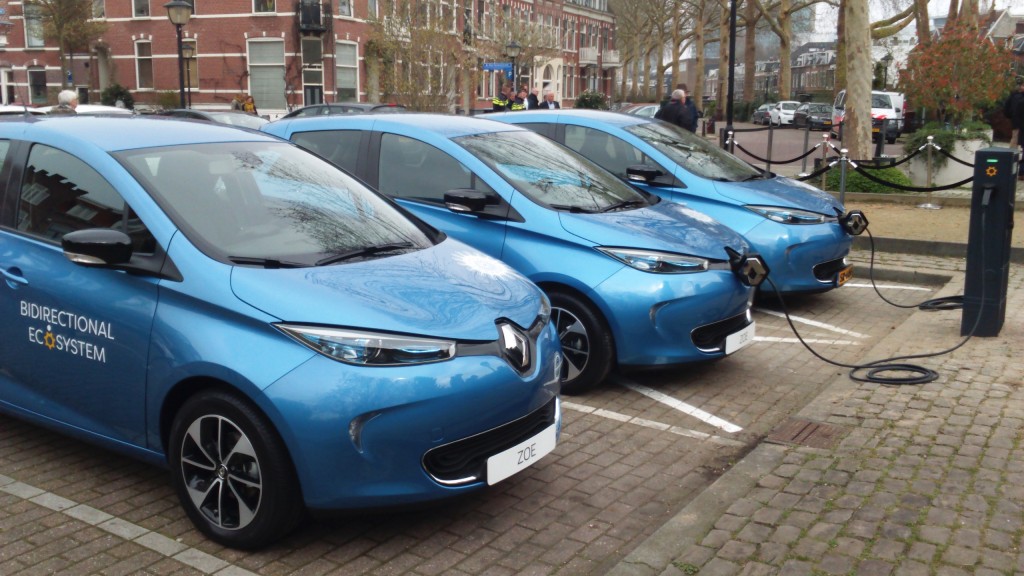 and here's King Willem-Alexander of the Netherlands driving away in one of them, accompanied by Robin Berg of We Drive Solar: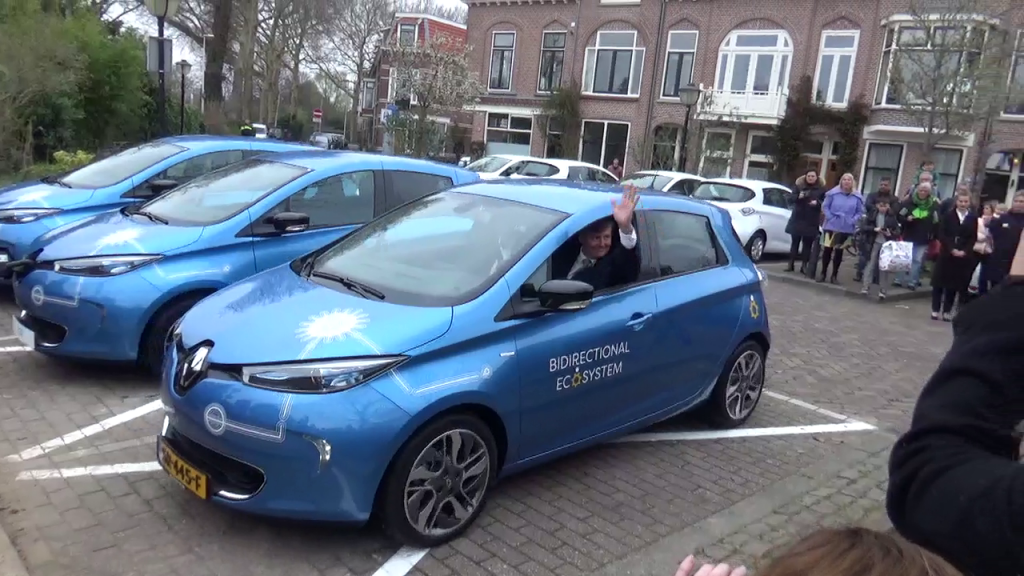 Here too is a video recording of some of the excellent entertainment at the event, provided by the Hillsback Brassband:
Invigorated by the brilliant brass section here's one of the press release infographics that I couldn't snap for myself. Renault's visualisation of vehicle-to-grid technology in action:
Charging during the day on the left. Discharging during the night on the right. Much like our very own V2G UK banner above! Renault's press release continues:
Vehicle-to-grid charging — also called reversible charging — modulates the charging and discharging of electric-vehicle batteries in accordance with users' needs and the grid's supply of available electricity. Charging reaches its maximum level when the electricity supply exceeds demand, notably during peaks in production of renewable energy. But vehicles are also capable of injecting electricity into the grid during peaks in consumption. Electric vehicles can therefore serve units of temporary energy storage and become key drivers in the development of renewable energy. In this way, the electricity grid optimizes the supply of local renewable energy and reduces infrastructure costs. At the same time, customers enjoy greener, more economical consumption of electricity and are financially rewarded for serving the electricity grid.

Reversible charging will be piloted in several projects (electric ecosystems or mobility services) through seven countries and alongside various partners to lay the groundwork for Groupe Renault's future offering. The aim is twofold: to measure large-scale feasibility and potential gains. In particular, these pilot schemes will help us:

Underline the technical and economic advantages of an onboard solution in electric vehicles
Demonstrate—in concrete terms—the value of services provided for the local and national electricity grid, such as encouraging consumption of solar and wind energy, checking the grid's frequency or tension, and reducing infrastructure costs
Work on the regulatory frameworks of a mobile energy-storage scheme, detecting any pitfalls in it and offering concrete solutions
Establish common standards, the basic requirement for an industrial-scale roll-out.
I now have a few more videos of the event to go away and edit, but whilst those are being prepared here's one that Renault provided earlier, illustrating both "Smart charging" and "Bidirectional smart charging":