Today's title refers back to a similar incident we experienced back in 2014 at our previous premises half way up Haldon Hill near Exeter. The forecast for Storm Arwen suggested lots of power cuts in lots of places. We thought we had escaped unscathed. Until the very early hours of this morning that is, when this happened:
A few minutes later this information appeared on Western Power Distribution's power cut map: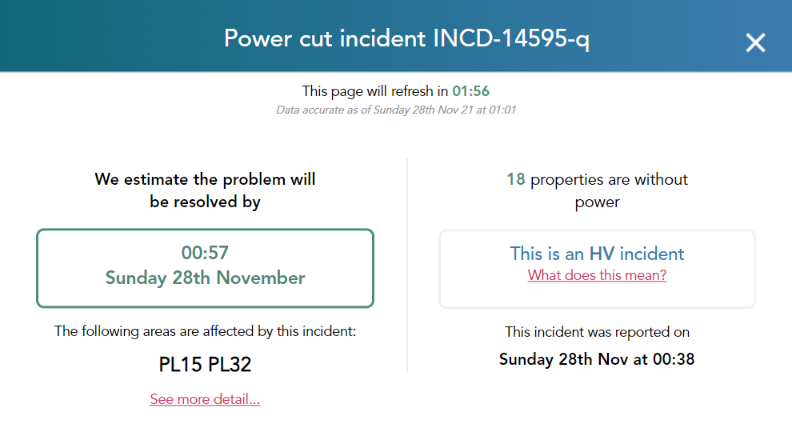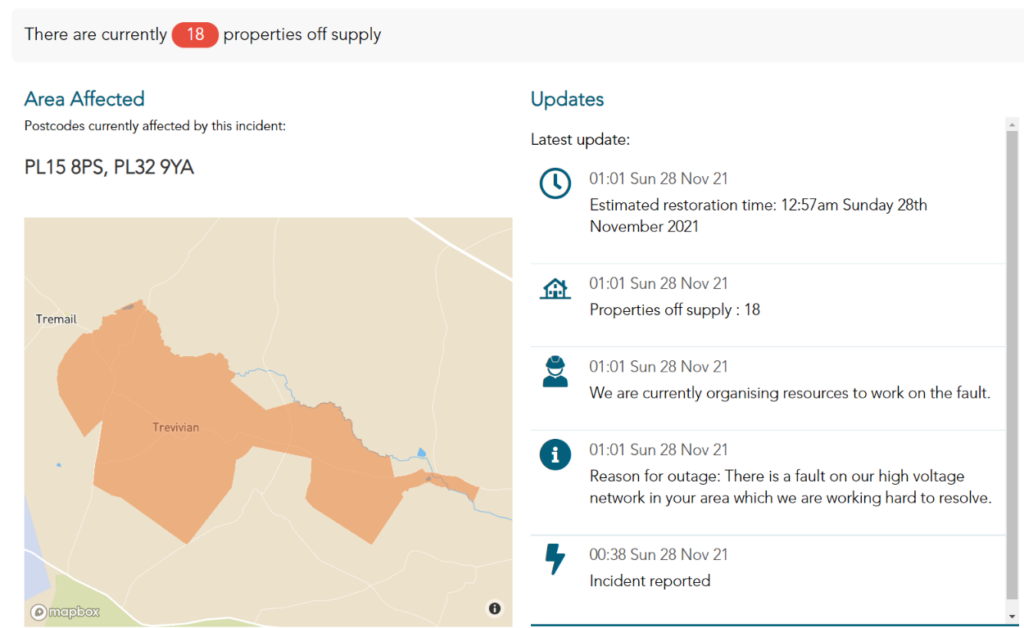 By that time our mains power had returned, but that of 18 of our near neighbours had not.

It is now over 12 hours later, and those 18 properties are still unintentionally "off grid":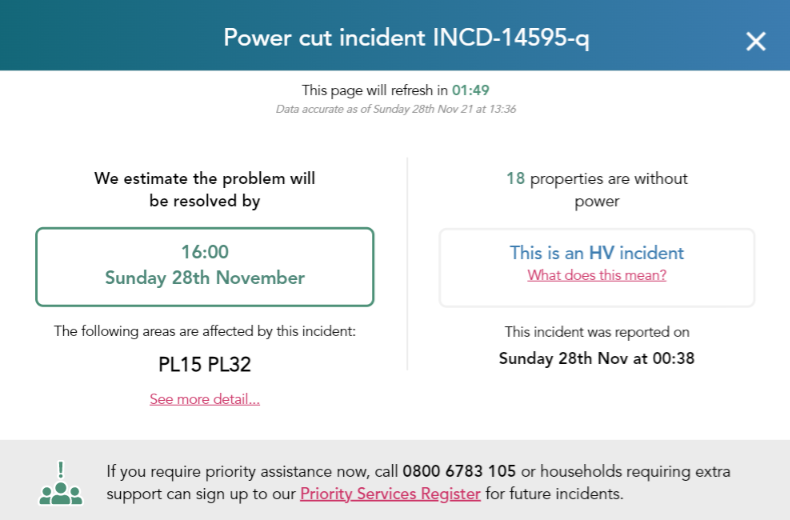 I've recently returned from a bike ride around the local, somewhat soggy lanes, where I happened across a valiant 3 man WPD repair crew:
It seems that some of their South West colleagues were up country helping out in the Midlands, and they had started their current shift a mere 6 hours after finishing the previous one.
Their efforts seem to have paid off, since after returning home the WPD web site was running properly once again, to reveal this no doubt welcome information to our near neighbours: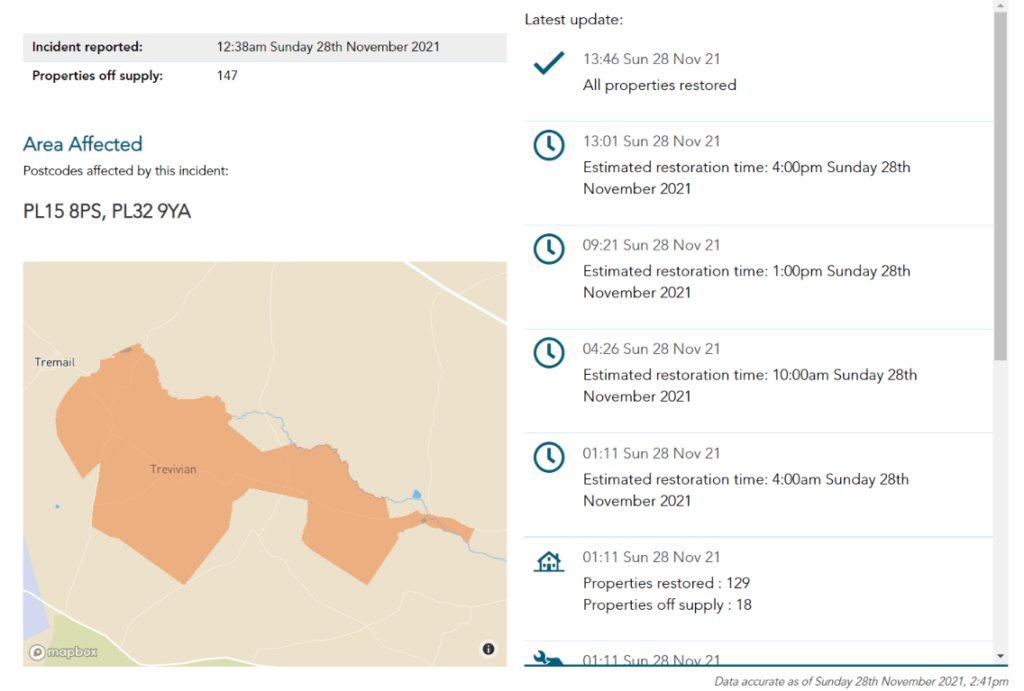 Based on my conversation with the repair crew and subsequent poring over a map of WPD's distribution grid here is my best estimation of what happened during the power cut in Trevivian. Firstly here's my video of what was happening to WPD's wires in the vicinty of Tremail in the immediate aftermath of Storm Arwen, together with a comment on the current high retail price of electricity:
I'm not sure why it took until gone midnight, but 2 of the conductors carrying the 3 phase 11 kV supply from Tremail past Trevivian came down in the early hours of Sunday morning: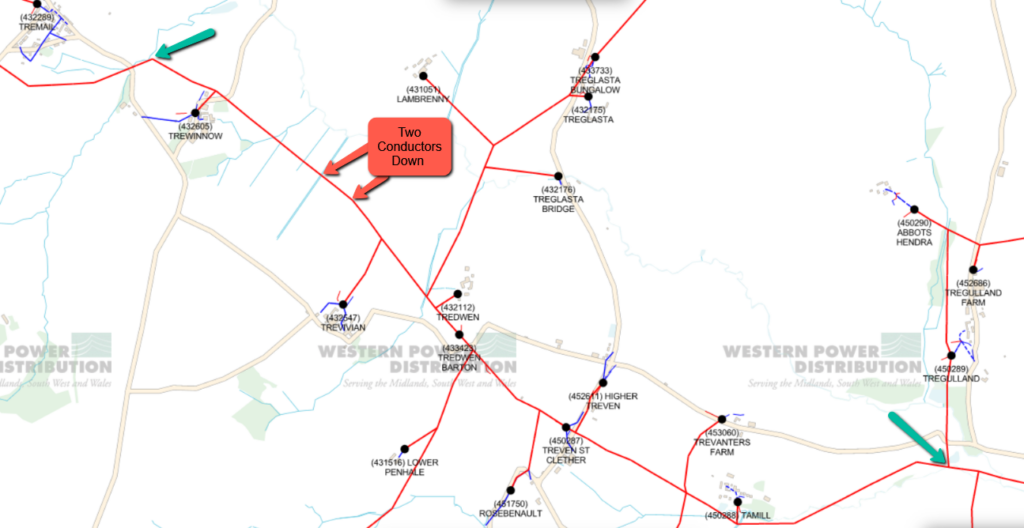 At first Tremail was amongst those cut off by the fault, but then WPD opened the air break isolators identified by green arrows and turned the power from Davidstow substation back on. After that everyone's lights came back on apart from the properties powered by the network between the two isolating switches.
What with one thing and another it then took quite a while to repair those sections of cable and close the ABIs again! Here's a close up of the ABI at the Tremail end of the isolated section of the local electricity distribution grid in normal operation: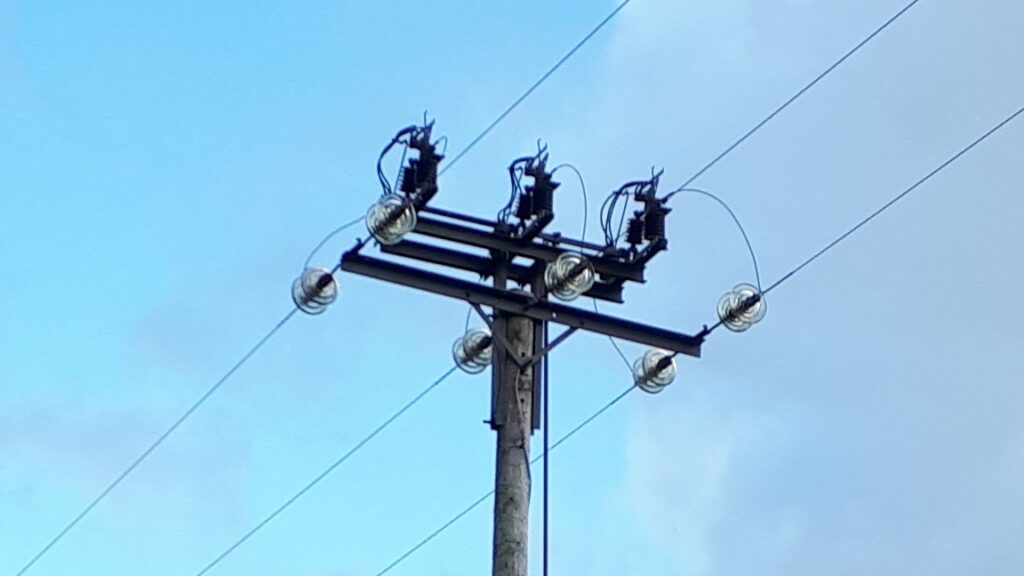 and here's a picture of it that might be more familiar to those who travel the road between Tremail and Trevivian on a regular basis: