In what sounds a lot like a relaunch of the V2G hardware unveiled at the Geneva Motor Show back in March, a Nissan press release yesterday announced under the headline "Power to the People: Nissan and ENEL launch first smart grid trials" that:
Electric car to become home 'energy hub', allowing renewable energy to be harnessed and stored by the car
Nissan will commence Smart Grid trials in partnership with energy supplier, ENEL
More than Nissan 200,000 LEAF sold worldwide

At the 21st UN Conference on Climate Change (COP21) in Paris this week, Nissan has announced the development of an innovative Vehicle to Grid system which will allow drivers to operate as individual 'energy hubs' with the ability to store, use or return electricity to the grid.

Nissan will commence Smart Grid trials in partnership with multinational energy manufacturer and distributor, ENEL.

As part of the landmark partnership, Nissan and ENEL have committed to working together, to explore:

Introducing this revolutionary technology to the European market;
The extended use of 'second life' electric vehicles batteries for static applications;
Designing and evaluating potential affordable energy and mobility pack offers

Vehicle-to-Grid allows customers to take control of the type of energy they consume – avoiding peak tariffs and generating additional household income during peak times.
Here's how the facelifted hardware looks, with an "Enel" badge instead of the original "Endesa" one: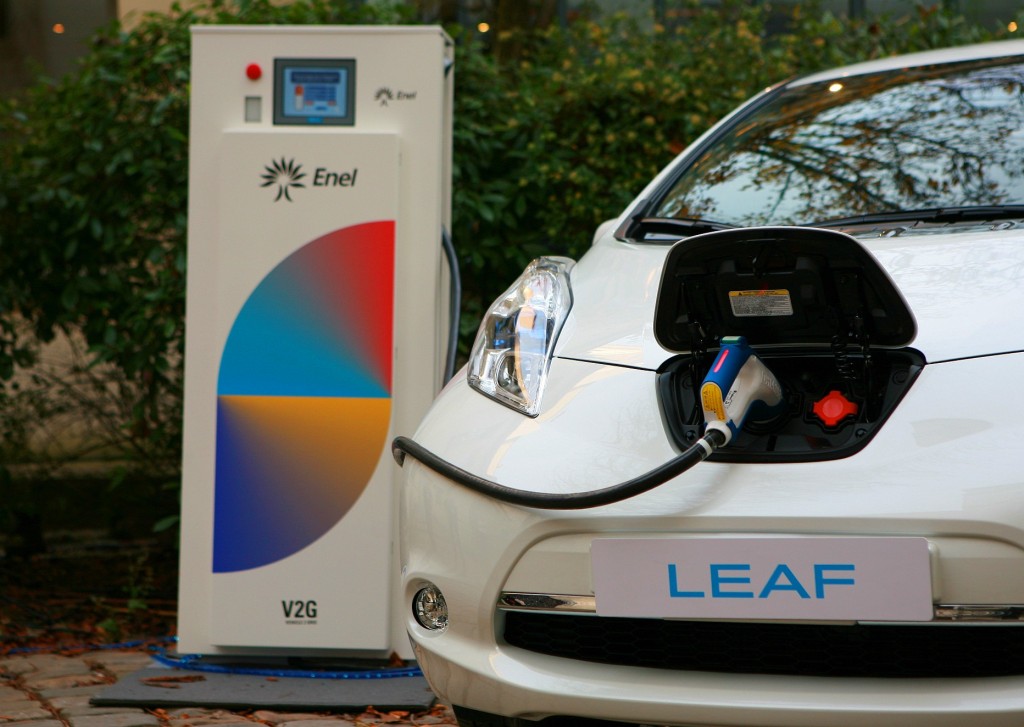 Nissan and Enel also helpfully provide a couple of infographics to help explain how their "revolutionary technology" will work. Here's the simple version: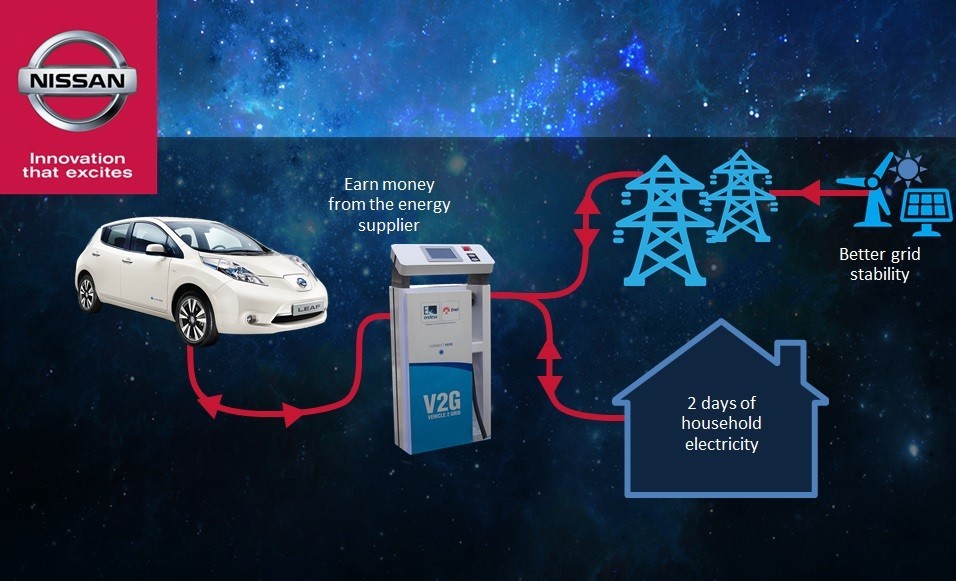 which looks a lot like a less colourful version of the V2G banner at the top of this page! Nissan go on to say that:
Using a special two-way charger and energy management system developed by Nissan in partnership with ENEL, LEAF owners can connect to charge at low-demand, cheap tariff periods, with an option to then use the electricity stored in the vehicle's battery at home when costs are higher, or even feed back to the grid to generate additional household income.

"Our customers are no strangers to great value, with the Nissan LEAF offering unbeatable value motoring from three cents per kilometre. Now, with the introduction of Smart Grid technologies, we can empower motorists to take control of their energy mix – stimulating greater use of renewable power, and offering significant financial rewards for those who make the switch to electric.

"The personal benefits of innovations like this are clear, but moreover, we believe that this technology could help guarantee a cleaner energy infrastructure for generations to come."

Nissan – the world leader in EV sales with 200,000 Nissan LEAF sold worldwide – is turning a page in zero emission mobility by unlocking the full potential of its electric vehicle batteries with the ENEL two-way charging technology.
Here's the other infographic, which shows in more detail how V2G technology might "unlock the full potential of [a Nissan LEAF's] batteries". Click on the image to view a larger version: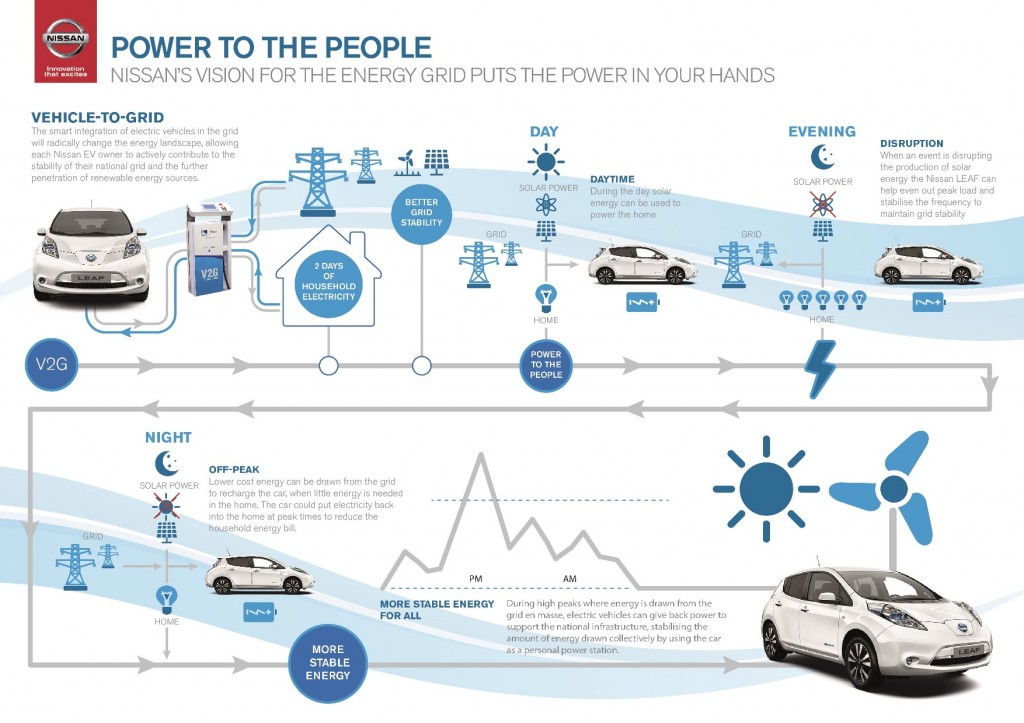 Another Nissan press release mentions where those "Smart Grid trials" will take place:
The agreement with the ENEL Group will bring the first Grid Integrated Vehicles to countries where regulation allows sufficient value generation. Denmark will host the first set of trials with Germany, Netherlands and other northern European regions following suit. This endeavour is part of Enel's and Nissan's commitment to support the entire electric vehicle ecosystem, going way beyond the car itself and delivering new services to the power industry.
I wonder if they could be persuaded to run one here in the United Kingdom? We are a "northern European region" after all! Here at V2G UK we're rather keen to try out the techniques hinted at by the small print in the bottom right hand corner of the picture, which reads as follows:
During high peaks where energy is drawn from the grid en masse, electric vehicles can give back power to support the national infrastructure, stabilising the energy drawn collectively by using the car as a personal power station.