As we reported yesterday, the Nissan half of the Renault-Nissan Alliance made an interesting V2G announcement at the COP21 meeting in Paris. Now it's Renault's turn, although this one concerns "smart charging" rather than fully fledged vehicle-to-grid technology. In a December 7th press release they said that:
Renault & Eneco collaborate on smart charging solution for electric vehicles.

Agreement signed between electric vehicle leader Renault and energy supplier Eneco on December 7, 2015 at COP21 Paris conference
Eneco will develop smart charging app for ZOE, Renault's 100% electric compact car
Renault ZOE users will be able to charge their car at lower costs using renewable energy

Eneco subsidiary Jedlix will develop a version of its existing smart charging app, to adapt it to Renault ZOE. This app makes it possible to charge electric cars using renewable energy at times when the market prices are most favourable. Like at night, when the production of sustainable wind energy exceeds demand in most European countries.
As far as "lower costs" go, here's a glimpse of V2G UK filling up a Renault ZOE 100% electric compact car 100% free of charge using renewable energy in a UK motorway service station, courtesy of Nissan & Ecotricity: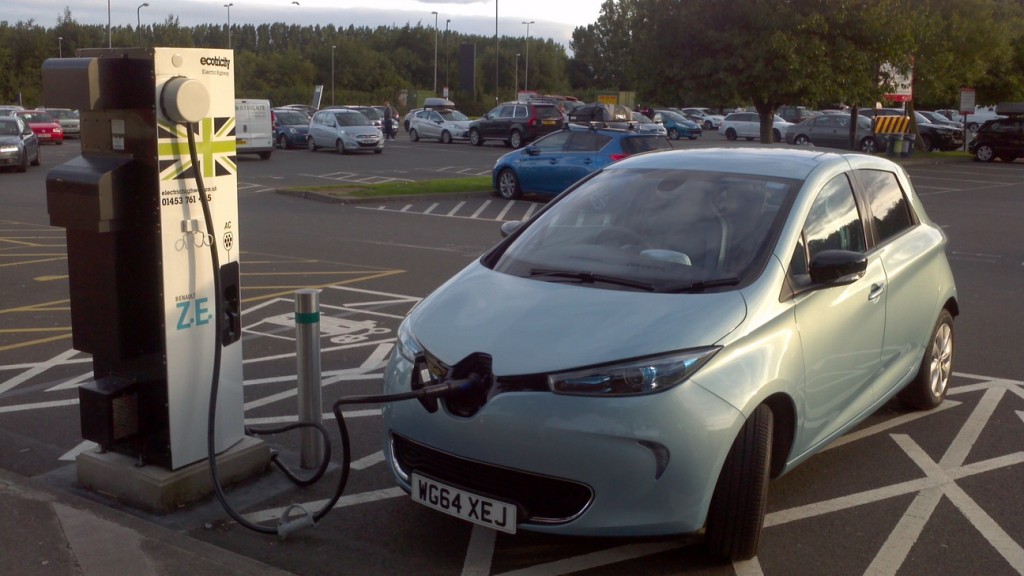 Heading back to Paris, Eneco Executive Board member Marc van der Linden said :
It is expected that there will be three million electric vehicles in the whole of Europe by 2020. To reduce CO2 emissions, it is essential that this vehicle fleet will use green power. It is also important to prevent power grid overloads as a result of peaks in demand if all the cars would be charged at the same time. Our app forms a direct link between the electric vehicle and the supply of sustainably generated energy. Consequently, the energy used for charging is more sustainable, energy supply and demand is balanced and the costs of driving an electric vehicle are reduced because users charge their cars at lower rates.
Eric Feunteun, who is Electric Vehicle Program Director at Renault, added:
Renault electric cars support the energy transition in the automotive industry as they contribute to the replacement of fossil fuels by renewable energies. With smart charging systems like the one developed by Eneco, Renault electric vehicles make a big contribution to power systems' stability and reliability: EVs turn into an asset for the grid rather than create overload. They can store and use electricity when it is less carbon-dependent and cheapest for their owners. Our partnership with Eneco is a move towards making driving a Renault ZOE more interesting and affordable and will contribute to an electric vehicles' scale up.
Renault's press release continues:
A pilot test carried out by Eneco in the Netherlands demonstrates that users can save up to 15% on their electricity costs by using the app. To achieve this, all they have to do is indicate by what time the car must be fully charged and the system will automatically determine the lowest price within this time frame. The app will first be available for ZOE users in the Netherlands and soon be available in other countries where Eneco operates.
Eneco do have a UK office, but quite how Renault ZOE drivers across the UK might be able to make use of "a flexible [electricity] price negotiated electronically by computers" to save a few quid on their fuel bills whilst "prevent[ing] power grid overloads" is a mystery to me at the moment, despite the fact that I sit on committees tasked with designing international standards for such things! However, here's Eneco's vision of "Everyone as an Energy Supplier in 2030":
Make sure that, if nothing else, you watch the bit at 1 minute 20 seconds which mentions that "The car plays a pivotal role as an energy storage buffer".