We're currently planning a Grand Tour in an electric vehicle ourselves at the moment, heading to Italy via Switzerland. We were therefore both surprised and delighted to discover that ex Top Gear presenters Jeremy Clarkson, Richard Hammond and James May had revealed how to approach the challenge of charging an EV in Switzerland in the very first episode of the second series of Amazon's "The Grand Tour" series!
In the boys supercar tour around Switzerland Jeremy was driving a Lamborghini Aventador S ICE, James was behind the wheel of a Honda NSX hybrid and Richard was piloting a Rimac Concept One all battery electric vehicle! Here's a brief extract of some of Jeremy's words of wisdom from the preview of the new series:
Some words of wisdom from @JeremyClarkson:

"It's time now, and nobody's ever said this on a car show before, to save the world!"@TheWho @EVTECfastcharge #WontGetFooledAgain #TheGrandTour #SaMDES pic.twitter.com/uDdTtvSLY9

— V2G Limited (@V2gUK) December 9, 2017
Here too is a sample of some of today's other Grand Tour related Tweets:
It's great to hear the Grand Tour team singing the praises of a 100% electric vehicle. However it looks to us as if Jeremy et al's researchers didn't do their due diligence desperately doggedly. By way of one example, the episode was cut to suggest that Richard needed to go to the Swiss Museum of Transport on the edge of Lucerne in order to charge his Concept One. However in actual fact the ultra rapid EVTEC charger shown is located on the other side of Lucerne in Kriens. Here it is in all its glory in a photo on EVTEC's web site: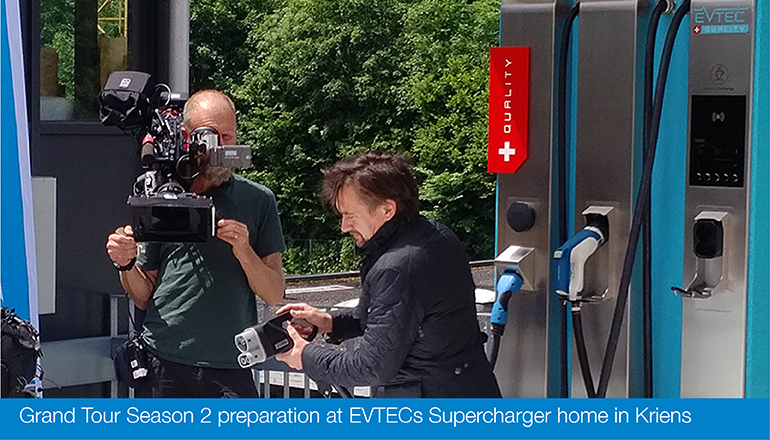 As you can see, the supercar fast charges via a CCS connector. Which leads us on to another example of The Grand Tour's undue lack of diligence, since here is Chargemap.com's current map of CCS rapid chargers en route from Lucerne to Hemberg: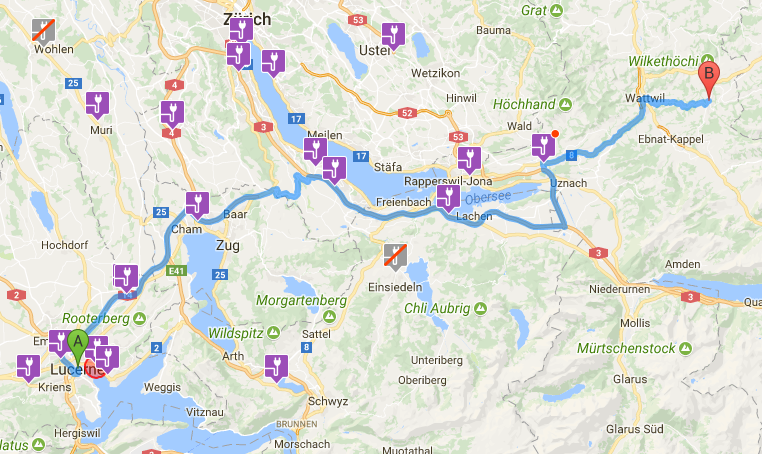 As you can see, there was really no need for Richard to drive the Rimac to Hemberg on the back of a truck, since there are any number of eminently suitable rapid chargers en route. I guess we'll just have to put that down to dramatic licence on behalf of The Grand Tour's producers?
Once the Rimac was unloaded from the back of the lorry, presumably with a fully charged battery pack, Richard managed to successfully negotiate the hill climb course. Here is what happened next:
Yes, yes he nearly died, no need to keep going on about it. #TheGrandTour pic.twitter.com/jHGYxSZULP

— The Grand Tour (@thegrandtour) December 8, 2017
Somehow I don't think that was in the original script, do you?