Following in the footsteps of Storm Caroline a couple of days ago, another storm is now putting some people's lights out here in South West England. This one doesn't have an official name, but nonetheless here is the United Kingdom Met Office's recent forecast:
A number of warnings are in force across the UK including strong winds for southern areas on Sunday – gusts could approach 70 mph in places – stay #weatheraware pic.twitter.com/f6wIsvOpIt

— Met Office (@metoffice) December 9, 2017
Whilst areas further north have an "amber" warning for snow, here is the Met Office's official "yellow" wind warning for Southern England this morning: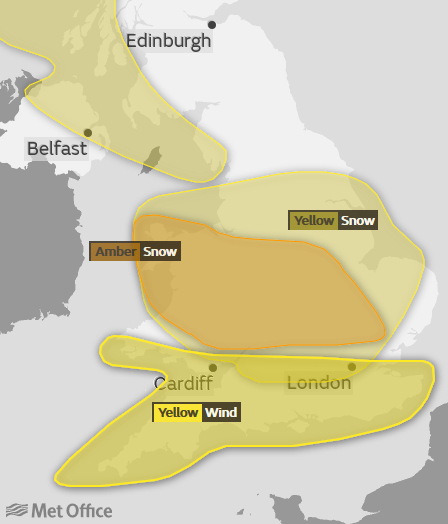 A spell of strong winds is expected to spread eastwards across the far south of the UK. Gusts of 50 mph are likely quite widely, with 60 mph gusts in places and close to 70 mph at times in the most exposed coastal locations. The highest gusts and strongest winds are expected Bristol Channel coastal areas during Sunday morning. High winds will also be accompanied by heavy showers, with a chance of hail and thunder, in parts of south Wales and southwest England.
Those "strongest winds in Bristol Channel coastal areas" have certainly done some damage to Western Power Distribution's electricity distribution grid this morning. It looks as though the snow and ice across the Midlands has had an effect too: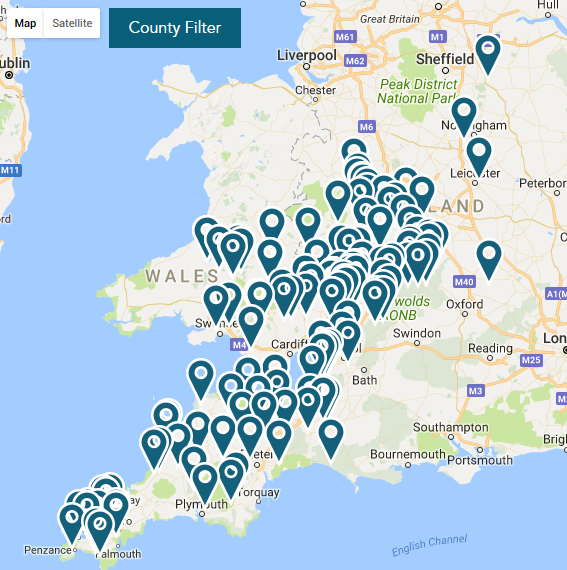 As has been our recent custom, here too is UK plc's current electricity generation mix courtesy of Gridwatch:

and here is a graph of UK plc's carbon intensity so far today: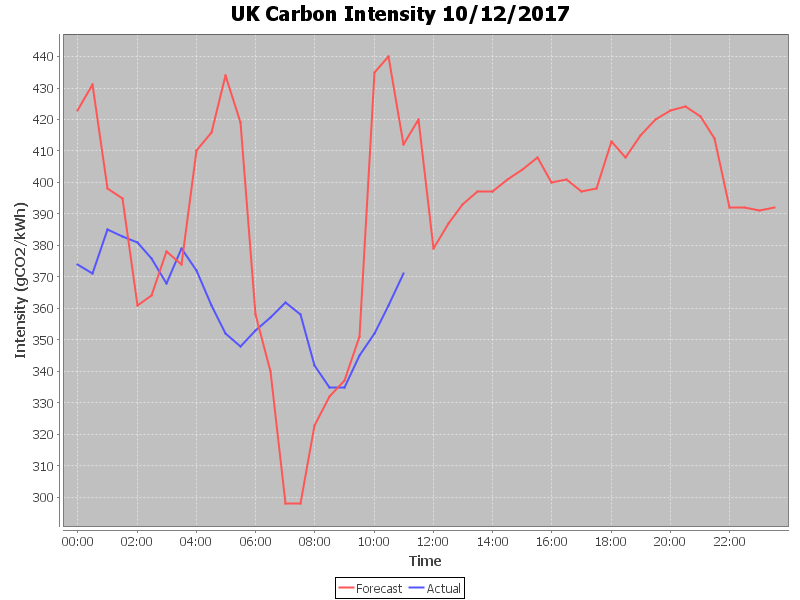 STOP PRESS! We had a brief power cut here at V2G Towers in Tremail this morning. It only lasted for a couple of minutes, and is presumably related to this problem just up the road in Davidstow: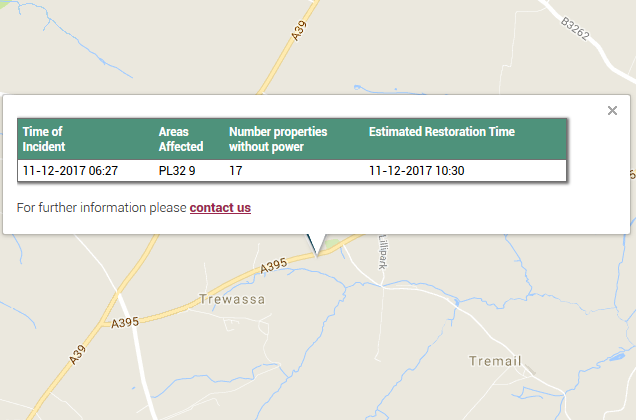 Suppy has now been restored to the remaining 15 properties in the Davidstow area that have been without mains electricity for most of today.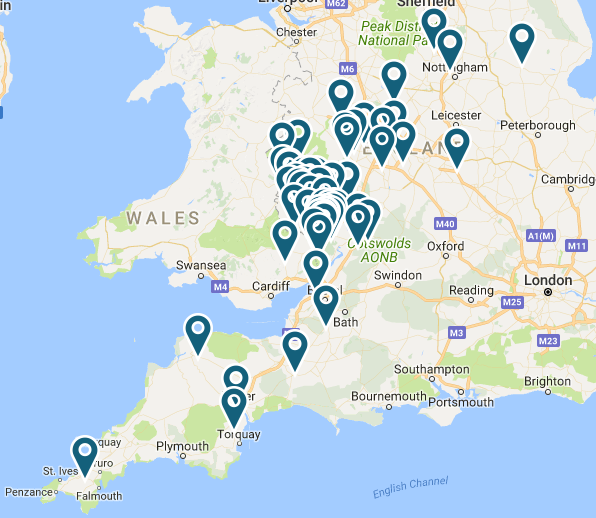 Whilst the number of properties without power across WPD's network has been reducing today there are still a little under 4,000 remaining, largely in the West Midlands:

Earlier today WPD issued a press release concerning the effects of Storm Caroline on their distribution network:
Over the weekend we restored just over 99,500 customers, 70,000 of those were in the West Midlands and 15,000 in South Wales which have been the two worst affected areas.

We do not anticipate any further disruption to be caused by the weather conditions based on the latest forecasts we have received.

Since first light this morning, additional resources from other areas have been drafted into the West Midlands to aid with outstanding restorations and repairs.

Over the course of Saturday and Sunday the Contact Centre handled over 20,000 calls with an average speed of response of 7 seconds. 94% of calls were answered in twenty seconds or under. Extra staff worked in both Centres with Ramp Up Rooms opened in our Bristol and Plymouth offices in addition to homeworkers being logged in as well. The transport team also assisted in getting staff into the Contact Centres who were struggling due to the adverse weather conditions.

The British Red Cross were activated twice but were also offered to multiple customers in addition to this who turned down the offer of the support. 969 proactive calls were also made to registered vulnerable customers offering support and advising them when their power supply would be restored.

Below is a snapshot of our performance and associated information covering Saturday 9th and Sunday 10th December.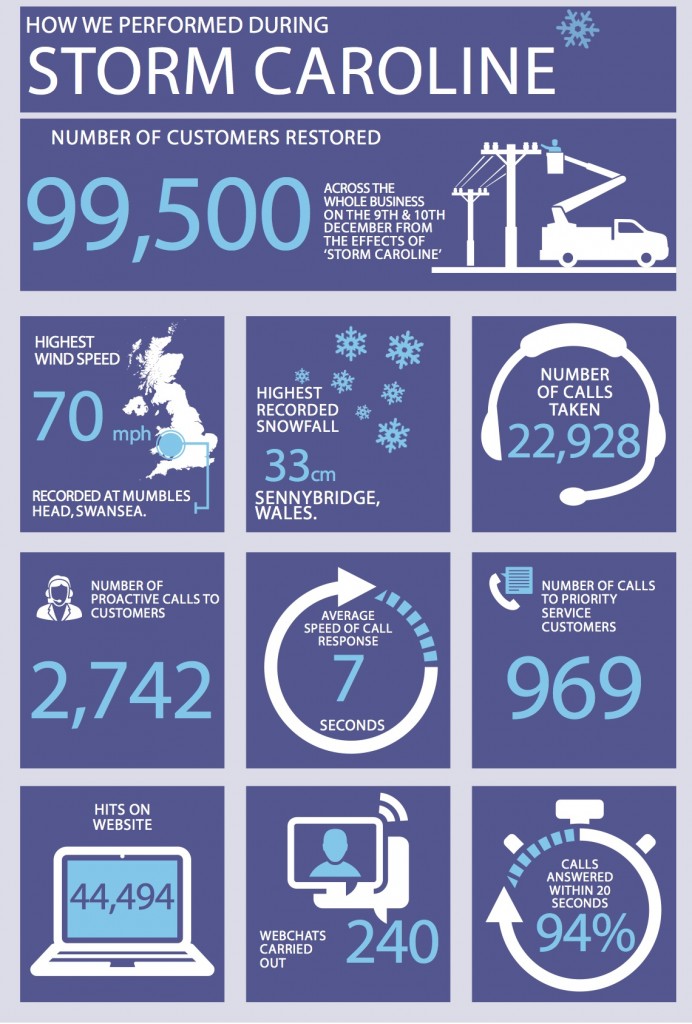 An intriguing carbon intensity graph for the coldest night of the winter so far: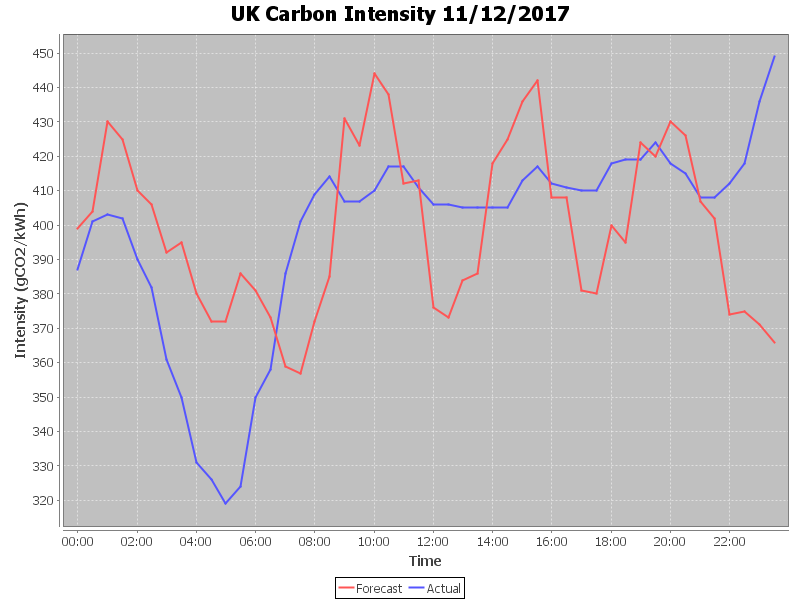 Coal fired generation is working quite hard at the moment!

UK plc's carbon intensity reached a peak of over 480 gCO₂/kWh overnight:
Meanwhile WPD's power cut map has finally reverted to something approaching normality: