Regular readers will be aware that here at V2G UK we are concerned about the effect of internal combustion engine emissions on human health, particularly in the town of Camelford just down the road from us here in (Silic)Inny Valley. For more background please read on below the fold, but here is our urgent message of the day.
The Cornwall County Council consultation on their so called Air Quality Action Plan for Camelford closes on April 2nd 2018. If you want to have your say please complete the online questionnaire at:
http://www.cornwall.gov.uk/environment-and-planning/environmental-protection/environmental-protection-air-quality/camelford-air-quality/
at your earliest convenience by clicking the big green button towards the bottom of that page that looks like this: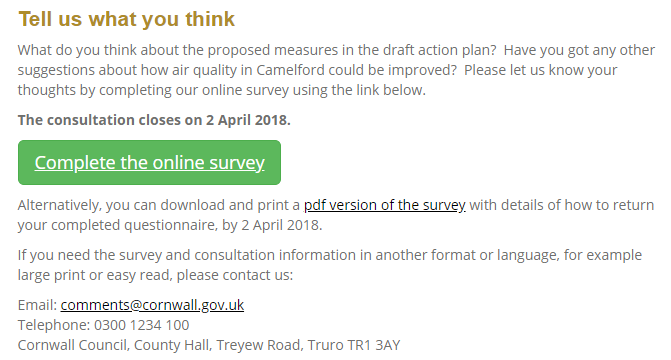 According to Cornwall County Council:
The consultation period runs from 5 February to 2 April, and local people are being encouraged to share their thoughts on the options the Council is investigating to improve local air quality. The draft action plan is an important step towards opening up funding opportunities for measures that could help to improve the town's air quality.

Councils are required to monitor air quality in their area against national targets and to declare areas with poor air quality as Air Quality Management Areas. Cornwall Council declared Camelford an Air Quality Management Area in 2017 after long term monitoring found that the Fore Street and High Street areas of the town have excessive levels of traffic related nitrogen dioxide (NO2). The A39 is the main contributor to air pollution in Camelford, with private diesel cars contributing around 32% of the pollution, diesel light goods vehicles contributing 24% and large vehicles such as HGVs contributing 16%. The remaining pollution comes from other types of road traffic.
If you require more information on the poor air quality in Camelford then for a brief overview from Cornwall County Council please download:
or for more in depth information also download:
Here is a map of the Camelford Air Quality Management Area on Cornwall County Council's online Geographical Information System: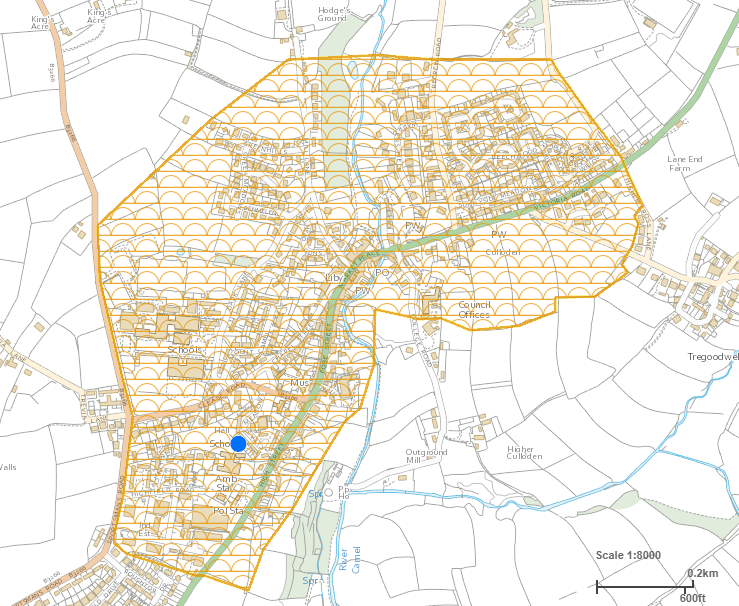 You may also wish to see a BBC report on the problem, which pointed out back in January that:
Residents in pollution hotspots could be relocated under new clean air proposals.

Cornwall Council has discussed plans which could include compulsory purchases of properties in areas with "particularly poor air quality".

It admitted the scheme was likely to be "very controversial", but said it was cheaper than alternative measures.

The council said relocation was just one of several options being considered.

There are currently seven Air Quality Management Areas (AQMAs) in Cornwall which fail to meet national air quality objectives.

Truro, Gunnislake, St Austell, Tideford, Bodmin, Camelford and the area of Kerrier – containing Pool, Camborne and Redruth – have all been declared AQMAs since 2005.