We've previously mentioned OVO Energy's announcements about the vehicle-to-grid technology they've been working on, and now we can show you some pictures too! In a news release to accompany the launch event in London OVO announced yesterday that:
Today at its first ever Energy Technology Product Showcase, OVO unveiled a range of products that together with its intelligent platform VCharge will form the components of a distributed, domestic energy system for the future.

The range includes the world's first widely available, domestic electric vehicle-to-grid charger, designed and manufactured in the UK. The charger will accelerate the global transition to electric vehicles and will enable drivers to sell surplus energy from their electric vehicle batteries back to the electricity grid – meaning they may never have to pay to be on the road again.
On the new V2G page on OVO's web site they even revealed what their "domestic electric vehicle-to-grid charger" will look like. Here it is: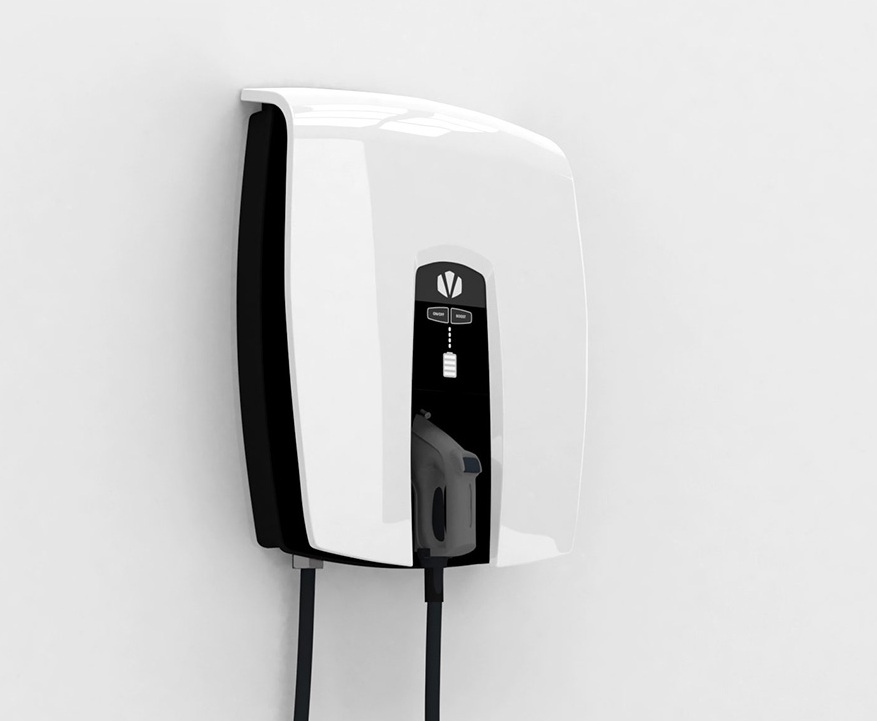 According to OVO's CEO Stephen Fitzpatrick:
Renewable energy and electric vehicles are perfect partners for the 21st Century. Today we're launching the world's first widely available vehicle-to-grid charger, helping to solve one of the biggest challenges facing the energy sector. We're enabling thousands of EV batteries to help balance the grid in times of peak demand, more renewable energy to come onto the system, and households to reduce their electricity bills.

This is the first step in building the distributed energy system of the future. One that is truly customer centric and built around households and their connected energy storage devices.

Our completely new approach to energy has been made possible by the convergence of emerging technologies, applying intelligence, and years of working with customers to redesign the entire energy system.
The technical specification of their V2G charger available on OVO's web site doesn't give one an awful lot to go on:
The OVO Vehicle-to-Grid Charger is 520 x 210 x 690 mm. It weighs 17kg. And it can be installed indoors or outdoors.
although the snaps from the launch event also reveal:
Power rating: 6 kW charge and discharge.
The news release continues:
The OVO Vehicle-to-Grid Charger is the world's first widely available domestic bi-directional charger. Using VCharge, this charger will give drivers the option to discharge and sell surplus electricity from their electric vehicle batteries back to the electricity grid, helping to supply energy at times of peak demand. VCharge will also optimise vehicle charging to take advantage of cheaper electricity when it's available and when there are more renewables in the system. Through their partnership, Nissan and OVO are leading the way with this technology.
Here's another image, this time portraying OVO's partnership with Nissan: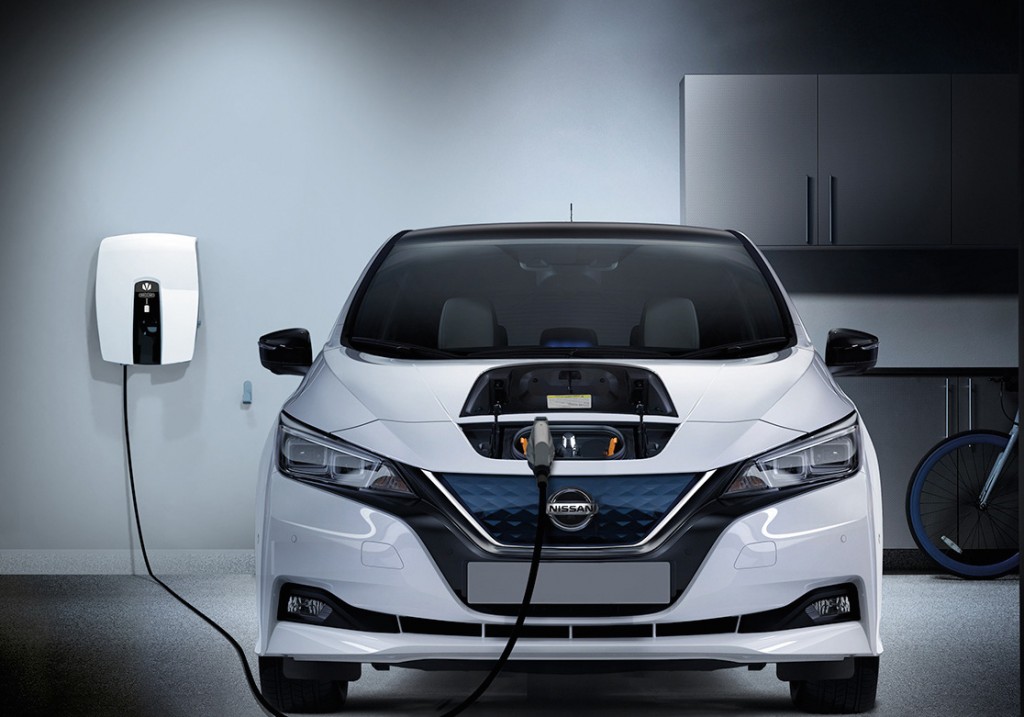 With slightly less fanfare OVO also pointed out that:
OVO is launching a Smart Charger which, like the vehicle-to-grid charger, will enable electric vehicles to be charged during off-peak hours, thereby easing pressure on the electricity grid as well as allowing drivers to take advantage of cheaper off-peak electricity.
There don't seem to be any pictures available of the OVO smart charger yet, apart from snaps taken at the launch event:
Introducing OVO's three new and revolutionary domestic products… Home Energy Storage, Smart Charger, and Vehicle-to-Grid Charger. @OVOEnergy pic.twitter.com/dc05Pj18uS

— PRASEG (@PRASEG) April 18, 2018
However as the image above suggests OVO had more exciting news to reveal yesterday:
OVO is also announcing its debut in the home battery market with a Home Energy Storage solution. This powerful battery with a custom built control and communications unit will dynamically and proactively manage energy and power use. It will enable everyone to store, use and sell back electricity, whether or not they produce it themselves.
As if that wasn't enough, there is still more to tell you!
The smart electrification of heating is an essential component of decarbonising our energy system. Showcased at the event was the OVO Heat Dynamo, an internet connected smart switch that can be retrofitted to electric storage heaters. It allows users to control the level of heat they want, when they want it via OVO's Smart Heat Customer App, while reducing their electricity bills by as much as 30% and providing balancing services to the electricity grid.
Here at V2G UK we did of course sign up for news of OVO's V2G activities many moons ago. They've asked us to do that again so we did, only to be informed: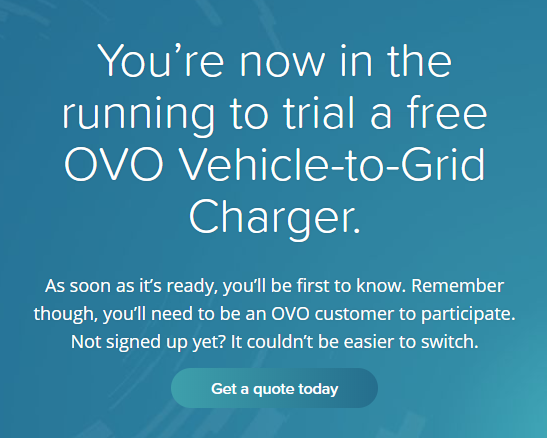 It would seem that OVO's announcement of the "the world's first widely available, domestic electric vehicle-to-grid charger" is a trifle premature? According to their web site it's:
Arriving this summer.
P.S. Here's a better picture of the OVO smart charger: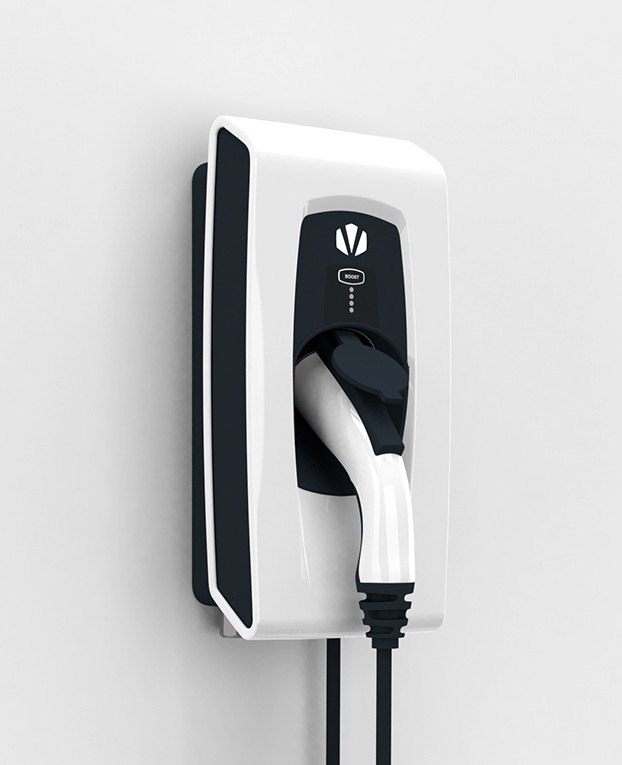 "Arriving this autumn"