Mitsubishi Motors recently revealed a vehicle-to-building (V2B for short) pilot project here in Europe, and now they've announced an even more ambitious project in Japan, in a new release last week they announced that:
MMC already has 28 showrooms throughout Japan which have solar panels and the ability to use an electric vehicle's battery power as an emergency power source, via a Vehicle-to-Building (V2B) charger. However the new Omiya "Hyper Energy Station", opened this week in Saitama City, has also been fitted with its own lithium-ion battery packs to provide substantial power back up to the local electricity grid.

Saitama City has partially subsidized the cost of the facilities and the dealership has been designated a Next-generation Automobile & Smart Energy Special Zone by the Japanese government. The Omiya showroom, run by the Kanto Mitsubishi Motors Sales Group, is the fourth private facility and the first automobile dealer to adopt the system.

Featuring lithium-ion batteries with a capacity of 12kWh, the building can supply power for recharging electric vehicles (EV) in the event of a natural disaster or power outage, when normal power supplies are cut off. EVs have played a key role in transporting people and good in previous emergencies in Japan, when conventional fuel supplies have been severely disrupted.
Here's an artist's impression of the combined "Static and Mobile Distributed Energy Storage" (SaMDES for short) unit: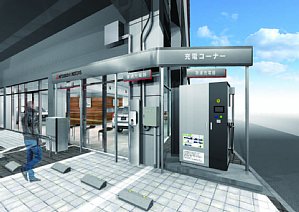 Apart from the new hardware that combines both static and mobile lithium ion battery storage Mitsubishi also pointed out that:
MMC has already opened 28 "DENDO Drive Station" showrooms across Japan, all featuring solar panels and V2B charging stations. It plans to increase this number to 200 by 2020.

In addition to charging vehicles, V2B allows the EV's battery to provide power to the building in times of high demand or an emergency. The building will then switch to charging the car at times of low grid demand, or when renewable energy production is at a peak. This has major benefits for the grid and provides cheaper, sustainable power for the EV owner.