Nissan have recently announced that:
The manmade island of Yumeshima in western Japan's Osaka is now home to the world's first large-scale energy storage system, a project that also highlights the potential to reuse electric vehicle batteries.

Hikari-no-Mori – or Forest of Light – is a mega-solar project of 36,000 solar panels built on top of a landfill and managed by Sumitomo Corporation.
The first paragraph is not strictly accurate, since as we reported a couple of years ago, such things have been in use in Spain for a while now. Sumitomo's press release about the project was nearer the mark stating instead that:
Sumitomo Corporation has developed and installed the world's first large-scale power storage system which utilizes used batteries collected from electric vehicles.
Nissan did however also release the following video, so we can see for ourselves what the partnership has in fact developed:
According to Sumitomo once more:
Over the next three years, the system will measure the smoothing effect of energy output fluctuation from the nearby "Hikari-no-mori," solar farm, and will aim to establish a large-scale power storage technology by safely and effectively utilizing the huge quantities of discarded used EV batteries which will become available in the future. This project has been selected as a model project for "Verification of the battery storage control to promote renewable energy" for the fiscal year 2013 by the Ministry of the Environment of Japan.

Sumitomo Corporation created the joint venture company, "4R Energy Corporation", in collaboration with Nissan Motor Co., Ltd. in September 2010, to address the secondary use of EV lithium-ion batteries. The used EV batteries that will be recycled into this large-scale storage system have been recovered and have gone through thorough inspection and maintenance at 4R, to confirm safety and performance. This prototype system (600kW/400kWh) consists of sixteen used EV batteries.
The 600kW/400kWh rating of the Japanese energy storage system compares unfavourably with the 1.1MW/560kWh of the lithium-ion battery Saft system installed in Spain, so it can't even claim to be the largest such system in the world, but the French system uses new batteries rather than ones that are no longer up to the job of powering an electric vehicle. Here's what the 4R system looks like:
It seems to have 12 battery packs per container, although Nissan claim that:
A joint venture between Sumitomo and Nissan called 4R Energy – Reuse, Resell, Refabricate and Recycle – uses 16 lithium-ion batteries from EVs to help monitor energy fluctuations and store the solar farm's energy output.
Judging by both Nissan's video and Sumitomo's picture there looks to be two of those on the man-made island, so maybe the actual number is in fact 24?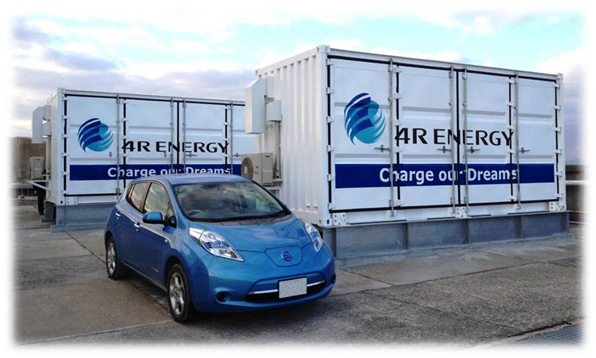 Continuing with some further (hopefully accurate!) quotes from Nissan's press release:
Natural energy sources, such as solar and wind, vary in strength and frequency, and the innovative battery management system developed by 4R is the first of its kind, says the firm's President Eiji Makino.

"Depending on use, a battery's degree and rate of deterioration and the battery's condition vary by vehicle," says Makino. "So 4R has created a technology that allows us to have optimal control in regulating those conditions."

The project is part of a three-year test under Japan's Environment Ministry to expand renewable energy resources and power grid management. In Japan, electricity liberalization will be realized after 2016.

The batteries have up to 70% of capacity remaining – the average left after 100,000 kilometers or five years of driving.

Sumitomo General Manager Norihiko Nonaka said his company, in cooperation with 4R, expects to make the results of the project commercially viable in 5 years or so.

"The electricity-value-chain is divided into 3 sections: electricity generation, transmission and distribution. We would like to focus on electricity generation and transmission. If we rely on renewables to obtain energy – like solar and wind – they don't always generate the necessary amount of energy and that may cause an issue with supply-and-demand," said Nonaka.

"On the other hand, if the cost of batteries is too high and is economically inefficient, 4R will have to continue to work and investigate the situation and market in the long term, about 5 years or maybe after 2020.
In conclusion I fear I may have to disagree slightly with Sumitomo for a change. Why should "the electricity-value-chain" not also include community renewable energy projects such as the South Brent Community Energy Society's 250 kW wind turbine, which is located a few miles down the A38 from the V2G offices, and of which I am a proud (albeit modest) shareholder?