In a press release about their 2015 Innovation Days the BMW Group have revealed that:
The strategic collaboration between the BMW Group and the Toyota Motor Company agreed at the beginning of 2013 has provided fresh momentum for the development of FCEV drive technology. The aim of the collaboration is to have an initial group of approved components ready by 2020. The successful introduction of FCEVs is dependent on the development of a hydrogen infrastructure in the markets concerned.

The two collaboration partners are supporting this process through jointly created technological standards which make fuel cell-powered vehicles easier to use and help to increase their reach and numbers.
Whilst we wait to discover how, where and when the hydrogen infrastructure BMW refer to materialises in Europe they go on to state that:
The hydrogen Fuel Cell Electric Vehicle (FCEV) represents a pioneering concept focusing on locally emission-free mobility combined with hallmark BMW dynamics and a high level of energy efficiency. The hydrogen fuel cell drive system combines the benefits of BMW eDrive technology with a host of qualities familiar from conventional combustion engines:

All-electric, locally emission-free driving.
BMW eDrive electric motor generates instantaneous power delivery and impressive dynamics.
Power electronics, high-voltage battery and intelligent energy management based on the BMW Group's eDrive technology.
Long-distance capability with an operating range of more than 500 kilometres (300 miles) thanks to the high energy density of the hydrogen carried on board.
Fast and convenient refuelling in under five minutes.

Fuel cell technology therefore makes an ideal addition to both the BMW i models and, in the future, the series-produced models from the BMW brand fitted with tried-and-tested eDrive technology. It converts the gaseous hydrogen contained in the storage tank into electric power and water vapour. The vehicle's high-voltage battery serves as an energy storage unit and can therefore be considerably smaller – with a net capacity of around one kilowatt hour – than in battery-electric concepts. Storing hydrogen in a cryogenic pressure vessel can, depending on the type of vehicle, allow an operating range comparable with that of conventional vehicles powered by combustion engines. Filling up the hydrogen storage tank takes a similar amount of time as refuelling a petrol or diesel tank.
This seems to suggest that in the not too distant future we can expect to see a version of the BMW i3 with a much smaller traction battery plus a hydrogen fuel cell instead of the existing range extender, together with a similarly equipped although presumably more powerful version of the i8!
By way of a hint about what to expect the press release includes pictures such as this: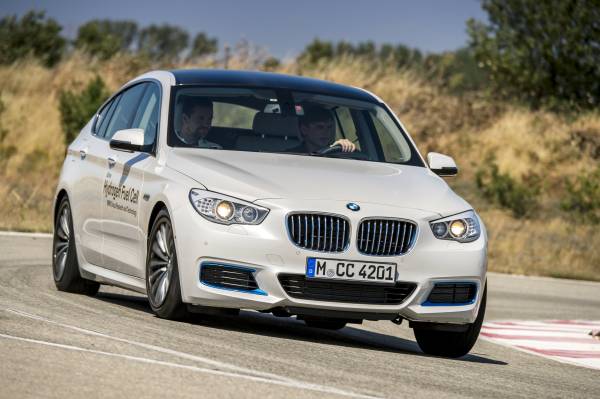 plus a video:
which according to BMW show:
The demonstration vehicle, based on a BMW 5 Series Gran Turismo, [which] reveals a take on this form of propulsion in keeping with the brand's profile and character. It combines locally emission-free mobility with sporting dynamics, excellent ride comfort and long-distance capability. Its key features are as follows:

Electric motor developing 180 kW/245 hp, power electronics and high-voltage battery for interim energy storage; developed as a variant of BMW eDrive technology for BMW i cars and BMW brand plug-in hybrid models.
Hydrogen storage in the form of a tunnel tank between the front and rear axle; industry standard 700 bar CGH2 vessel technology and cryogenic pressure vessel technology (CCH2) patented by the BMW Group for storing gaseous hydrogen at low temperature and 350 bar pressure; operating range: over 500 kilometres (more than 300 miles).
Fuel cells, housing and ancillary systems: initial results from the collaboration between the BMW Group and the Toyota Motor Corporation on Fuel Cell Electric Vehicle (FCEV) technology.
In the press kit BMW also reveal another vehicle emblazoned with the "Hydrogen Fuel Cell" logo: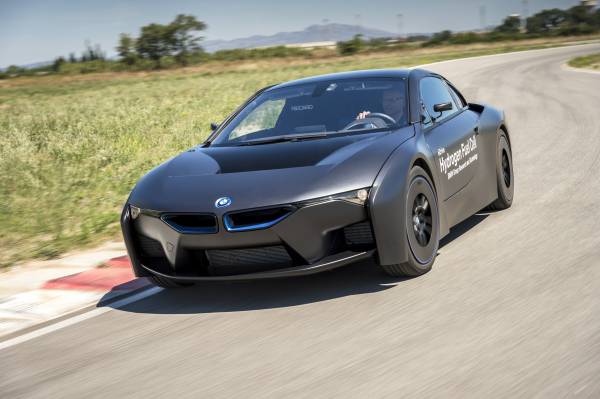 According to Autocar the car:
Has been used as a rolling test bed for the German company's hydrogen fuel cell technology, which is planned to head into large-scale production by 2020, according to the head of BMW's vast research and development operations, Klaus Fröhlich.

Based around the contemporary new i8, the sleek two-door coupé relies on carbonfibre construction to keep its weight down and also features an aerodynamic package honed at BMW's wind tunnel in Munich. The BMW research vehicle, which was constructed back in 2012 and remains unnamed, sites its fuel stack at the rear in the position usually taken up by the i8's compact turbocharged 1.5-litre three-cylinder petrol engine.

Energy for the fuel stack is provided by cryogenically stowed hydrogen contained in a cylindrical tank mounted down the centre line of the car's platform and oxygen provided by cooling air. The fuel stack subsequently provides electricity to run a rear-mounted electric motor, with the only emissions being water.
Here's a video of the vehicle in action:
Evidently all sorts of exciting stuff is already well on the way to production. Now all we need, as so often seems to be the case these days, is the associated infrastructure!