We've mentioned the Riversimple open source hydrogen fuel cell electric vehicle before, and we could not help but notice the countdown to the launch of their new "Rasa" model on their Twitter feed:
Today there's an in depth article in the Financial Times about the Rasa and the reasoning behind it. Here's the edited highlights:
Riversimple Movement is taking its hydrogen fuel-cell project — now 15 years in the making — to the next stage with the unveiling of its first production-ready, road-legal prototype and the start of a public trial.

In the autumn, about 20 people will have the chance to drive away a carbon-fibre Rasa, which may look slightly kooky with its rear-wheel spats and butterfly doors but packs four electric motors and can travel for 300 miles on a single fill-up.

"We're not targeting the ecological market. We want it to look good," says Hugo Spowers, who founded the company in 2001.

The Rasa was named for the blank-slate approach the company says it is taking to carmaking. Parts are chosen not on the basis of how cheap, light or powerful they are but how they will affect the business model.

"One investor told me this was the first time he'd seen a car built for a business model rather than the other way round," says Mr Spowers.
Please read the FT article in full, but also take a look at what Riversimple themselves have to say. According to "Technology behind the car" section of their web site:
Every aspect of the hydrogen Mark ll Alpha has been created and interrogated for simplicity, efficiency, lightness, strength, affordability, safety and sustainability.

This first car is a two seater 'network electric' car, powered by a hydrogen fuel cell. The chassis is a carbon fibre monocoque made from very lightweight but extremely stiff carbon fibre composites. The monocoque chassis weighs less than 40kg.
Our car is very light – we have a target weight of 520 kg. It embodies various key features:

Four electric motors, one in each wheel
Motors as brakes – recovering over 50% of kinetic energy when braking
Super-capacitors to store this energy and provide most of the power for acceleration
A low powered hydrogen fuel cell ( 8.5 kW)
A body made of lightweight composites

It's the synthesis of all these technologies that delivers the groundbreaking efficiency and range, many times better than inserting fuel cells into conventional, heavy, vehicles. The production prototype should do c.250 mpg (equivalent), with a range of 300 miles. Emissions are zero at tailpipe and c.40gCO2/km Well-to-Wheel – even if the hydrogen comes from natural gas.
We'll keep you posted as the Rasa launch countdown continues. According to Twitter:
Here's a teaser video to whet the appetite for the big reveal on 17 Feb – 5days to go!
[Edit – February 17th 2016]
The Riversimple Rasa has been unveiled today: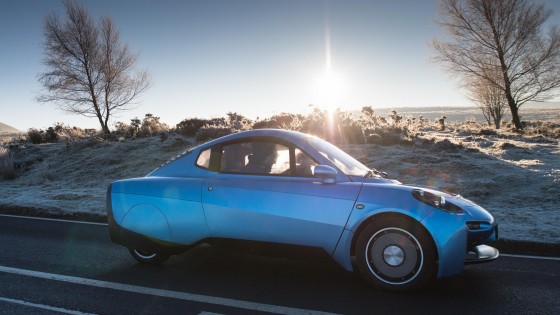 According to the Riversimple blog:
The new car reflects a simple idea that was first mooted in the 4th century BC by the great philosopher and scientist, Aristotle. It is the idea that something new begins, not with predetermined structure and characteristics, but with a blank slate – tabula rasa – moment of potential.

We set out with a blank slate, to design a car for the world in which we now live, shaped by the best technology available to us and answerable to our most pressing concerns. We set out to build a local car that will take people on their local journeys, in the way that they wish to travel, at a cost that is affordable – and without leaving a heavy footprint of air pollution and environmental degradation. To do this we selected a still evolving, but incredibly promising and safe technology. This is hydrogen fuel cell technology.
Here's another video, this time revealing the Rasa in all its low drag glory:
I did enquire on Twitter where the nearest suitable filling station for a Rasa might ultimately be. I haven't received an answer yet, but if it isn't "Exeter" then I rather hope it will be "Plymouth". According to the SWARM Project web site:
This project will establish a demonstration fleet of small passenger vehicles that builds on and expands existing hydrogen refuelling infrastructure. Three European regions will be participating in this effort: the UK (the Midlands and Plymouth), the Brussels area and Wallonia, and the Weser-Ems region in NorthWest Germany. Each of these regions will deploy a new hydrogen refuelling site to close the gaps in a continuous 'hydrogen highways' that leads from Scotland via the Midlands to London, connecting to Brussels and on to Cologne and Hamburg/Scandinavia/Berlin via Bremen.

The vehicles employed are low-cost, high fuel-efficiency, hybridised, light-weight passenger cars specifically designed for city and regional transport. These vehicles provide a complementary pathway to commercialisation to the large Original Equipment Manufacturer (OEM) of hydrogen fuel cell options, by allowing near-term rollout on a commercial basis to a wide range of users – in parallel with the planned rollouts for large OEM vehicles from 2015. Their deployment regions will gain the infrastructure, public exposure and technological understanding to act as seed locations for future large scale OEM vehicle rollout.
You will note that Riversimple are a member of the SWARM project consortium.