Nissan's latest electric vehicle press release doesn't include the exclamation mark in our title for today:
Nissan's breakthrough e-NV200 100% electric van combines the features of the award-winning Nissan NV200 van with the market-leading New Nissan LEAF, offering businesses a zero-emission vehicle packed with innovative technology and functionality.

From spring 2018, Nissan will introduce in Europe its new zero-emissions van that goes further than ever on a single charge thanks to a new 40kWh battery. The Nissan e-NV200 now offers a 60% extended range with unchanged cargo capacity and single-shift transmission that makes driving easier and safer.

With more than 15,000 vehicles on the roads since its introduction in Europe in 2014, this new generation of 100% electric Nissan e-NV200, embodying the company's Nissan Intelligent Mobility vision, now goes another step forward. The longer range provided by its bigger battery and a full new series of connectivity features makes the 100% electric e-NV200 a real game changer in the LCV market.
Regular readers will be aware that we wholeheartedly agree with that final sentence! Whilst it was a non-typical use case our mainly motorway road test of a 24 kWh equipped e-NV200 last summer would have been considerably swifter with an extra 60% range. Our local rural post lady assures us that her currently diesel powered round is about 50 miles. Absolutely no problem in the new e-NV200. Are you listening Royal Mail? According to Nissan once again:
As well as helping business customers enhance their green credentials, the van represents a key pillar in Nissan's wider commitment to cutting the level of emissions in city centres caused by professional drivers making deliveries and/or collections, ranging from CO2 emissions to noise pollution. It can help make 100% electric last mile deliveries achievable for businesses and professional drivers everywhere, with customers now able to drive more than 100 km further on a single charge compared to the previous generation e-NV200 fitted with 24kWh battery.
No more range anxiety then, and Nissan Europe's Director of Electric Vehicles, Gareth Dunsmore, makes a very important point:
Businesses have a huge impact on air quality and traffic congestion, especially in city centres, and the Nissan e-NV200 helps cut the level of CO2 emissions they create.
The photos accompanying the press release are of the white "Evalia" 7 seater people carrier version of the e-NV200 rather than a red parcel carrying van, and seem to have been shot in amongst some renewable generation on the isalnd of Tenerife: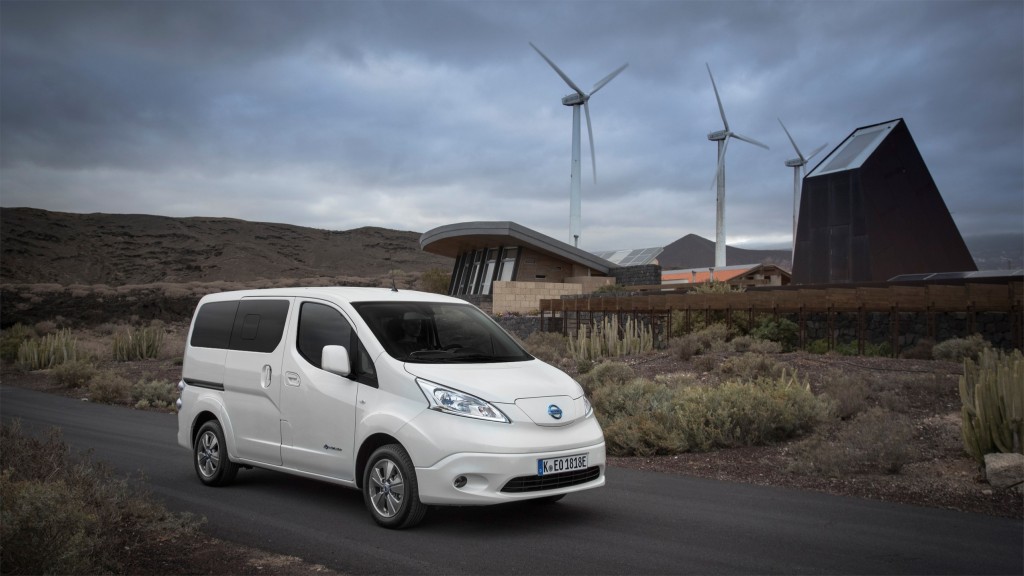 Whatever the colour or configuration, we'd love to try one out on some Great British roads in the not so Great British winter. It seems that we'll have to wait until "spring" though.
Nissan further inform us that:
Using the same battery technology as the new Nissan LEAF just introduced in Europe, and with no increase in the size of the battery itself, e-NV200 customers face no compromise in load space. Crucially, it can help make 100% electric last miles delivery achievable for businesses and professional drivers everywhere.
At long last Nissan get around to the V2G bit:
The Nissan e-NV200 is also much more than just a 100% electric vehicle. It is a mobile power unit complete with unique bi-directional charging. This means it can give back energy to power the world around it by connecting to offices or business facilities. It can even return any excess charge to top up and stabilise the local energy grid thanks to Nissan's innovative Vehicle to Grid technology.
We couldn't agree more!