As we anticipated yesterday, Storm Barra has been officially named by Met Éireann even though the remaining power cuts due to Storm Arwen have yet to be repaired:
Here is the Met Office's current high wind warning for Tuesday: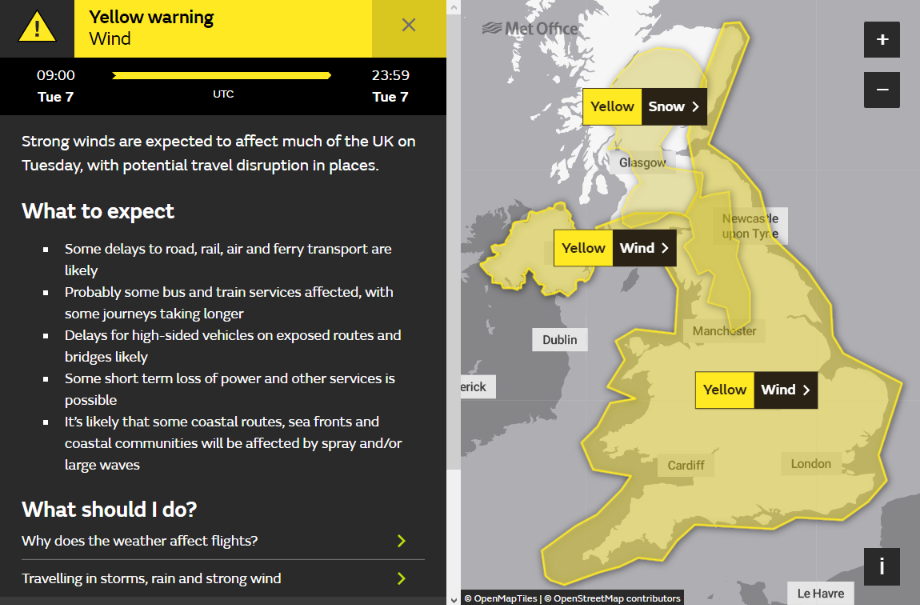 and here is the current GFS wind gust forecast for early Wednesday morning: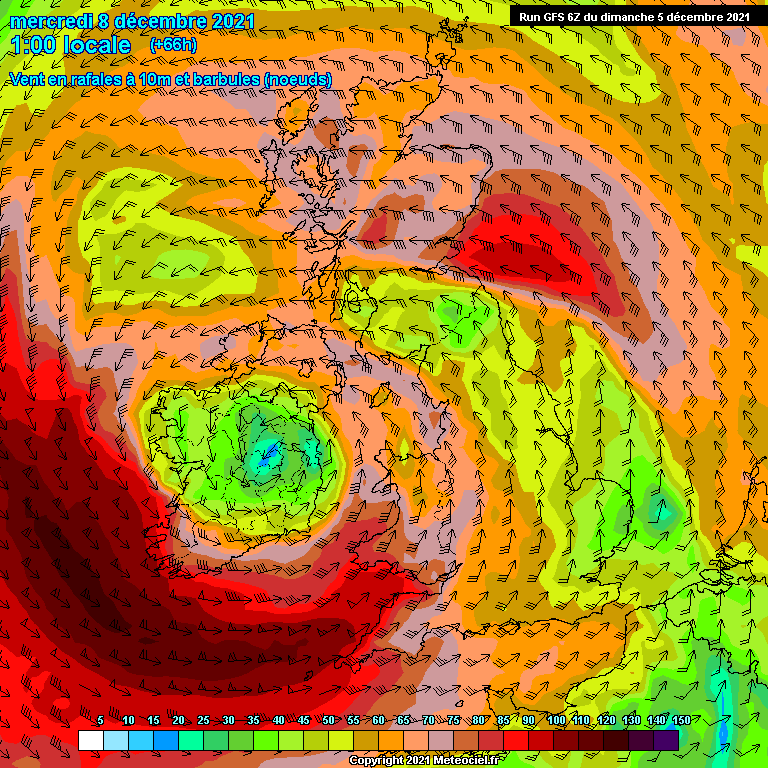 We anticipate more power cuts across Ireland as well as here in Cornwall and further afield across the United Kingdom.
Here is ESB Networks' view of the calm before Storm Barra: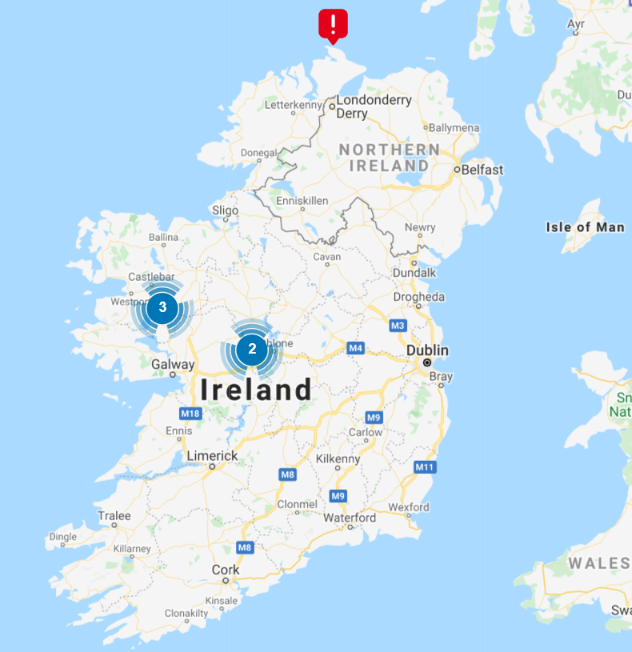 [Edit – December 7th 09:00]
The rain from Storm Barra has recently arrived here in South West England: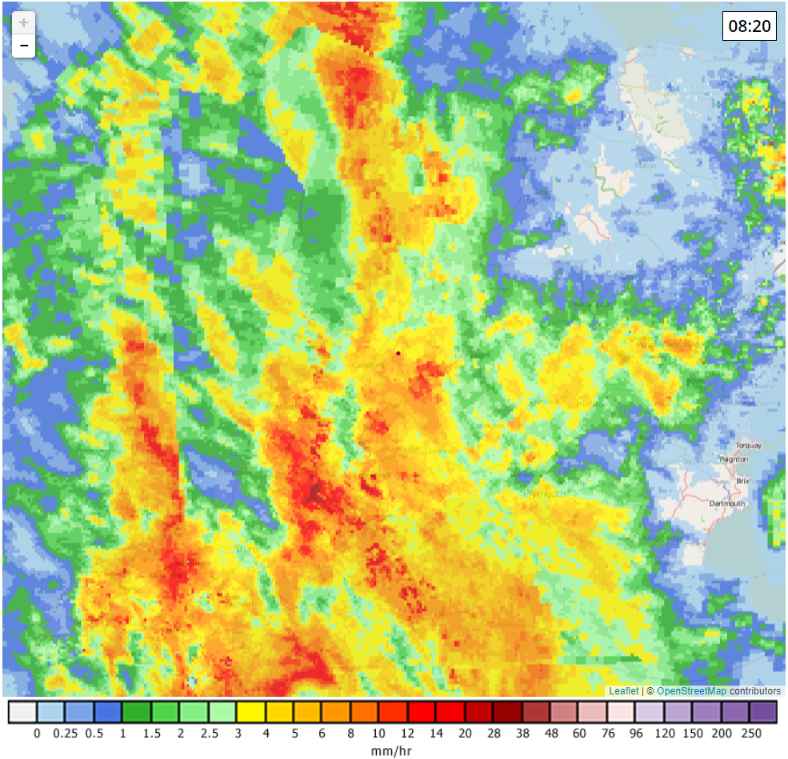 Meanwhile the strongest gusts of wind are arriving in South West Ireland:
Here is the current Electricity Supply Board power cut map for Ireland: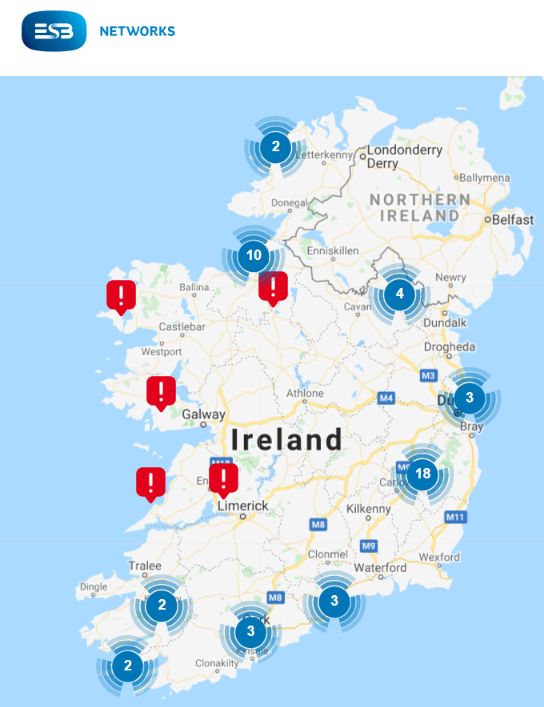 [Edit – December 7th 14:00]
The distribution grid in Eire has borne the brunt of Storm Barra's destruction thus far today: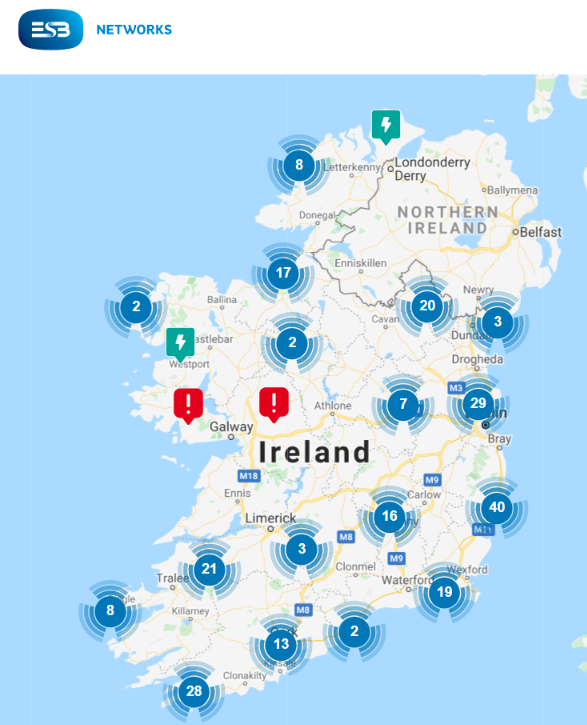 However Northern Ireland is suffering as well: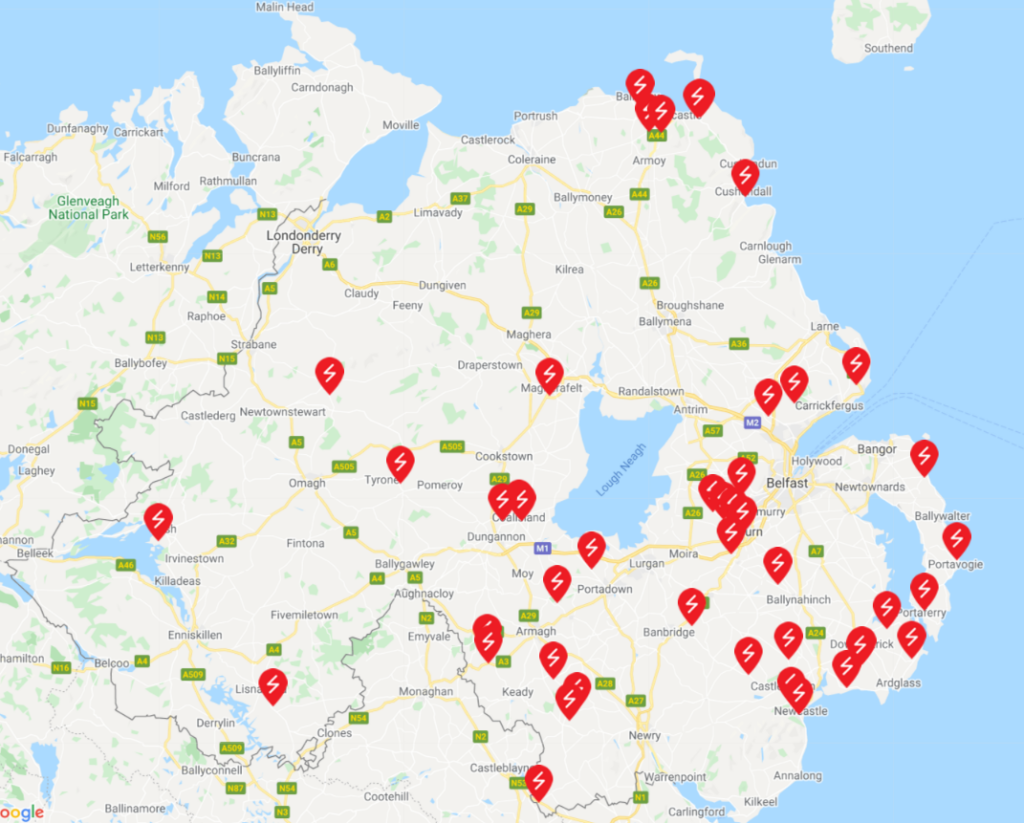 On the mainland a few power cuts are also popping up in SSEN's southern region: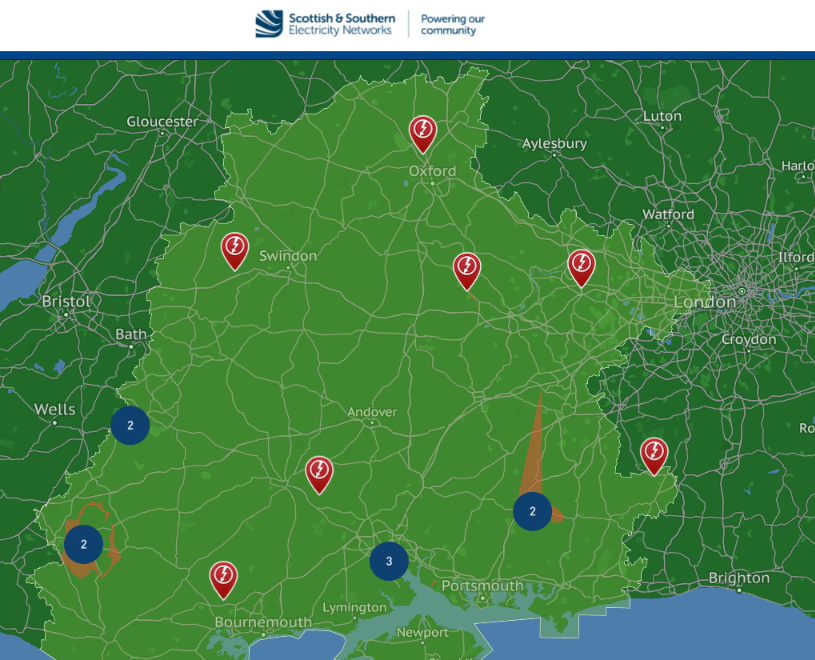 SPEN's power cut map for their ManWeb region currently includes lots of outages that have already been repaired, but the list view reveals several new ones as well. This is page 6, with 10 incidents per page: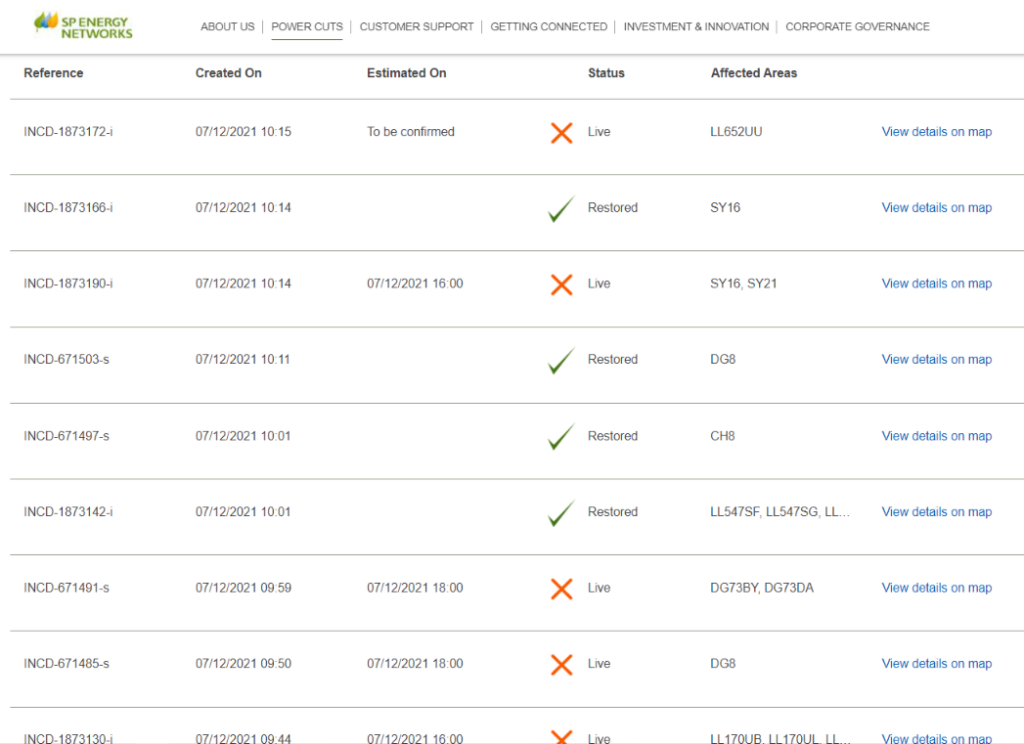 [Edit – December 7th 17:00]
Here is a satellite image of Storm Barra earlier this afternoon: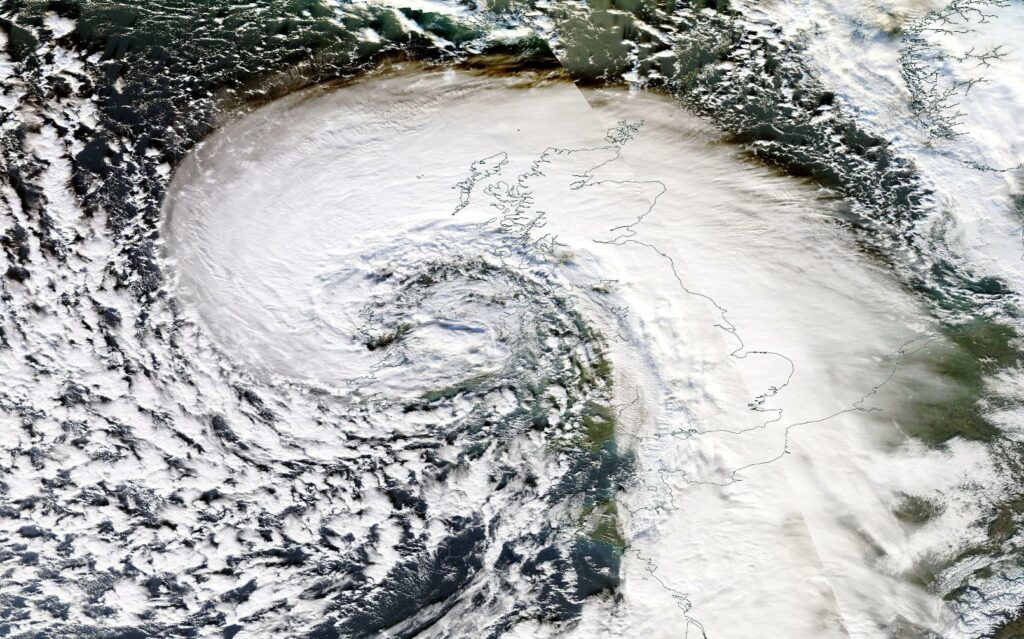 Here too is this evening's selection of Storm Barra power cut maps: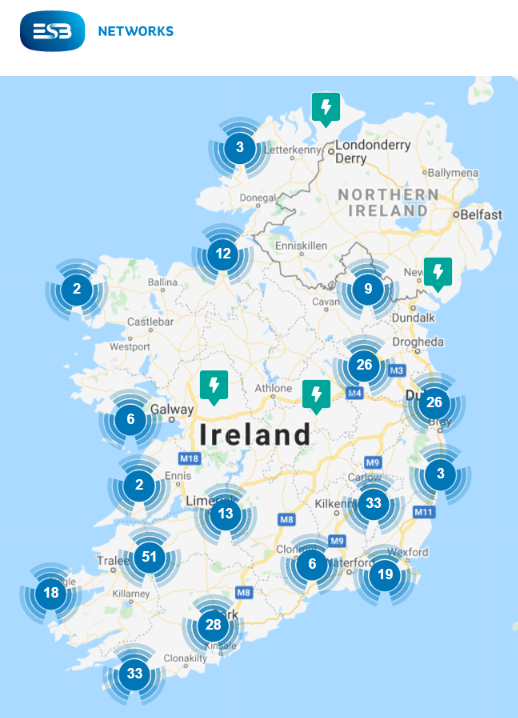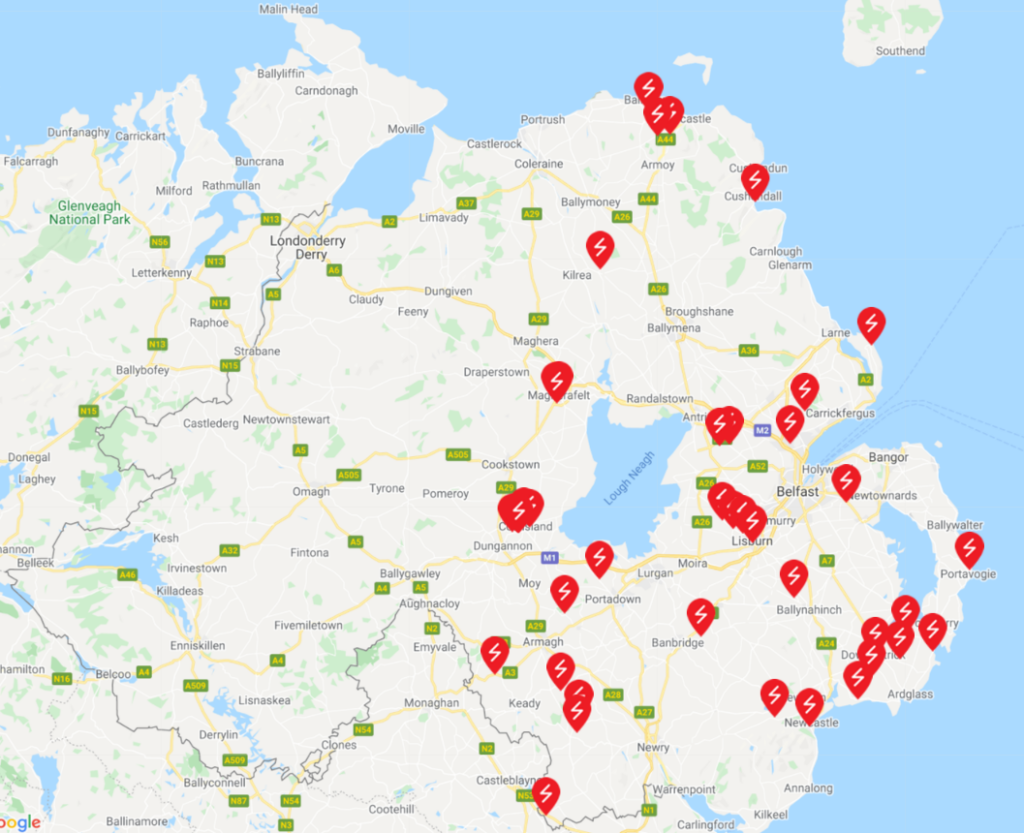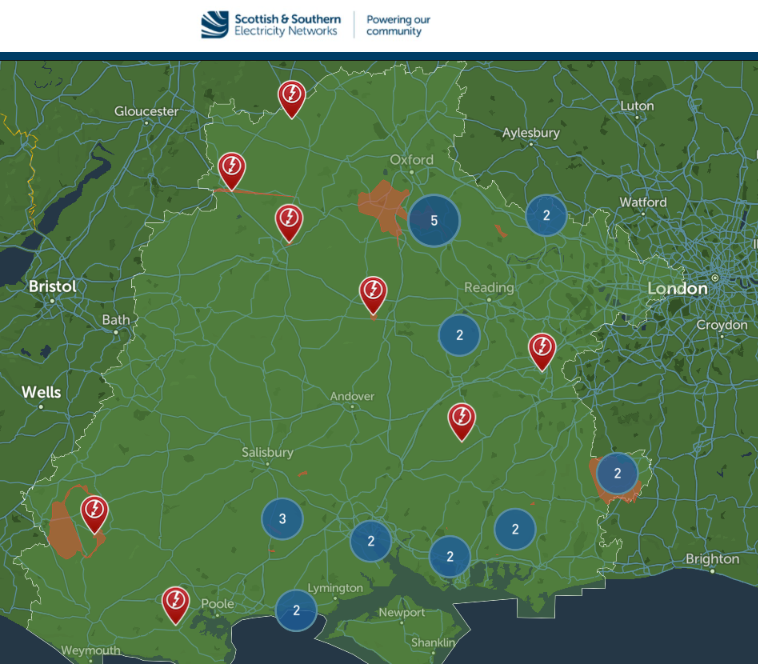 [Edit – December 8th 09:00]
Eire has suffered the majority of the power cuts caused by Storm Barra so far, so let's start this morning's overview with the ESB map: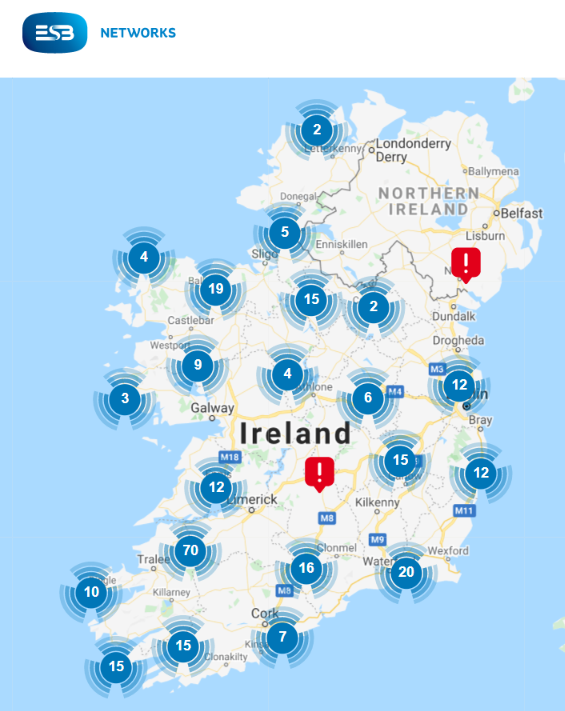 Northern Ireland Electricity Networks have managed to repair their initial faults: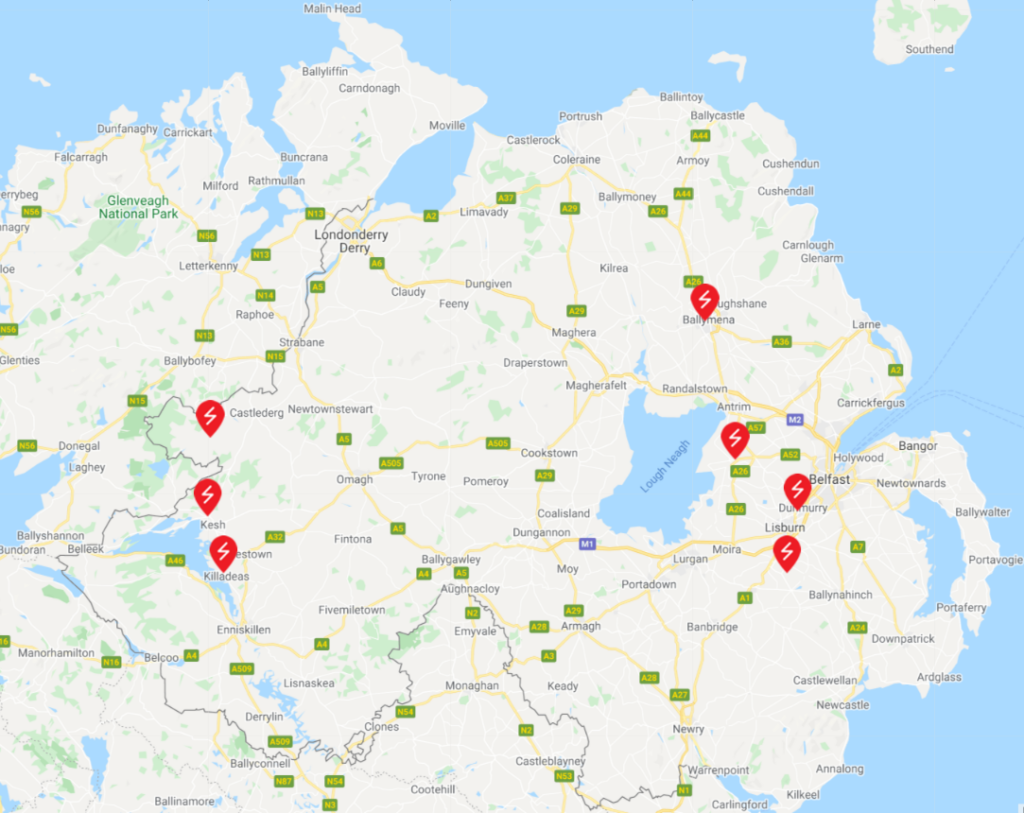 The Scottish Power maps include already repaired faults, and so are somewhat misleading: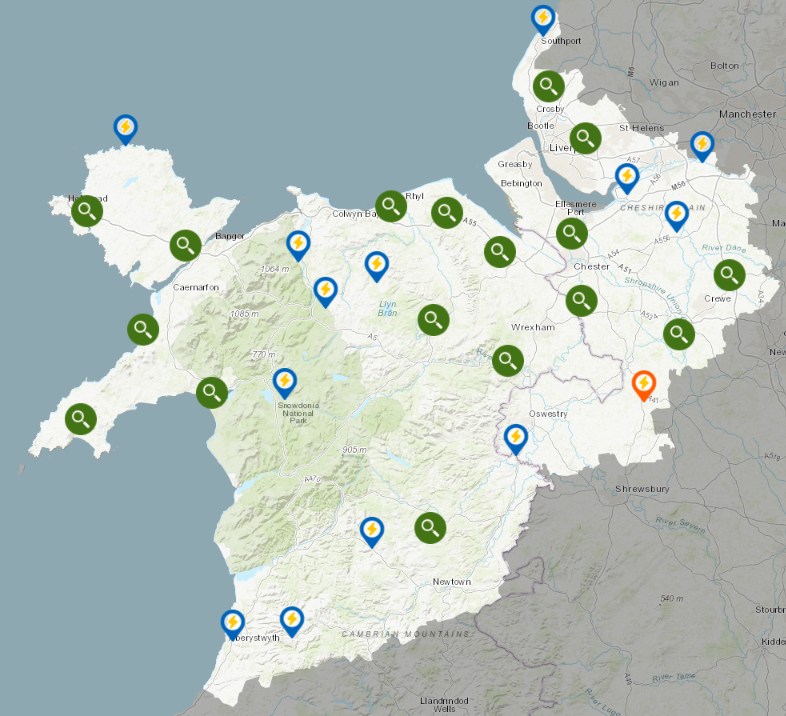 However viewing current faults in a list reveals several recent ones awaiting repair. This is page 10: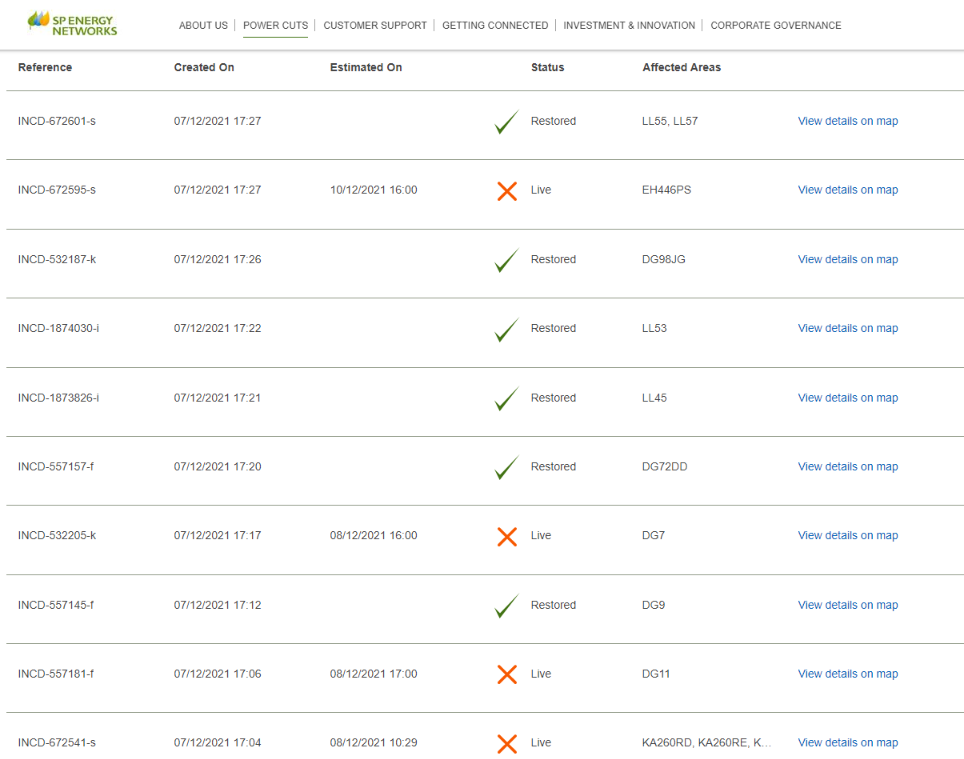 Further north SSEN's network has suffered much less damage than during Storm Arwen: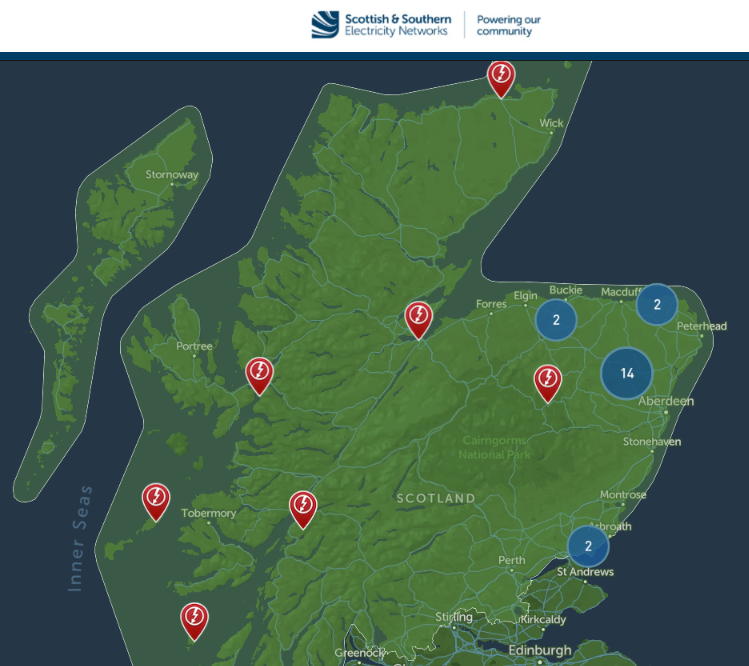 WPD, UKPN and SSEN's southern network have no lingering faults from Storm Barra, but the same cannot be said for Northern Powergrid:
Viewing their power outages in a list reveals several still outstanding that date back to Storm Arwen:

Finally, for the moment at least, here is the Met Office's Euro 4 surface wind gust forecast earlier today: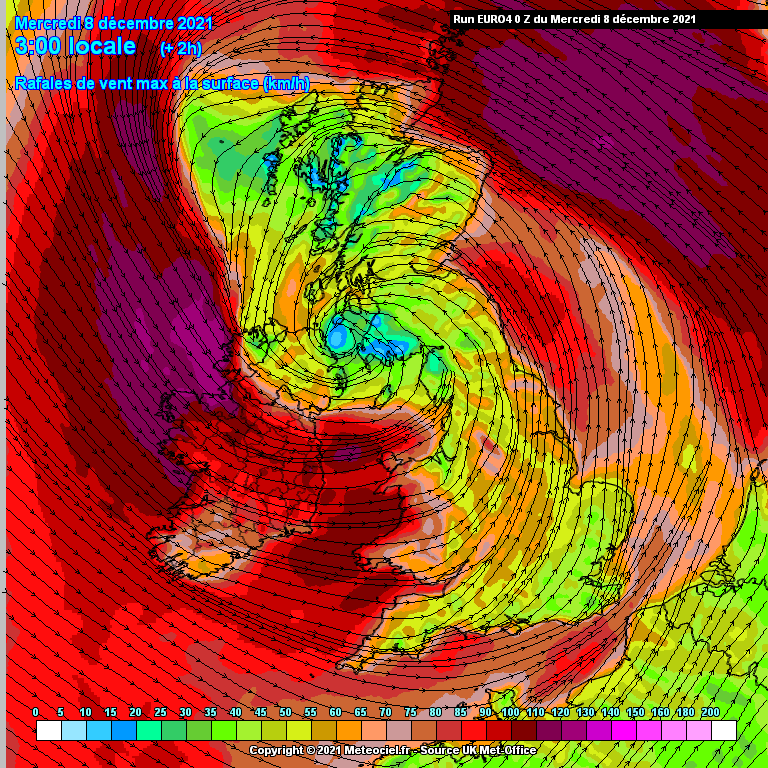 [Edit – December 9th 13:00]
Earlier today ESB Networks reported that they had "8,000 customers who remain without power ".

Here is their current power cut map, but note that the "clusters" don't distinguish between current power cuts and recently repaired faults: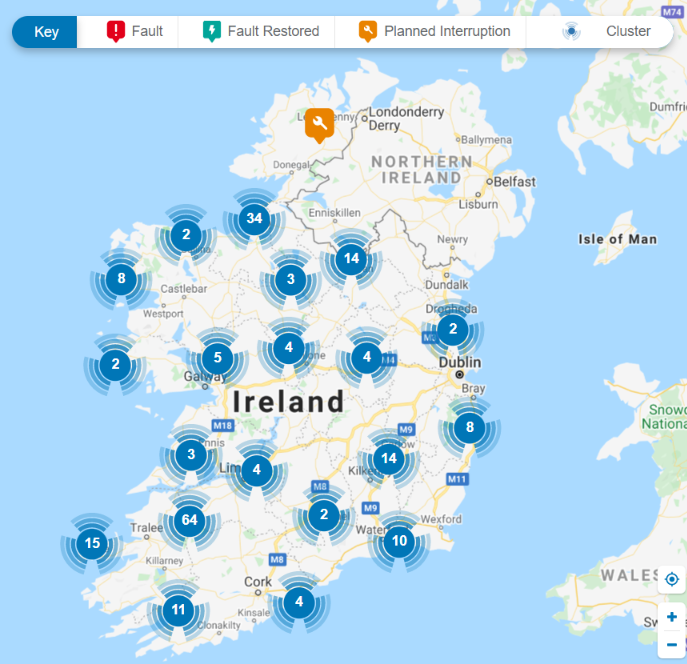 Here too is the current Northern Powergrid power cut map, which does distinguish between current power cuts and recently repaired faults: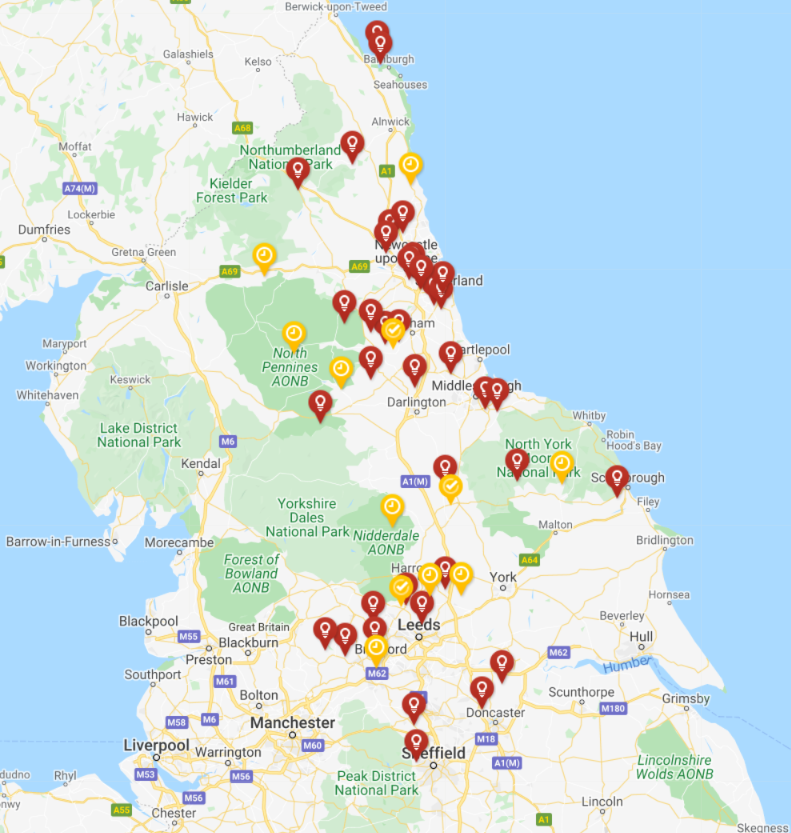 They appear to still have a couple of unrepaired power outages dating back to the passage of Storm Arwen: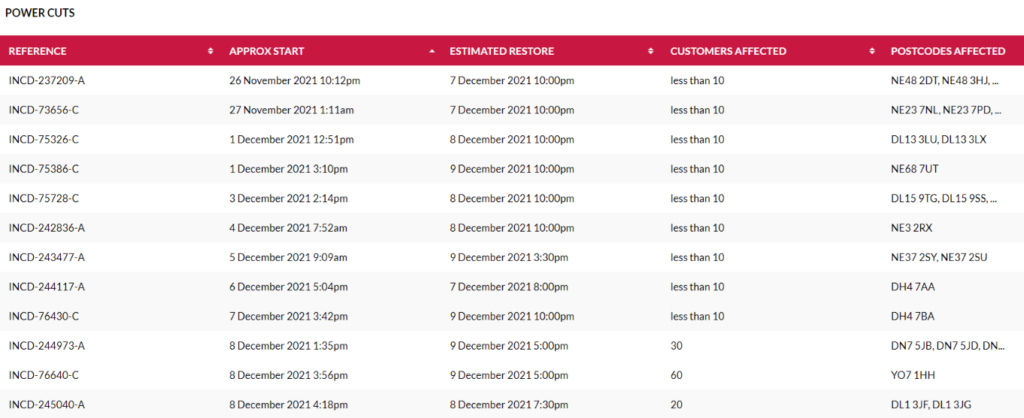 [Edit – December 10th]
ESB Networks haven't issued a further statement regarding the last few post Storm Barra power cuts that still needed repairing overnight. However their power cut map is looking a lot better today: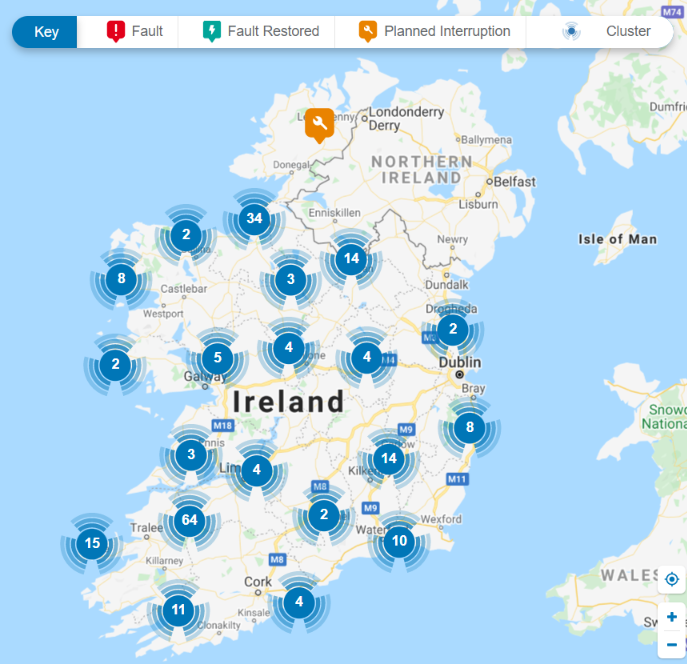 Remember that the "clusters" include recently repaired faults as well as existing ones.
[Edit – December 11th]
Finally all the assorted power cut maps have returned to something approaching normality: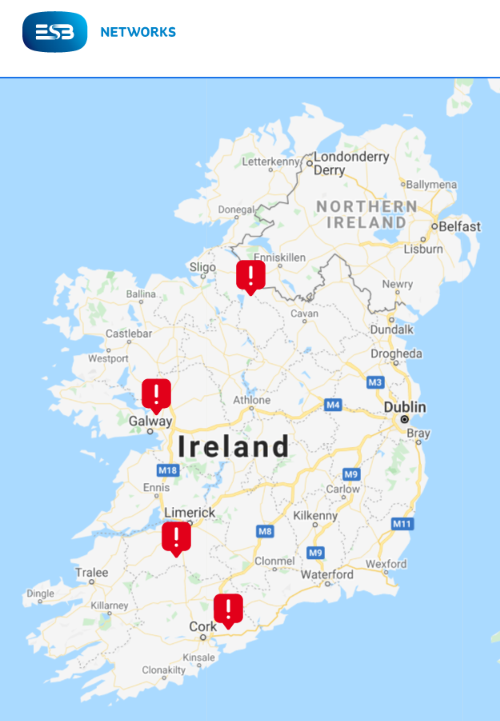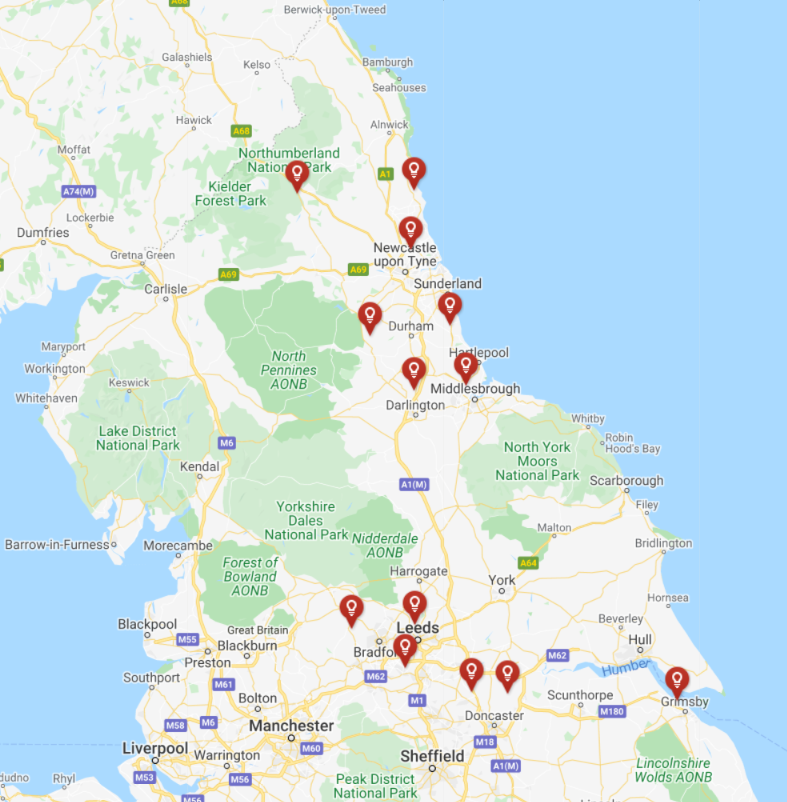 However more strong winds are forecast. Overnight for northwest Scotland, and then this in the Met Office Euro4 surface wind gust forecast for Sunday evening: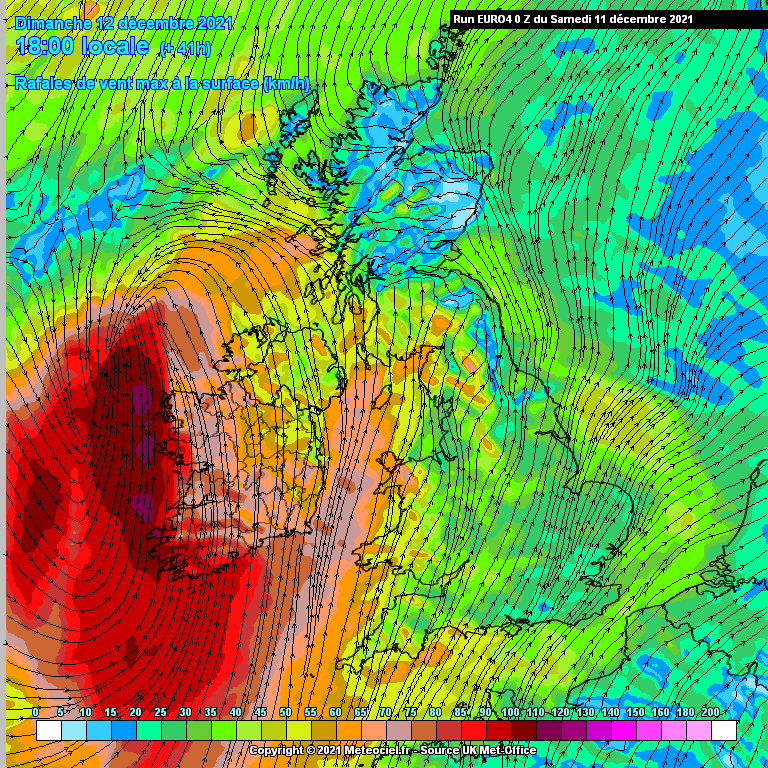 Watch this space!