It has just been announced to great fanfare by The Green Alliance on Valentine's Day 2015 that:
In a highly unusual move the Prime Minister, Deputy Prime Minister and the Leader of the Opposition have agreed to work together across party lines to tackle climate change.

The agreement follows the launch of The Climate Coalition's SHOW THE LOVE campaign which has reached millions across the UK, thousands of whom are wearing green hearts and telling the world what they love that could be lost to climate change.
The Green Alliance kindly provide video evidence that the signing of the agreement is not in actual fact merely a cruel hoax:
The agreement itself states that:
Climate change is one of the most serious threats facing the world today. It is not just a threat to the environment, but also to our national and global security, to poverty eradication and economic prosperity.

Acting on climate change is also an opportunity for the UK to grow a stronger economy, which is more efficient and more resilient to the risks ahead. It is in our national interest to act and ensure others act with us.

2015 offers a unique opportunity to accelerate that opportunity, with countries pledging their contributions to action before the world comes together at Paris at the end of the year to reach an agreement on tackling climate change. It is vital that this agreement is a success, and the UK will play its part in ensuring an ambitious outcome.

That is why we pledge:

To seek a fair, strong, legally binding, global climate deal which limits temperature rises to below 2°C.
To work together, across party lines, to agree [UK] carbon budgets", which are required by law but which caused serious cabinet clashes in 2011.
To accelerate the transition to a competitive, energy-efficient low-carbon economy and to end the use of unabated coal for power generation.
Whilst that is of course all fine and dandy, the $64 gazillion question is in fact:
What will it actually take to limit temperature rises to below 2°C in practice in the real world?
The press release is accompanied by statements from a long list of the great and the good such as Al Gore, ex Vice-President of the United States of America, who gushes:
This agreement represents inspiring leadership and true statesmanship by all three men.  The political courage it represents on all sides is exactly what our world most needs in order to solve the climate crisis. Thank you! Thank you! And thank you!
which doesn't answer that question. Then there's Lord Nicholas Stern, Co-Chair of the Global Commission on the Economy and Climate, Chair of the Grantham Research Institute on Climate Change and the Environment at London School of Economics and Political Science, and President of the British Academy, who points out that:
I am glad to see the leaders of the three main Westminster parties giving their support to strong international and domestic action on climate change. The next UK Government will need to ensure a step change in the pace of the transition to a low-carbon economy in order to meet the statutory carbon budgets and to decarbonise the power sector by 2030.

A key part will be to end emissions from coal, which are twice those from natural gas per unit of electricity generated. The Coalition Government has already introduced regulations to prevent the construction of any new coal-fired power stations unless they are equipped with carbon capture and storage technology. We now need to bring a speedy end to coal-burning by existing power stations which release carbon dioxide and other pollutants into the atmosphere.

The transition to a low-carbon economy and investment in our cities and transport to make them more efficient, less congested and cleaner has great potential to drive a dynamic, more attractive and sustainable growth story for the UK, and indeed help the UK with design and technology it can take to the world. I hope that the leaders will embody their commitment to a low-carbon economy in overseas aid to help poor countries to overcome poverty and make their transition to low-carbon growth and to become more resilient to those impacts of climate change that cannot now be avoided.
That's a bit closer to the mark, but no mention is made of Lord Stern's previous statement that:
Climate change is the greatest market failure the world has ever seen.
However the most surprising thing, to your humble scribe at least, is that nowhere in amongst the gigatonnes of publicity have I been able to spot the name of Kevin Anderson, who is professor of energy and climate change in the School of Mechanical, Aeronautical and Civil Engineering at the University of Manchester. Last October he wrote an "Open Letter to the Prime Minister and Secretary of State at the Department of Energy & Climate Change". Kevin's letter includes lots of references and starts by saying:
The letter summarises why the IPCC's carbon budgets for a "likely" chance of not exceeding the international community's 2°C commitment, requires the EU to reduce the emissions from its energy system by 80% by 2030, with complete decarbonisation just a few years later.
and concludes that:
I understand the enormous political difficulties for European heads of state in developing a transparent and evidence-based mitigation agenda. However, the reasons for today's climate dilemma reside in our prolonged abject failure to set in train an effective programme of mitigation. A quarter of a century on from the IPCC's first report, the carbon intensity of a typical EU citizen's lifestyle remains unchanged. I urge you to resist the vested interests calling for continued inaction and instead drive for an ambitious policy framework "consistent with science" and developed on "the basis of equity". Ultimately, this will be the legacy we bequeath to future generations.
Now as luck would have it I attended a seminar given by Prof. Anderson to a group of climate scientists (plus your current correspondent) at Exeter University just two days ago. As further luck would have it I discovered on entering the room that my trusty surf camera was nestled at the bottom of my backpack, and Kevin kindly gave me permission to turn it on. Here is a small portion of what it managed to record for posterity:
You will note that amongst many other things Kevin asks rhetorically at 1:10:
What about 2°C?
and summarises his "recipe for success" with this graphic graphic: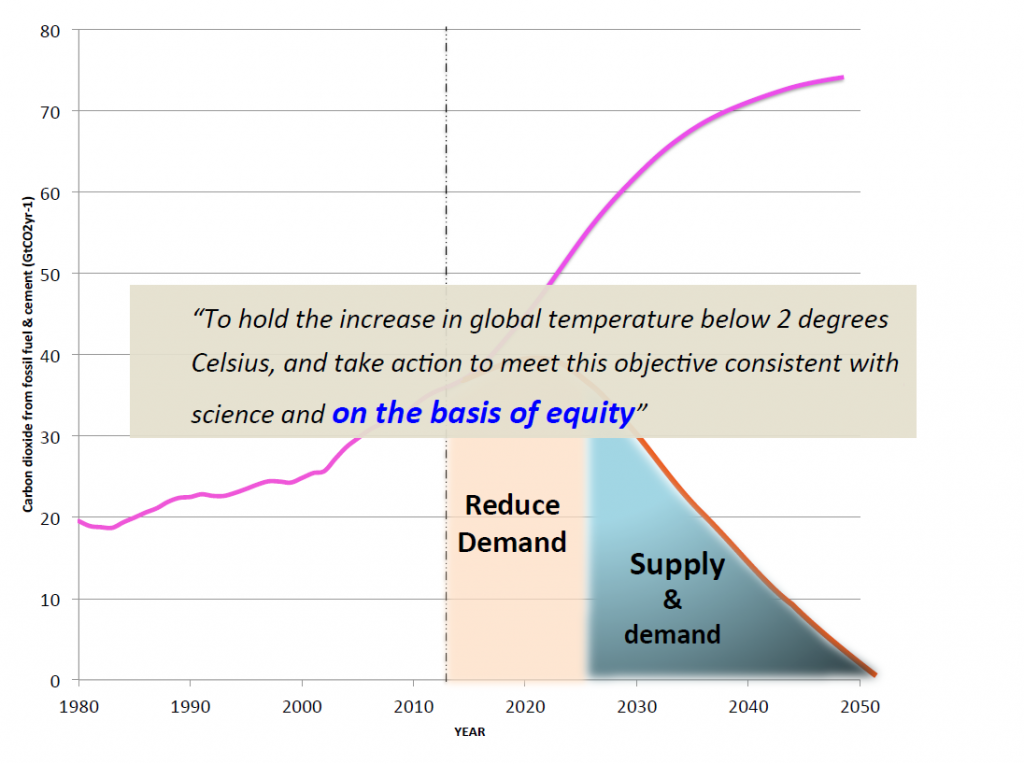 He goes on to say that:
We can't do [2°C] with low carbon supply. We can't make the changes quick enough. You have to do something with our demand for energy, and that is very, very unpopular amongst all of us, all of our colleagues, all the policy makers, so basically the whole world, all the high emitting parts of the world, which is only a small proportion, none of us like this at all, and that's why we don't really like the science.
Which is one of the reasons I feel compelled to ask myself at this juncture, and not for the first time:
Why is there no mention of Professor Anderson's letter in any of the recent hullabaloo, and how on Earth do David, Nick, Ed M. and Ed D. propose to actually hit their so lovingly enunciated target, particularly given the UK's currently sadly "constipated" energy policy?
A copy of Professor Anderson's slides from his presentation can be downloaded from the seminar archive web page.