A few days ago I received an unsolicited telephone call asking me if I would like to test drive any Renault car. I said yes, as long as it was possible to test the Renault ZOE in and around Exeter. I was told "Certainly sir, which free gift would you like?". I gather this offer is by invitation only, but you can nonetheless read all about it here, where it explains that one can:
Test drive and experience any model from the Renault range before 30 September 2015 and you can choose one of three complimentary gifts. Choose from a night away for two in a choice of hotels, afternoon tea for two or a spa treatment.
That definitely seemed like too good an offer to refuse, so I didn't! The first thing I do at times like this is to take a look at Robert Llewellyn's always entertaining reviews of electric vehicles on his Fully Charged show. Here's the one for the Renault ZOE, recorded in 2013:
and here are a few of Robert's bullet points concerning the ZOE:
It's a small car. It has a really big boot, which is a surprise.
It's got enough oomph to "get you out of trouble".
A range of between 80 and 120 miles.
It's much lighter than the Nissan LEAF.
It's got a really clever heating system, that uses a heat exchanger, and it can also do the other way round. It's 3 times more energy efficient than conventional heaters and air conditioning systems.
It has a 22 kWh battery.
It really holds the road well.
It's got very good visibility.
When you buy this car it's much, much cheaper than any other electric car that's been on the market.
When you buy this car you don't buy the batteries. The batteries belong to Renault, and they rent you the batteries.
It is a really nice car to drive. It's a really simple car to drive.
It comes with a special car rental deal. If you buy this car and then you want to "Go to Scotland" or "Go to the South of France", then you ring up and you book a car and it gets delivered to your house and you've got a rental internal combustion engine (ICE) car and you go on holiday [in that instead].
So far so good then, and a couple of days later we had a short drive around the Marsh Barton trading estate in Exeter. We both took our turn at driving the ZOE, and Kasia liked it a lot. Daniel Mann, the Renault Sales Manager at Bristol Street Motors in Exeter, explained that their most attractive offer at the moment is a two year PCP deal for £79 down and then £79/month, which doesn't include the battery. The small print explains that "Battery hire is £55 per month for 750 miles per quarter". That also sounds very much like an offer one cannot refuse, but it was at that point that I had to explain our particular circumstances to Dan. The ZOE seems to us like an excellent way of driving a few tens of miles to work and back, but V2G's home, office and laboratory are all in the same building. We don't do a daily commute, but we do occasionally drive to Bristol Airport, we do occasionally go on business trips to the far side of London, and we do from time to time go surfing on the north coast of both Devon and Cornwall. Our short test drive hadn't given us much of a feel for how the ZOE would be able to cope in those situations. As Robert explains in the video above we could always hire a more conventional car as and when required, but then we'd hardly ever use the ZOE!
We had a chat to Marc Seabridge, Bristol Street Motors EV specialist (pictured below), and explained that I'd be dropping Kasia off at Bristol Airport the following weekend and then returning to Exeter. I wondered whether we could borrow the ZOE to do that trip, in an endeavour to discover if it was fit for our particular purposes. Marc said yes! When we picked the car up at 11:00 on Friday he lent us a couple of RFID cards so that we could charge the ZOE en route, one for ChargeMaster's Polar network and one for Ecotricity's Electric Highway:
The ZOE's lithium ion battery was about 70% full when we picked it up, so we thought we'd get the hang of charging an EV at a public fast charger by heading straight to Exeter Services, just off the M5 motorway. That's where our troubles began!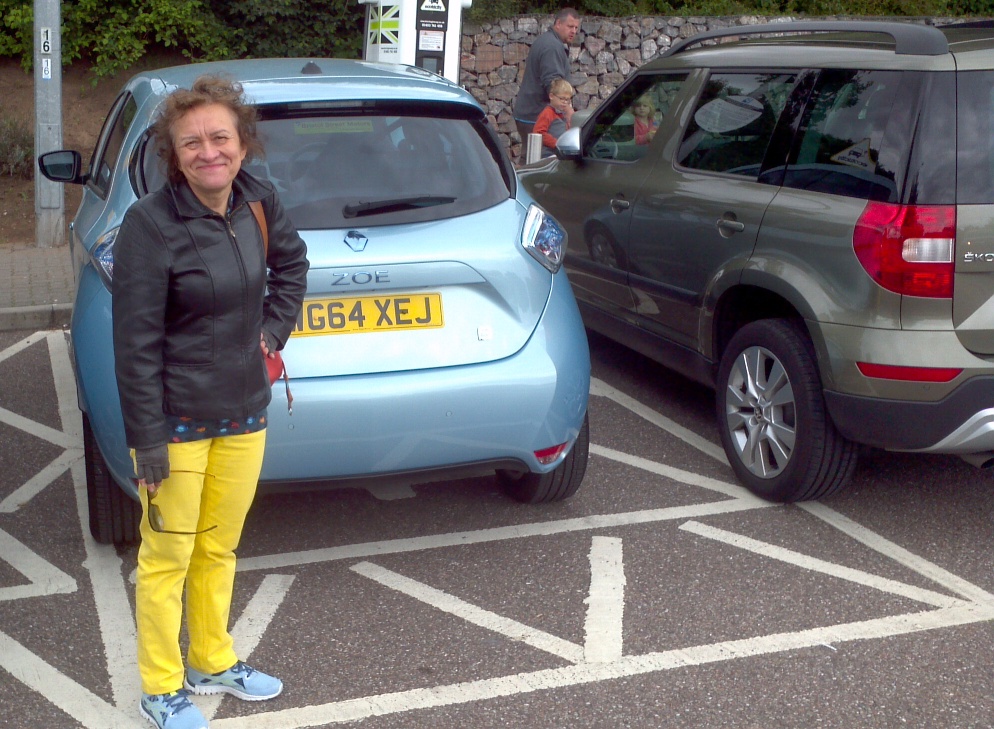 Try as we might, and even with lots of telephone assistance from James Cocks, the Service Manager at Bristol Street Motors, we couldn't persuade the ZOE to successfully connect to the Electric Highway type 2 fast charger. Here's what the problem looked like: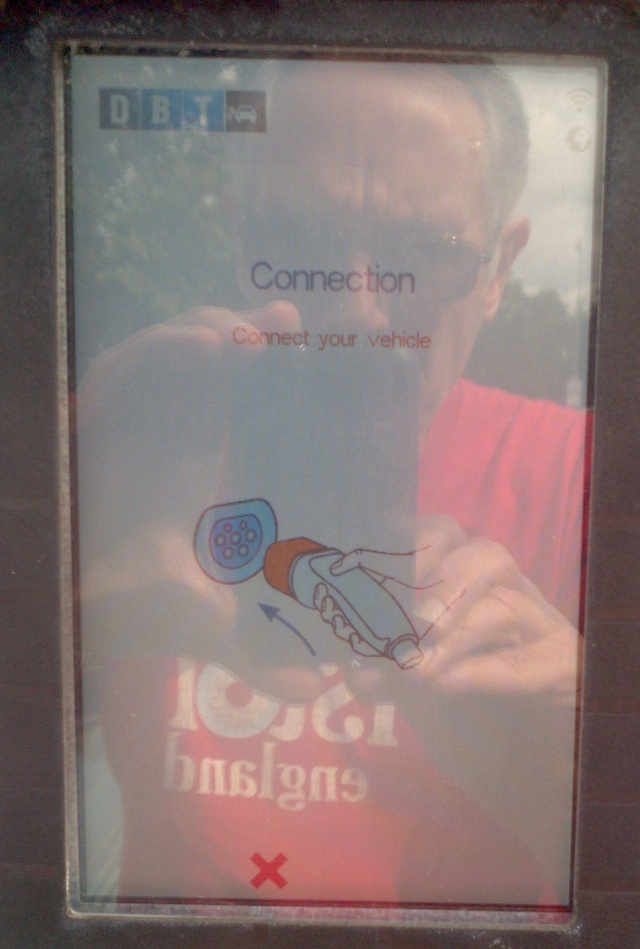 Whatever we tried, there was no way we could persuade a little green tick to show itself. Chastened, we headed back to Marsh Barton to top up the ZOE at one of BSM's own charging points: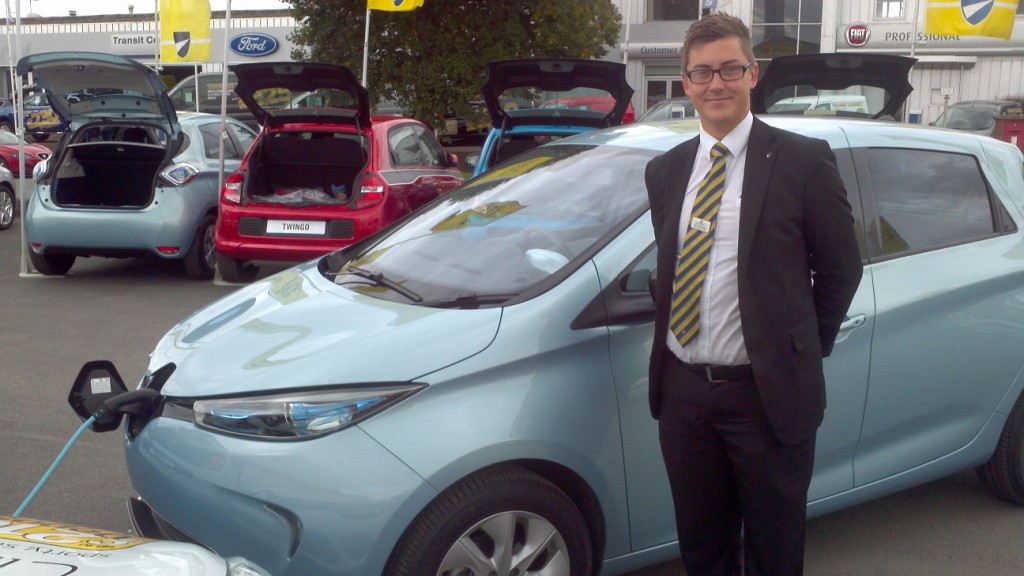 Whilst we waited I telephoned the Electric Highway helpline and explained what we'd discovered. I was told that Ecotricity were already aware of the problem, but they couldn't tell me when it might be fixed. It seems they have quite a few non functional chargers, and not many engineers available to repair those that cannot be restored to full health via a remote connection from Ecotricity's offices. Here's a graphical demonstration of the problem:
To be continued……..