Honda have just announced in a press release that:
Honda has invested in advanced bi-directional charging technology at its European R&D site in Offenbach, Germany, which is helping to balance demand and store energy more efficiently across the facility. The new charging system incorporates renewable energy generation, and is a test bed for hardware that will be available to private households in the future.

The technology installation in Germany follows the debut of the domestic Honda Power Manager Concept at the 2017 Frankfurt Motor Show in September. The concept previewed a fully-integrated energy transfer, which takes power from the grid and can return stored energy from electric vehicle (EV) batteries – through 'Vehicle-to-Grid' or 'V2G' technology. This latest trial installation at Honda's Offenbach site applies the same principles on a larger scale.
Here's how Honda's new bi-directional V2G capable charging station looks, albeit not in situ in Offenbach by the looks of it!
According to Jörg Böttcher, Vice President of Honda R&D Europe:
With the installation of the latest bi-directional charging technology at our R&D site in Germany, we are adding the next technology to our Smart Company project, which will further enhance our research activity in the field of zero-emission society and future mobility.
Here at V2G UK we have come to associate the word "Honda" with "hydrogen", although Honda did take part in a V2G trial in the United States back in 2013. Here in Europe in 2017 they point out that:
With the help of the bi-directional hardware and with the technology of The Mobility House, Honda aims to optimise energy management at its European R&D campus, maximising the use of renewable solar power in particular. The project is testing the interaction, compatibility and power flow between specific electrical components, including the renewable energy cells and the EV batteries. The installation represents a collaboration between Honda R&D Europe, energy service provider The Mobility House and Swiss technology company EVTEC.

The investment in the bi-directional energy transfer technology further enhances the world's most advanced public charging station for plug-in vehicles, which was launched at Honda R&D Europe in summer 2017. Its state-of-the-art 940V capability can deliver up to 150kW of energy, enabling as many as four vehicles to charge simultaneously with different types of connectors. Since its installation in June, the EV charging station has supplied power for 447 charge sessions and has saved 3.87 tonnes of CO2.
Here's a video from The Mobility House explaining their vision of a future "V2G enabled" world:
There's more information on that topic in a press release from EVTEC which doesn't seem to be available online at the moment. In slightly stilted English the Swiss company explain that:
With the growing importance of electric mobility, the two worlds of energy and mobility are merging. The closer this connection becomes, the more importance gain intelligent technologies that ensure this development secures a sustainable future. Such a technology is Vehicle-to-Grid, in short "V2G". What is behind this term, is the intelligent integration of electric vehicles in the energy system and markets.

This advantage is well known to Honda, where the V2G technology is already in use today: with the help of a bidirectional charging solution, the company aims to optimize energy management at its European R & D campus in Offenbach. Within the framework of a comprehensive project over the last 12 month, the interaction of various energy components – from vehicle battery to photovoltaic system – is being tested here.
According to EVTEC co-founder and CEO Markus Kramis:
A reliable, precise, and fast acting bi-directional charger is the necessary base for every V2G application, like peak shaving and energy optimization.
All in all that EVTEC charging station sounds like just the sort of thing we need to try out at V2G Towers over here in North Cornwall, located in a distant corner of sunny South West England amongst an impressive array of large scale solar PV and onshore wind "farms"!
The same may well apply to Honda's Power Manager mentioned above, which was announced at the Frankfurt Motor Show in September. According to a Honda press release once again:
Its all-new Power Manager Concept, a fully-integrated energy transfer system, is designed to incorporate electric vehicles into a smart power grid. It enables the collection and distribution of electricity between the grid, homes and businesses and electric vehicles, to intelligently balance demand and efficient storage of energy. Honda will apply its Power Manager technology as part of a smart grid pilot scheme in the west of France.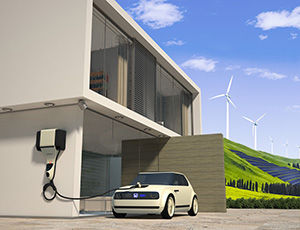 Power Manager Concept works by aggregating and distributing energy to and from the grid, solar panel-equipped homes or workplaces, and electric vehicles.

Electricity is received into the system from the grid or is generated by the solar panels and can be used to power and heat the building as well as to charge the EV. While the EV is plugged in, the energy can be stored and used at home or sold back to the grid, potentially generating value for EV owners.

The Power Manager Concept system can help to stabilise the grid at times of either short or surplus supply, as well as representing a revenue opportunity for EV owners.
That sounds like just the sort of thing that Western Power Distribution needs to help stabilise the electricity distribution grid in our neck of the woods, which is currently heavily "constrained":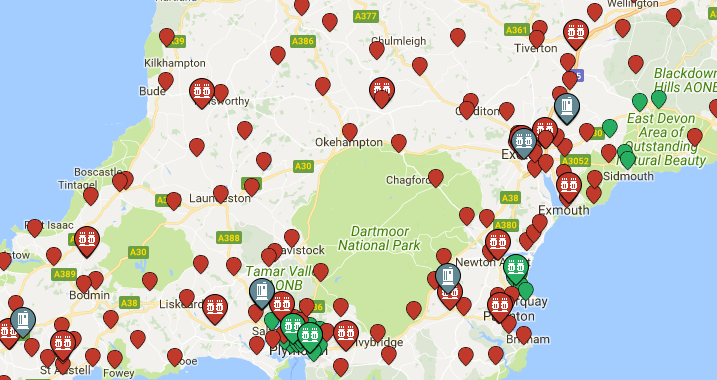 Do you suppose that we could possibly persuade Honda to apply its Power Manager technology as part of a smart grid pilot scheme here in the south west of England too?