Earlier this week I attended a vehicle-to-grid workshop organised by Nissan Europe. This one was held in Utrecht in The Netherlands, where I discovered that the workshop coincided with the announcement of a new partnership between the City of Utrecht and a number of Dutch companies to ultimately deliver 120 "smart charging stations" across Utrecht. There'll be more from me on the workshop itself in due course, but for now let's take a close look at the world's first publicly available solar powered V2G capable AC electric vehicle charging station: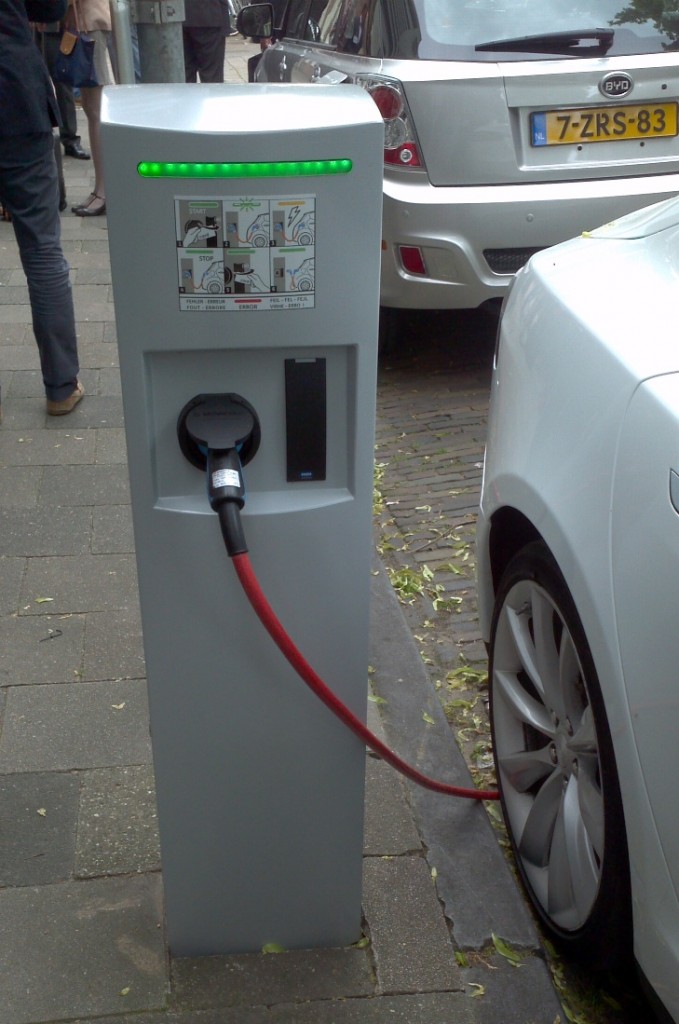 The charging station itself is a GE DuraStation with added bi-directional capability. Sadly my wish of a few weeks ago has not yet come true, and the Tesla model S you can see in the foreground is still only capable of being charged by the DuraStation, which is IEC 61851/62196 mode 3 compliant. However the BYD e6 visible in the background IS able to discharge its batteries back to the local distribution grid.
This particular charger is situated outside the offices of LomboXnet, and hence integrated with the CHAdeMO compliant V2G system we reported on back in March, which stores the excess energy generated by the Solar PV installation at a nearby primary school. Here's another angle on the event, showing Councillor Lot van Hooijdonk shortly after she cut the ribbon to officially open the charging station: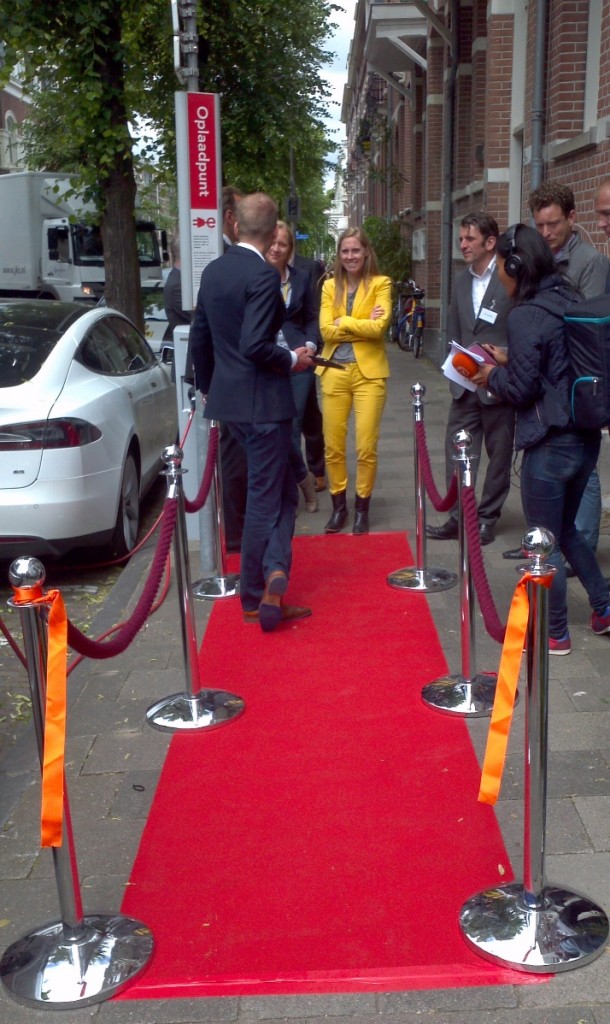 Another part of my wish from last month has also yet to come true. In Utrecht as in the United Kingdom, and despite the red carpet, whether you own an electric vehicle manufactured by Nissan, BYD or Tesla, and whether it prefers to be charged via CHAdeMO, IEC 62196 or a Supercharger, you still won't get paid for allowing your battery pack to be used to provide an extremely useful service to the local distribution grid. However, perhaps mighty oaks from little acorns do eventually grow?
Whilst we wait to discover if/when/how that happens, here's the video that Robin Berg of LomboXnet showed the attendees of the 3rd Nissan V2G workshop: