Spring is in the air here in the United Kingdom. Several of the people I debate the future of distributed energy storage with on a regular basis have been in the news this week!
First up was Mark Thompson of Innovate UK. According to the headline in an article in Utility Week:
EVs are stable energy storage asset, says Innovate UK
The article goes on to explain that:
Innovate UK has brushed aside ongoing fears around using electric and plug-in vehicles as an energy storage facility, insisting they present a "car park of energy storage" for UK network companies after 2025.

Innovate UK's lead technologist for energy systems Mark Thompson said at a recent storage event that fears that using EV batteries for grid support will rapidly degrade the batteries are unfounded. Innovation projects already undertaken into EV charging reveal the batteries will be accessible to the grid 95 per cent of the time.

Thompson said "a lot of anxiety" around using EVs as energy storage centres on battery recycling, but tests show that using an EV battery to provide 7kW of grid support is equivalent to driving at just 20mph.
Mark went on to point out:
That is a modest amount of power but aggregated would be very useful for a distribution network operator. The stress level on that battery of sitting there continually pushing out 7kW compared to a 35 minute journey is a no-brainer, it's an extremely calm and un-stressful environment for that vehicle. Car manufacturer Nissan has been very vocal on the potential benefits of using EVs for grid support because there really isn't an issue compared to the complexities and stresses that the battery goes through for a pretty normal driving scenario.

If we can be clever and come up with the right business models to engage people in moving their charging and allow network operators to have some control, if we can be savvy about that then network investment costs are virtually zero until you are well into the 2020s
Here's one of Nissan's infographics showing how they see the technology working: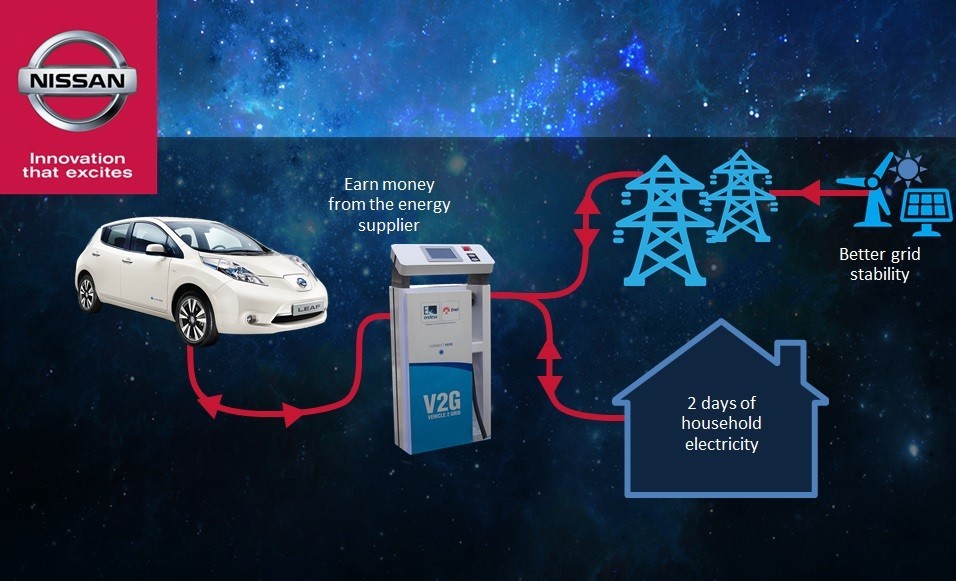 UK Plc "being savvy" and providing support for the "right business models" is another matter entirely however! Utility Week continued:
Projects such as My Electric Avenue have revealed that vehicles are sat stationary at either the home or workplace, both potential charging locations, 95 percent of the time making EVs a "stable storage asset". Based on "very modest projections" there could be as many as 300,000 EV or hybrid vehicles on UK roads by 2025, presenting around 4GW of potential storage to the UK's electricity system with very little network reinforcement required.
Having discussed the Utility Week article with Mark Thompson it seems they have misinterpreted a couple of points:
I didn't wish to imply that cars would be 95% available, just that they are "parked for 95% of the time" but that data DNO projects such as My Electric Avenue and ETI analysis indicate that a "very healthy proportion" of plugins will be accessible over the 24 hour cycle for grid support given charging and use patterns. The 95% figure as currently illustrated is not of course realistic, but perhaps eventually grid "connected availability" may be in the region of 30-60% depending on the time of day, which in time will amount to a significant amount of grid connected resource.

Also, the 4GW figure should be 4GWh.
Here's the original slide from Mark's presentation, with the correct units clearly visible on the Y axis and in big letters towards the end of the headline:
Re previous tweet, this shows the min #energystorage capacity potentially accessible for vehicle to grid V2G support pic.twitter.com/2gn4pMwhNe

— Mark Thompson (@markrmthompson) January 29, 2016
Today the mainstream media picked up the story in the form of an article by Damian Carrington in The Guardian entitled "From liquid air to supercapacitors, energy storage is finally poised for a breakthrough". Damian opens with a quote from Jill Cainey, director of the UK's Electricity Storage Network.
It doesn't always rain when you need water, so we have reservoirs – but we don't have the same system for electricity.

A battery project can take 12-18 months from saying we will do it, to completion. California is aggressively pursuing a low-carbon agenda and they don't want diesel [generator back-up] on the system. Amber Rudd is talking a lot about energy storage, but we need a clear regulatory steer. The planes are circling, but there is no runway to land on.
Next Mark Thompson is quoted once again, apparently from the Utility Week article rather than from his actual presentation:
Using electric car batteries as a smart storage network while still in the cars is a promising option in the future, according to Mark Thompson at Innovate UK, a government agency. He says there could be 4GW capacity – a nuclear power station is about 1GW – by 2025 across the 300,000 electric cars projected to be on UK roads by then. He says cars are stationary for 95% of the time and using them could save billions of pounds, removing the need for new power stations and power lines.
However the article continues:
While interest in energy storage projects in the UK is surging – a recent call from National Grid for 200MW of short-term storage was oversubscribed six times – it is starting from a low base: just 24MW has been installed compared to the 5,000MW the government's official advisers, the Committee on Climate Change, envisages in a low-carbon nation in 2030.

In November, energy secretary Amber Rudd said: "Locally generated energy supported by storage, interconnection and demand response, offers the possibility of a radically different model… We are looking at removing regulations that are holding back smart solutions, such as demand side response and storage."
Removing the regulations that are holding back smart solutions is one of the reasons Mark and Jill were already on my list of people to call this week. That's because DECC's current consultation about how to "Ensure Regulation in the Energy Sector Encourages Innovation" closes on February 11th!