Things seem to be looking up for vehicle-to-grid technology here in the United Kingdom! In a press release Nissan have just announced that:
Automotive industry leader Nissan and multinational power company Enel, today confirmed plans to launch a major vehicle-to-grid (V2G) trial – the first ever carried out in the UK. The trial will work by installing and connecting one hundred V2G units at locations agreed by private and fleet owners of the Nissan LEAF and e-NV200 electric van. By giving Nissan electric vehicle owners the ability to plug their vehicles into the V2G system, owners will have the flexibility and power to sell stored energy from their vehicle battery back to the National Grid.
Technical details of the trial are however conspicuous only by their absence from the announcement. I for one would love to know exactly how "sell[ing] stored energy from [a] vehicle battery back to the National Grid" is going to work in practice. The press release continues:
Today's announcement heralds an exciting era for energy management in the UK. Not only will Nissan electric vehicle owners be able to play an active role in grid stability, providing an alternate source of income, but it will revolutionise how energy is supplied to the grid. Once scaled up, the V2G technology can become a game-changer for owners of Nissan EV in the UK as they become fully fledged and active participants in the UK energy market.
Personally I'd love to be the owner of an electric vehicle that is a "fully fledged and active participant in the UK energy market" but I don't foresee that happening any time soon. I cannot help but wonder what Nissan UK and National Grid know that I don't? Whilst I wait to find out the answer to that particular UK energy market conundrum, here's a publicity picture of the associated hardware: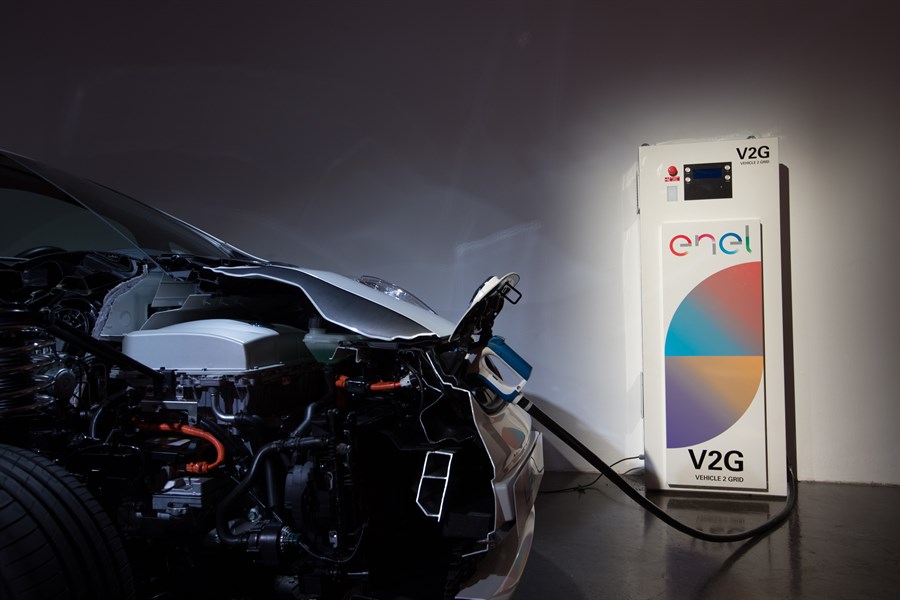 Perhaps the most pertinent comment in the announcement comes from Steven Holliday, the former CEO of National Grid plc, who points out that:
At National Grid we are constantly looking to the future to ensure we have the capacity to meet national energy demand – it's our job to future proof the national transmission network.

The rapid uptake of Electric Vehicles is certainly positive yet could also be challenging if we don't plan ahead to understand precisely what effect this new technology will have on the electricity system. Our Future Energy team predict that there could be up to 700,000 Electric Vehicles in 2020 requiring an extra 500MW of energy. That's why we support innovative technologies and pioneering projects such as this one that have the potential to make a real difference to the way we manage energy supply and demand.
The press release concludes:
Today's announcement follows the signing of a partnership agreement between Nissan and Enel in Paris in December 2015 during the 21st UN Conference on Climate Change (COP21) to trial V2G technology in Europe. A trial comprising 40 V2G units began in Denmark in January 2016.
I wonder if any Nissan LEAF owners are already active participants in the Danish energy market?