On a press release a couple of days ago Sono Motors announced that:
Mobility provider Sono Motors is fulfilling the Community's desire for an affordable wall charging station, suitable for home charging, vehicle-to-grid (V2G) and vehicle-to-home (V2H) with the first bidirectional AC wallbox on the market. This brings the company a significant step closer to its vision of a world without fossil fuels. The wallbox enables the Sion to be used as a mobile power plant and also to feed stored electricity either back into their house or into the grid itself. Homeowners with photovoltaic systems especially save a large amount of money as they are able to use more of their own electricity without having to buy an expensive home storage system. The Sono wallbox charges and discharges the Sion with up to 11 kW via the integrated Type 2 charging cable, and will save up to 70% of costs incurred by DC bidirectional wallboxes available to date. It is already possible to reserve the new wallbox free of charge, delivery is expected to take place with the Sion start of production in 2023.
This is of course very exciting news, and Sono also address a question that we have been pondering for many years, and which we discussed in detail more recently with the British Standard Institution's launch of its PAS 1878 specification for home energy management systems:

A home energy management system (HEMS) controls when the Sion is charged and discharged: the wallbox communicates with the HEMS via various protocols such as EEBUS, Modbus or OCPP. A recommendation as to which HEMS are compatible with the Sono wallbox will be available shortly after its sales launch. The Sono app and Sono infotainment can also be used to set the level of the vehicle's battery at which discharging can be terminated. This ensures that it always has enough range to cover any mobility needs.
The specification for the Sono bidirectional wallbox looks like this: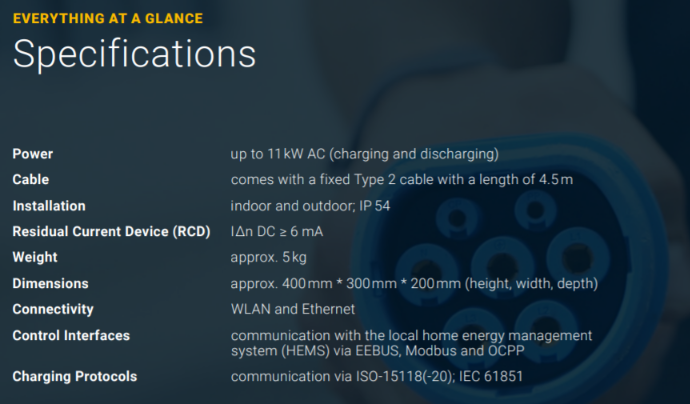 That all looks very good, but there are a couple of flies in Sono's ointment. Their wallbox won't be available until 2023, and there appear to be no plans to release it in the United Kingdom.

What's more Sono's copywriter needs a slight slap on the wrist. Here's a picture of a 22 kW 3 phase bidirectional AC wallbox that has been available off the shelf for over a year!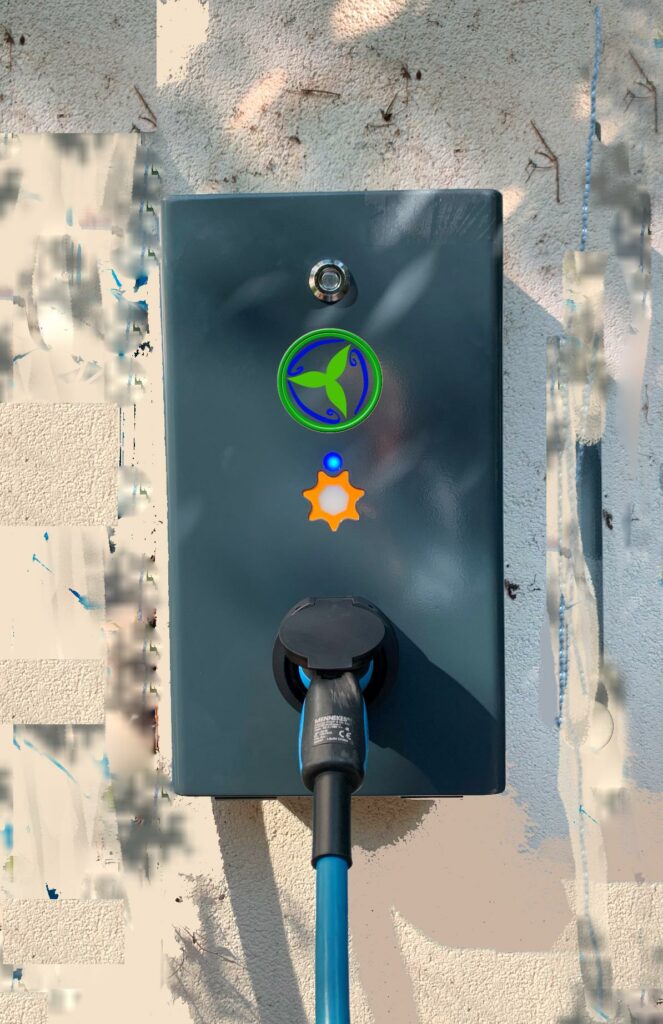 Here's Sono's video explaining the benefits of their forthcoming, albeit less powerful, piece of equipment:
Perhaps Tillman would be good enough to appear in another Sion Motors video with more accurate commentary in the not too distant future?
Finally, for the moment at least, here once again is a dual 22 kW bidirectional AC charging pillar that has been installed in our car park for over two years: