The 3rd "Nissan Futures" event entitled "The Car and Beyond" took place in Oslo today. Apart from the European launch of the 2018 Nissan LEAF our suspicions about a 40 kWh battery for the e-NV200 were confirmed:
The new 40kWh battery for the 100% electric e-NV200 offers a 60% extended range of up to 280km NEDC. And, with no increase in size of the battery itself, customers will face no compromise in either load space or payload. Crucially, it can help make 100% electric last miles delivery achievable for businesses and professional drivers everywhere, with customers now able to drive more than 100 km further on a single charge.

As well as helping business customers enhance their green credentials, the van represents a key pillar in Nissan's wider commitment to cutting the level of CO2 emissions in city centres caused by professional drivers making deliveries and/or collections.
Nissan announced a few other things as well, including a so called "Revolutionary 'free power for EVs' breakthrough":
Over the past year in Denmark, Nissan has been testing this revolutionary new way of driving and today, this has become an offer open to all fleet customers throughout the country. Using Nissan bi-directional charging, customers can draw energy from the grid to power their car or van and then 'sell' back to the grid for others to use. This means, once a nominal charge has been paid by the business for the installation of a V2G charger there are no fuel or energy costs; just free power for your EV.

And Denmark is just the start. Nissan also announced a UK collaboration with OVO allowing customers to purchase an xStorage home energy unit at a discounted price enabling them to 'sell' back energy to the grid. This helps contribute to grid stability in a world where demand for energy is increasing due to a growing, urbanising population. It can result in an additional expected income for users averaging £350 / €400 per year.
OVO Energy have also issued a press release about their collaboration with Nissan today:
The new offering is the first of its kind in the UK and will combine VNet – OVO's groundbreaking intelligent energy technology – with the capabilities of the innovative Nissan xStorage Home system.

Building from this collaboration, OVO plans to launch OVO SolarStore (beta), the company's first battery storage offering for qualifying customers. OVO customers with solar households will soon be able to purchase an xStorage Home system direct from OVO for £4,800 (excluding installation, subject to terms and conditions), and benefit from a £350 annual credit and estimated average £240 savings on their energy bill.
According to OVO CEO Stephen Fitzpatrick:
Electric vehicles are fast becoming a mainstream option for drivers and solve many of the challenges facing our cities. We believe that they have an integral part to play in the twenty-first century power grid and accelerating decarbonisation and mobility.

We're delighted that we can now offer such a compelling incentive to customers who are generating their own clean power, providing a truly sustainable alternative to the traditional energy model.
The press release also waxes lyrical about vehicle-to-grid technology!
Customer vehicle-to-grid (V2G) service planned from January 2018…

V2G technology allows electric vehicles to be fully integrated into the electricity grid and will likely help the grid maximise the use of renewables in the energy system.

The V2G offering will work by allowing Nissan EV owners to connect to the grid to charge at low-demand, cheap tariff periods. They can then use the electricity stored in the vehicle's battery at home and at work when costs are higher, or even feed electricity back to the grid which could generate revenue for the EV owner. OVO plans to create special tariffs to reward customers for this interaction with the grid.

Currently if all 20,000 Nissan electric vehicles in the UK were connected to the energy network, we estimate that they would generate the equivalent output of a 200 MW power plant with a 10kW charger.

In a future where all vehicles on UK roads are electric, V2G technology could generate a virtual power plant of up to 200 GW. This energy capacity is more than double the peak requirement on the UK grid.

The new Nissan LEAF will be compatible with OVO's VNet intelligent energy technology. Further details of the offer and the first installations will happen at the same time of the deliveries of the new Nissan LEAF, in January 2018.
If you want to register your interest in OVO's forthcoming V2G offer they have a page on their web site where you can do so.
Yet another, albeit slightly older, OVO press release reveals more about VNet that arrived with their recent acquisition of VCharge:
In a move towards building a complete "grid smart" charging solution for electric vehicles, OVO Energy will begin to introduce its proprietary VNet technology across the network, unlocking smart charging capabilities on a national scale, ultimately enabling OVO Energy customers' electric vehicles to function as mobile batteries at home and on-the-go, balancing renewable energy on the grid and allowing drivers to sell back unused energy.

To accelerate this transition to smart charging, OVO has also acquired electric vehicle charge point specialists, ChargedEV and Indra Renewable Technologies, an electric vehicle components and services supplier, and is harnessing their technical expertise combined with Chargemaster's, to develop a game-changing smart charger, due to be launched to market later in 2017.
OVO also now have a shiny new section on their web site devoted to the "OVO SolarStore (Beta)":
Built to harness the potential of your solar set-up, OVO SolarStore (Beta) combines a home battery with state-of-the-art software.

Not only could it lower your bills, but by joining the beta you'll be helping to create a greener, more-efficient energy system for the UK.

Reduce your bills by storing surplus solar power in your battery to use later.
Your battery will support renewable generation in the energy grid by storing electricity when it's abundant, and discharging electricity when national demands spike.
Receive a fixed monthly credit for using your battery and helping to balance the grid.
Optimised and managed by our advanced technology, so you won't need to do a thing.
The OVO SolarStore page also includes comprehensive facts and figures:
Nissan xStorage – Power: 4.6kW, Capacity: 4.2kWh, Up to 5 year warranty, subject to Nissan's terms and conditions.
Export Credit & Increased Solar-self consumption: £240 saving a year
Annual value of Battery Credit: £350 saving a year
Battery installation survey: £50
Battery cost: £4,800
Battery installation indicative cost: £500
Getting back to the Nissan press release for a moment, it also points out that:
Nissan also showcased its new home energy storage system, which follows on from the success of xStorage. Created especially for EV owners, customers can plug their electric vehicle directly into the wall box to charge. It comes with its own built in energy storage system, giving customers the ability to better manage their energy costs and even generate their own electricity from solar panels, delivering 100% renewable and zero emission power for their car.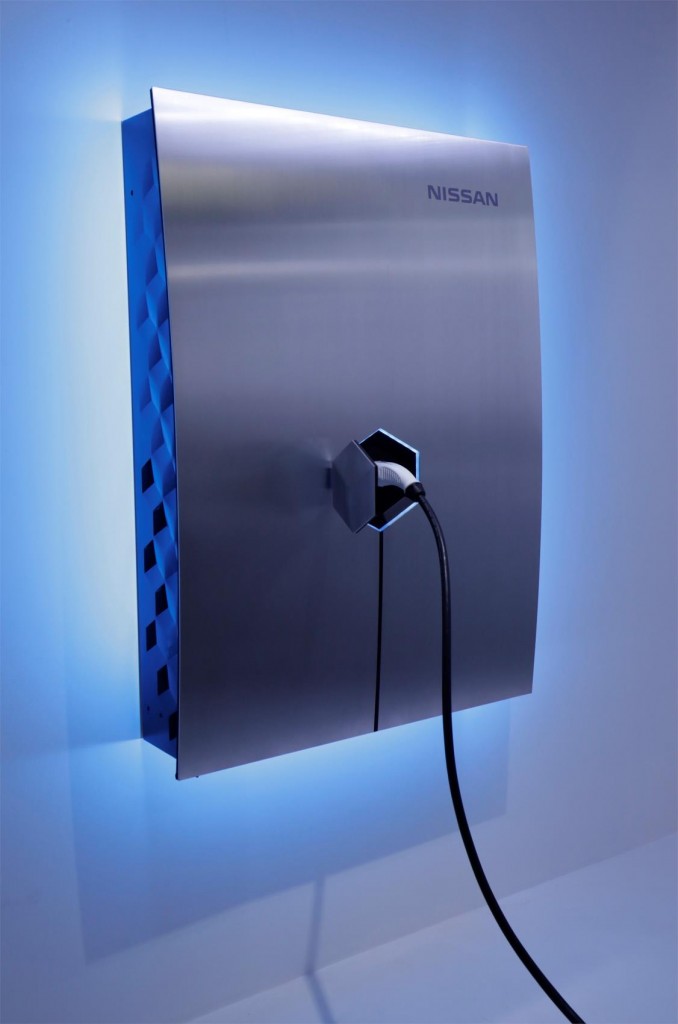 I wonder if OVO will ever get around to offering a game-changing bidirectional smart charger version of Nissan's new combined home energy storage system? That would seem to be the perfect answer to the conundrum posed in our banner way back at the top of this article!