In a press release earlier today Nissan proudly announced that:
An important milestone on the road to emission-free energy and mobility has been achieved by technology company The Mobility House, energy supplier ENERVIE, transmission system operator Amprion and car maker Nissan. With the Nissan Leaf and an innovative charging and energy management technology, the project partners have now succeeded in qualifying an electric car for all the TSO regulatory requirements for primary power regulation. This means that the car can be integrated as a regulating reserve for the German electricity grid – a breakthrough in the establishment of Vehicle-to-Grid (V2G) technology in Germany.
For some strange reason Nissan don't mention the manufacturer of the V2G capable electric vehicle charging station displayed in their publicity pictures:
Those pretty white boxes look a lot like the EVTEC units we have mentioned previously here on the V2G UK blog. Nissan's press release continues:
To meet the universal desire for a transition to decentralised energy generation from renewable sources here in Germany, new and innovative solutions for stabilising the electricity grid are necessary. The increasing use of renewable energy leads to fluctuations in the grid, which must be initially balanced by primary regulation, able to prevent impending power cuts at a second's notice.

Electric cars such as the Nissan Leaf, with integrated bidirectional charging technology, could play an important part in this. With its CHAdeMO charging connector, the Leaf is able not only to extract power from the grid and store it in its traction battery, but, if necessary, also to feed power back. This is called the Vehicle-to-Grid (V2G) concept.
As luck would have it here at V2G UK we are very familiar with the V2G concept and CHAdeMO connectors. In fact our V2G EVSE subsidiary has recently received an Office for Low Emission Vehicles (OLEV for short) grant to assess the feasibility of using such technology on the streets of Plymouth, Exeter and Falmouth in order to provide flexibility services to Western Power Distribution's electricity grid over here, and thereby defer expensive reinforcement of South West England's distribution grid. Here's a close up of the Vehicle-to-Grid Electric Vehicle Supply Equipment for (V2G EVSE for short) in ENERVIE's car park over in Hagen:
whilst here's our concept for the inner city streets of Devon and Cornwall, Urban Electric's UEone "pop up" charging post: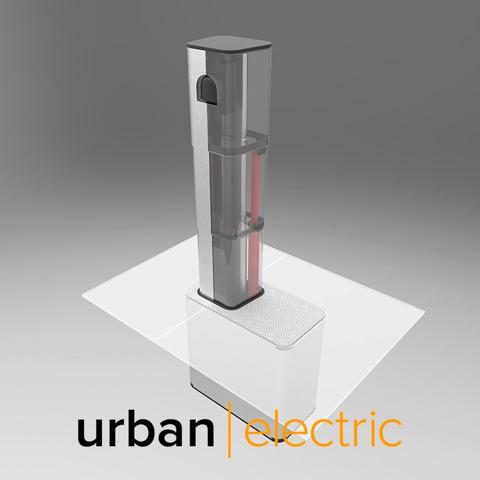 According to Guillaume Pelletreau, the Vice President and Managing Director of Nissan Center Europe:
We strongly believe in an emission-free future. Accordingly, we are also very proud that the Nissan Leaf has, as the first electric car ever, been approved as suitable for stabilising grid frequencies. LEAF batteries could make an important contribution to energy transition in Germany and a sustainable future.
Here at V2G UK we strongly believe that Nissan LEAF traction batteries could make an important contribution to the energy transition and a sustainable future here in the United Kingdom.