The press release is in Dutch, so I'm relying on Google Translate somewhat for this article! There is no explicit mention of V2x technology, but lets read between the lines:

Hyundai and mobility provider We Drive Solar announced on April 13th a strategic partnership to provide housing projects with the energy system of the future.
I don't know about you, but I'm getting a hint of vehicle-to-building already. Moving on:
Hyundai is well on its way to becoming a top 3 manufacturer of zero-emission vehicles worldwide, with a specific focus on 100% electric propulsion. By 2040, Hyundai aims to have its global car line-up fully electrified, aiming for a market share of 8 to 10 percent of the global EV market.


In addition to a leading role in electric driving, Hyundai also wants to accelerate the transition to sustainable mobility and optimally unburden customers with the help of innovative services, fully in line with the brand's Progress for Humanity philosophy. In that context, Hyundai is expanding its e-mobility activities in the Netherlands significantly this year. Hyundai recently announced its partnership with Jedlix, the market leader in smart charging. Starting today, Hyundai is adding a new chapter in accelerating sustainable mobility by announcing its partnership with We Drive Solar.
Smart charging, sometimes referred to as V1G, is part of the equation but what about smart discharging? The press release continues:
As a provider of electric shared cars, We Drive Solar is involved in a large number of new-build developments in the Netherlands. In collaboration with Hyundai, these cars will also serve as storage for sustainable energy. Hyundai and We Drive Solar expect that later this year it will be possible – with the car battery as local storage – to make sustainably generated energy available at times when the sun is not shining and / or the wind is not blowing. For example, the large amount of energy from solar panels on new-build homes can also be made available in the evening. This immediately yields financial and sustainability gains for the homes.
So there you have it. Using the car battery as local storage to make energy available in the evening is V2B or I'm the proverbial monkey's uncle! And there is more:
In this strategic partnership, Hyundai and We Drive Solar bring a unique proposition to project developers and real estate investors to achieve maximum sustainability returns in residential construction. The mobility offer of We Drive Solar realizes a low-traffic, liveable living environment and delivers a maximum return from local energy generation through the use of the car battery for balancing sustainable energy.
That sounds an awful lot like "Mobility as a Service" (MaaS for short) in new build housing developments in The Netherlands to me. Whilst the words make no mention of it a picture is worth a thousand of them. This is an artist's impression of the forthcoming IONIQ 5 City decked out in the We Drive Solar livery:
There's no charging station visible in the image, so the only remaining question at this juncture seems to me to be "AC or DC V2x technology?". The online brochure makes mention of "V2L":
The V2L function can supply up to 3.6 kW of power. The V2L port is located under the second-row seats, and it can be activated when a vehicle is on. Another V2L port is located at the charging port on the vehicle exterior. Using a converter, customers can charge high-power electric equipment. The outside port provides power even when the vehicle is turned off.
That sounds a lot like 3.6 kW AC V2B then, but perhaps Hyundai have something up their corporate sleeve? Watch this space whilst we make a few enquiries.
One of them will be "When can we have an IONIQ 5 to do interoperability testing with the AC V2x charging station ready and waiting in our car park here in North Cornwall: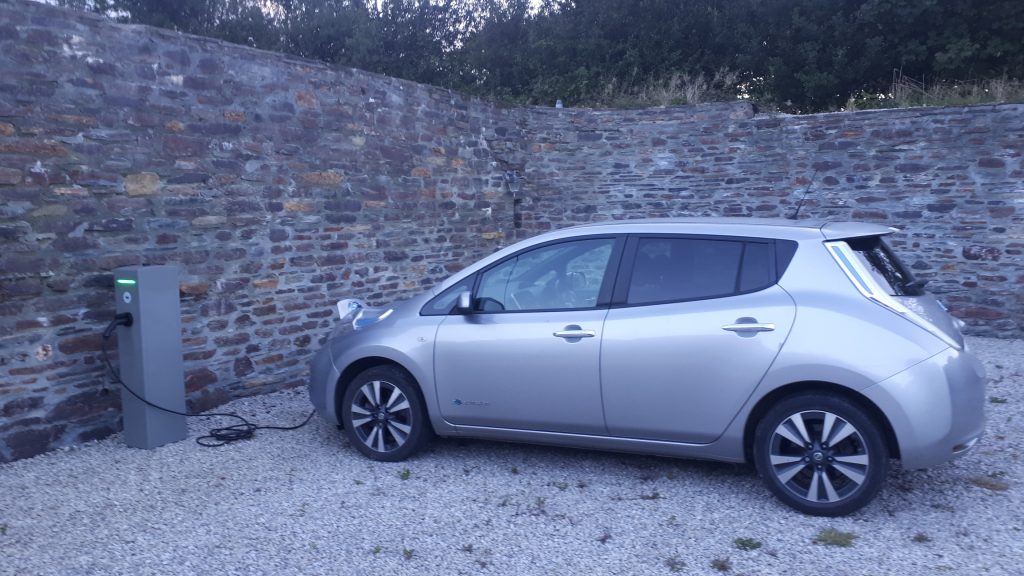 Unlike in cities in The Netherlands, we drive the wind here in South West England: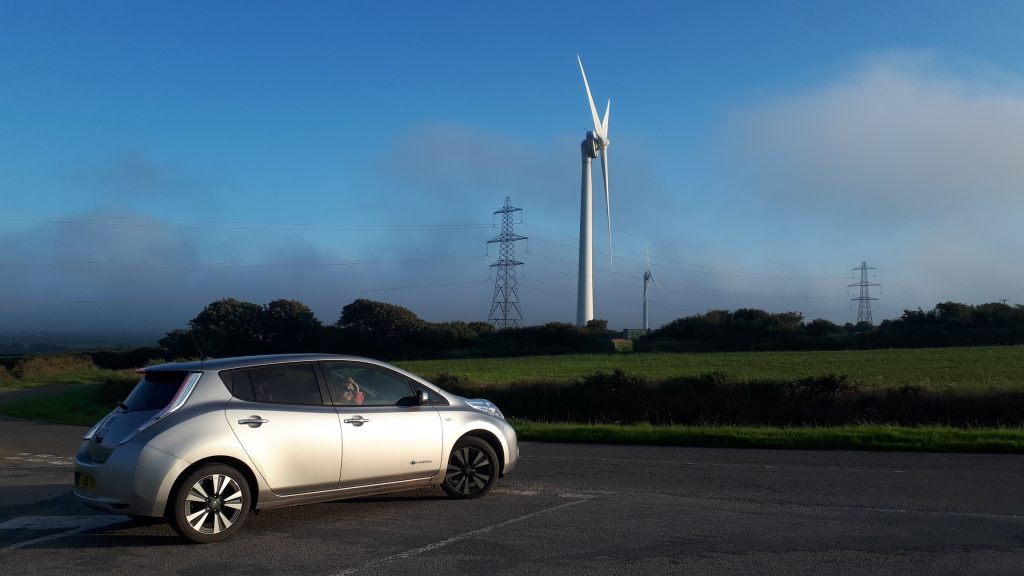 Today is the day when a number of initial IONIQ 5 reviews have escaped from their embargos. Here's the Fully Charged video from our old friend Robert Llewellyn:
By all means watch the whole thing, but the link is timed to start the proceedings near the end the video where Robert discusses the vehicle-to-load capabilities of the IONIQ 5. Here too is a still image to give you a feel for things: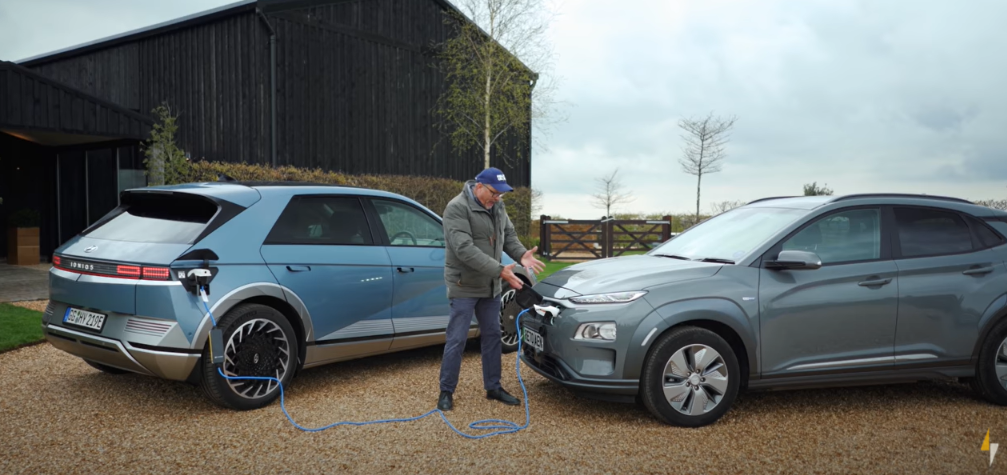 Bobby's very impressed with the IONIQ's ability to charge a nearby Hyundai Kona, although he doesn't reveal how quickly the power transfer takes place.

Meanwhile his one time fellow Fully Charged presenter Jonny Smith has also reviewed the latest IONIQ on his new "Late Brake Show" YouTube channel:
It's basically a big charger on wheels!
However Jonny illustrates the IONIQ's V2L capabilities in a rather different fashion!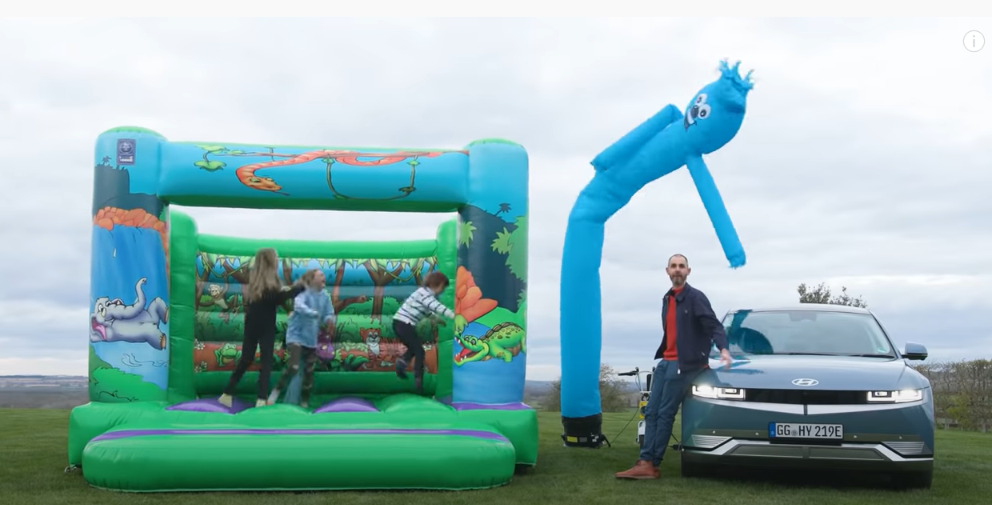 Based on this evidence we were compelled to conclude that:
In a press release this morning the Utrecht Region announced that:
In the presence of State Secretary Stientje van Veldhoven, Alderman Eelco Eerenberg and Representative Huib van Essen, Hyundai signed an agreement this morning with strategic partners to make Utrecht the first region in the world with a bidirectional ecosystem. In this ecosystem, the batteries of shared electric cars are used to store sustainable energy on a large scale.


King Willem-Alexander of the Netherlands was present when the first bidirectional charging station was commissioned in Utrecht two years ago. Since then, almost 500 public charging stations have popped up in the city and region of Utrecht. Electric cars can get charged with sustainable energy at these charging stations and deliver energy back to the grid. Utrecht is the first city and region with a large network of bidirectional charging stations.


Because of the knowledge and the large charging network in Utrecht, Hyundai chose to launch their first car with bidirectional charging technology in this city. The IONIQ 5 will be deployed on a large scale in this city throughout the upcoming years.


The ambition of We Drive Solar and her partners is to realise the energy- and mobility system of the future in the city and region, which includes: hundreds of shared electric cars that provide clean air, less cars on the road, a buffer for large scale application of solar and wind energy in the region.
Utrecht's exciting news continues with a list of the partners in the project:
Utrecht aims to become the first bidirectional city and region of the world. This is made possible by the unique collaboration with different parties in the We Drive Solar consortium:
Hyundai and We Drive Solar plan to test bidirectional charging at charging stations throughout Utrecht and integrate the carsharing system of We Drive Solar before the summer. After that, a large number of IONIQ 5 cars will be launched. By early 2022, the number of cars are scaled up to 150 bidirectional shared cars in Utrecht.
P.S. Perhaps we now need to amend the title of this article?
Watch this space!